Quick Facts
Largest Ticket Inventory
in the West End
Real time
seat availability
Choose
your seats
Your booking is processed directly into the box office reservation system
This show is now closed.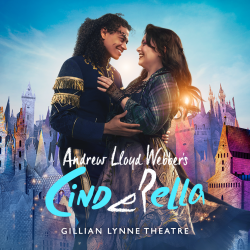 Cinderella
Tickets
4.4/5
-

based on

74

reviews

from

74

verified reviews
Tickets refunded if your event is cancelled
Real time seat availability
Largest ticket inventory in the West End
Secure online booking
This show is now closed.
Keep me informed
Let me know when tickets for Cinderella are on sale!
Information
Cheap Tickets
Reviews
News
About Cinderella Tickets
Cinderella description
The show's lyrics are from David Zippel, a multi-award winner for Broadway productions including City of Angels, The Goodbye Girl, The Woman in White and Liza at the Palace, as well as for work on film including Disney's Hercules and Mulan, both of which received Oscar nominations.
Cinderella will be directed by Laurence Connor, with choreography from JoAnn Hunter, who previously partnered on School of Rock and the recent, sold out production of Joseph & the Amazing Technicolor Dreamcoat at The London Palladium.
Andrew Lloyd Webber said: "I have long wanted to write my own version of Cinderella but could never find a take on the classic story that really grabbed me. Emerald Fennell has written something truly exciting and original, and the moment I read her outline I knew I'd found my latest collaborator. I'm very pleased to be working with David Zippel, a hugely witty lyricist, once again.
I'm also excited to be reunited with Laurence and JoAnn, who I loved creating School of Rock with and who delivered a knock out Joseph last Summer at The London Palladium, where it rightfully returns in June."
Cinderella cheap tickets
We have a great selection of cheap Cinderella tickets. We can help you save up to 70% on Cinderella tickets! If you're looking for discount theatre tickets have a look below for our latest offers for Cinderella at the Gillian Lynne Theatre.
There are no special offers available at the moment but we still have great ticket prices for Cinderella at the Gillian Lynne Theatre.
Cinderella reviews
4.4 out of 5
based on

74

reviews
What to expect:
Acting
Music
Costumes
Story
Lighting
Recommended for:

Theatregoers (82%)
Latest customer reviews
Amazing musical
Reviewed on 11 June 2022 by Kai, London, United Kingdom
Loved it!
Amazing and immersive!
Reviewed on 06 June 2022 by Jo, Nottingham, United Kingdom
Shame it's going to Broadway
Show is good, different twist on Cinderella, recommend dor children over 10.
Reviewed on 05 June 2022 by Pauline, Tonbridge, United Kingdom
Cinderella updated!
A fun, witty, amusingly inclusive update on the original cinderella story.
Reviewed on 02 June 2022 by Cara, Iver, United Kingdom
A Different Take on the Cinderella Story
The performance of Cinderella was excellently performed. The stage and some of the seating were interesting designed, the sets were creative and lovely, costumes were great, colorful and appropriate for the characters. The actors acted and sang well. Production values were very good and the lighting and tech work were superb. The music was typically Andrew Lloyd Webber's, though I am not sure I heard particularly memorable numbers. The story line seemed a bit contrived but it definitely was a different take on the Cinderella story. While the show as a whole is appropriate for anyone, some of the sexual innuendos were fortunately over the heads of the younger children in the audience for whom they were inappropriate.
Reviewed on 01 June 2022 by James, Kensington, United States Of America
Brilliant show, must see before it closes
Reviewed on 01 June 2022 by Tracy, Beckenham, United Kingdom
Creative diferent
Reviewed on 28 May 2022 by Ada Lesley, Harrogate, United Kingdom
Surprised it's shutting down! A great show!
Reviewed on 25 May 2022 by Phoebe, Hounslow, United Kingdom
Must see. Music was good. It a fun night out
Really good show. But not for little kids.
Reviewed on 23 May 2022 by Julie, Gillingham, United Kingdom
Fabulous show, music and dancing!
Reviewed on 22 May 2022 by Rachel, Castleford, United Kingdom
Amazing performance
We loved every bit of the show and had superb seats. Totally loved the stalls at the front moving round. Have never experienced seeing that and so unexpected. The costumes were outstanding and the quality of singing. We had 4 seats Circle D 49-52.
Reviewed on 22 May 2022 by Sue, Dartford Kent, United Kingdom
Stylish retell if a classic story
Good fun show, great costumes . Loved the stage moving to an in the round setting for the ball.
Reviewed on 22 May 2022 by Graham, Weymouth, United Kingdom
Amazing from start to finish!
Reviewed on 20 May 2022 by Fiona, Wicklow, Ireland
Mediocre
Reviewed on 20 May 2022 by Janis, London, United Kingdom
Much better than anticipated - would recommend
Wanted to see this just because it's by ALW rather than for the story, and so glad we did. Cast were all outstanding but the technical aspects raised this above many other shows; the wonderful revolving stage which came as a complete surprise, lighting which didn't shine straight into your eyes and above all the excellent clarity of the sound - so often over-loud or distorted even in the West-End.
Reviewed on 19 May 2022 by Janet, Peterborough, United Kingdom
Weak plot, songs just not memorable, just a poor show
I wouldnt recommend this to anyone.
Reviewed on 18 May 2022 by Mark, Essex, United Kingdom
Very interesting view on classic story of Cindirella
Reviewed on 12 May 2022 by Adrian, London, United Kingdom
Very Entertaining
Reviewed on 11 May 2022 by Lewis, Rayleigh, United Kingdom
Excellent all round entertainment, uplifting, ticked all the boxes for us!
Reviewed on 08 May 2022 by Gillian, Sheffield, United Kingdom
God bless the stepmother and sisters for keeping the pace
Expected more from ALWs Cinderella to be honest. The story was modern but fairly poorly linked … a lot of dei ex machina (i.e. the modern fairy godmother - twice). Story was slow and rather incoherent. Thanks to the ab-fab stepmother as well as sisters, the show was lifted to a West End standard again.
Reviewed on 05 May 2022 by Rens, Lede, Belgium
Brilliant, funny, great music
A great evening out for all the family, we loved it very funny and great music
Reviewed on 23 April 2022 by Claire, Dublin, Ireland
Great theatre, average show
Reviewed on 16 April 2022 by Emma, Colchester, United Kingdom
Must see
The show was excellent, throughly enjoyable & totally different to any Cinderella's you may have watch before. I would strongly recommend that it's a must see show.
Reviewed on 11 April 2022 by Brian, Dagenham Essex, United Kingdom
Everyone chant every song. No melodies
Reviewed on 09 April 2022 by Dan, Anaheim, United States Of America
Cinderella Fairytale 2022
What a refreshing modern day version of this classic fairytale. Such a good vibe in and outside theatre which is beautiful & intimate. Loved it ?
Reviewed on 08 April 2022 by Dahbo, Dubai, United Arab Emirates
A unexpected gem
Wasn't sure what to expect as Cinderella can be a bit sugary but what an amazing surprise. This was so good. A real updating of a classic tale. Went home buzzing with how much I enjoyed the show.
Reviewed on 08 April 2022 by Ann, Herne Bay, United Kingdom
Amazing talent ! Cute plot with a twist.
Reviewed on 05 April 2022 by Josephine, Mellieħa, Malta
Great musical
Fabulous scenery costumes and music. This twist on Cinderella was worth the wait. Surprise ending! Beautiful singing and the revolving stage was spectacular! A great show
Reviewed on 29 March 2022 by Jill, Morecambe, United Kingdom
A must see show
Reviewed on 29 March 2022 by Paul, West Drayton, United Kingdom
Don't bother
This show is so very nearly a pantomime. Typically poor Andrew Lloyd Webber show that just doesn't deliver on any level. The cast were trying their best but when you have an uninspiring story, lame music and lyrics you leave the actors no place to go. I love the theatre but this left me cold.
Reviewed on 28 March 2022 by Joel, Hatfield, United Kingdom
A must see
Fantastic performance from all the cast Had we known about the revolving stage and the audience seats we would have booked downstairs very exciting to see We were the last to leave the theatre didn't want the show to end Do go and be part of a wonderful show
Reviewed on 27 March 2022 by Diana, Leyland, United Kingdom
Did Not Enjoy
My husband and I left half way through.
Reviewed on 21 March 2022 by Tracy, Cambridge, United Kingdom
Good creative characters
Reviewed on 21 March 2022 by Camila, Newbury, United Kingdom
good show
it's okay but the tickets to expensive for this show…. cinderella has to be more pretty.
Reviewed on 19 March 2022 by Husain, London, United Kingdom
Second time of seeing show
This is our second visit the first was on opening night Such a fun show with great actors and singers
Reviewed on 16 March 2022 by Dawn, Kent, United Kingdom
Creative staging, great lead vocals from all of the main characters.
The staging had some great surprises. All of the lead vocalists were amazing. Great plot twist. Very emotional. It's not a Disney Cinderella, so be aware there is a bit of bad language. Overall we thoroughly enjoyed it. Must see.
Reviewed on 13 March 2022 by Christopher, Swindon, United Kingdom
Disappointing
First half was enjoyable but not outstanding. During the interval a lady fell down some stairs so second half didn't happen. Hope to see it again sometime.
Reviewed on 12 March 2022 by John, Billericay, United Kingdom
Wonderful way to spend an evening.
Reviewed on 06 March 2022 by Cara, Waltham Cross, United Kingdom
New twist on an old story
Really loved this novel twist on a traditional story - it was great fun. Costumes were gorgeous and all of the leads were tremendous
Reviewed on 05 March 2022 by Lesley, Epsom, United Kingdom
Unexpected
The songs are not known so the audience could not interact. The moments of Cinderella and Sebasuan were too melancholic and not exciting enough
Reviewed on 05 March 2022 by Luciana, São Paulo, Brazil
Well worth seeing ....
Excellent show...The cast were amazing...singing and dancing cinderella was a fab singer ...Sgow was very entertaining ... Very funny in parts A lovely show for all the family ?
Reviewed on 27 February 2022 by Mary, Limerick, Ireland
atnasr
Reviewed on 24 February 2022 by Atefeh, London, United Kingdom
Brilliant show
Awesome. Close to the knuckle in some places but just awesome.
Reviewed on 20 February 2022 by Stephen, Gloucester, United Kingdom
Good
Entertaining but did not like the changes to the real Cinderella story
Reviewed on 18 February 2022 by Zora, Basildon, United Kingdom
Outstanding
The performance was full of energy and the staging was excellent. The performers had strong voices and were talented dancers. What set this show apart was the clarity of the singing which meant every word was audible. There was a clever and unexpected twist to this classic tale at the end. Genius!
Reviewed on 17 February 2022 by Helen, Banstead, United Kingdom
Escapism at its best
Great story line and fabulous music
Reviewed on 16 February 2022 by Jeanne, Granite Bay, United States Of America
Funny and unexpected
The staging in the second half was genius! Loved the funny parts and the costumes. Overall the singing was fantastic! Leading lady was superb. Well done everyone
Reviewed on 16 February 2022 by Charlotte, Southam, United Kingdom
Thoroughly enjoyed Cinderella
Just loved the music the acting the songs Everything about the show. Not really suitable for young children even though the title may lead parents to think it is.
Reviewed on 12 February 2022 by Glynis, Cleethorpes, United Kingdom
A must see show
A fantastic musical well worth going to see
Reviewed on 09 February 2022 by Amanda, Matlock, United Kingdom
So so good...
Reviewed on 02 December 2021 by Alwen, Dorking, United Kingdom
Excellent Show For 12 and Above
No good or bad fairy, mice or shiny carriage, but oh what an excellent performance from all the other main characters we all know so well from the traditional Xmas offerings of this well loved tale. The Queen and the ugly sisters stepmother were perfectly pitched against each other, as were the ugly sisters. Cinderella was a little dwarfed by these two pairs of characters.. but the show was colourful, flowed well, plenty of stage craft , and delightful music. Would suggest that this musical is best suited for 12 and above. And don't bring them if they are expecting a traditional pantomime of boo and hisses, and a bag of sweets for the lucky view. But take everyone else. A lovely colourful show. We had a most enjoyable evening.
Reviewed on 25 November 2021 by John, Lee On The Solent, United Kingdom
Clever new creation on an original fairy tale!
Cast acting excellent and the musical brought humour to a classic story line. A surprise in the second half of the performance made the show even more enjoyable for the audience and the whole show was truly amazing.
Reviewed on 18 November 2021 by Joanna, Sleaford, United Kingdom
Day out in london
Really enjoyed Cinderella,lively and the singing was amazing.
Reviewed on 29 October 2021 by Joanne, Potters Bar, United Kingdom
Different
A bit weird not as expected
Reviewed on 28 October 2021 by Julie, Swanage, United Kingdom
AMAZING!!!
Wow, no words for how amazing this show is! I would go every day!!
Reviewed on 23 October 2021 by Emma Lucy, Stillorgan, Ireland
So good! Best new musical in a while!
Carrie was amazing, not to mention literally any other actor, the costumes were outstanding so beautiful. Must see!
Reviewed on 23 October 2021 by Lucca, Tilburg, Netherlands
Creative, Sensational and fun.
Really loved the story, beautiful songs, sent tingles through me. Really nice theatre, don't think anyone's view was blocked, nicely organised for everyone. Love the moveing stage.
Reviewed on 17 October 2021 by Angela, Stepney, United Kingdom
vibrant and surprising !
Reviewed on 30 September 2021 by Philip, Knowle, United Kingdom
Enjoyable and professional entertainment after 18months of silence and theatre blackout !!!! The lead Georgina was amazing…what a find !!!
Reviewed on 09 September 2021 by Adrianne, London, United Kingdom
Absolutely magical
Magical. The talents of everyone of them is unreal. I love musical.and appreciate every effort made by the artist. Mesmerising to say the least.
Reviewed on 23 August 2021 by Kareshmah, Potters Bar, United Kingdom