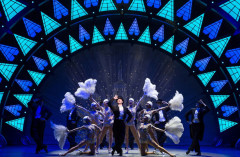 One of the most life enhancing shows I've ever seen on Broadway is the Gershwin musical AN AMERICAN IN PARIS and I'm delighted to report that rehearsals have begun for The West End production.
The plot is described in today's official press release as the story of "Jerry Mulligan is an American GI striving to make it as a painter in a city suddenly bursting with hope and possibility. Following a chance encounter with a beautiful young dancer named Lise, the streets of Paris become the backdrop to a sensuous, modern romance of art, friendship and love in the aftermath of war"
The set design is one of the most beautiful you'll ever see depicting Paris' emergence from the gloom of Nazi occupation to the glorious spring of a liberated future.
The creative team have incorporated a whole raft of gorgeous George Gershwin musical numbers from the 1930s and 40s including I Got Rhythm, 'S Wonderful, I'll Build a Stairway To Paradise and They Can't Take That Away from Me, together with more substantial sweeping compositions like 'Concerto in F' and 'An American in Paris' which accompany some beautiful ballet sequences.
The two original Broadway stars, Robert Fairchild (as Jerry Mulligan) and Leanne Cope (as Lise Dassin) are coming to London to revive their performances where they'll be joined by Haydn Oakley as Henri Baurel, Zoë Rainey as Milo Davenport, David Seadon-Young as Adam Hochberg and Jane Asher as Madame Baurel with Julian Forsyth and Ashley Andrews, Sophie Apollonia, Zoe Arshamian, Sarah Bakker, James Barton, Alicia Beck, Chrissy Brooke, James Butcher, Jonathan Caguioa, Jennifer Davison, Katie Deacon, Rebecca Fennelly, Sebastian Goffin, Alyn Hawke, Nicky Henshall, Genevieve Heron, Amy Hollins, Frankie Jenna, Justin-Lee Jones, Robin Kent, Kristen McGarrity, Julia J. Nagle, Daniela Norman, Aaron Smyth, Todd Talbot, Max Westwell, Jack Wilcox, Carrie Willis, Stuart Winter and Liam Wrate. Ashley Day will be the alternate Jerry Mulligan (and will assume the role from Monday 19 June 2017).
They'll be directed and choreographed by the internationally renowned, British-born Christopher Wheeldon, an Artistic Associate of the Royal Ballet. He has won a Tony® Award for AN AMERICAN IN PARIS and two Olivier Awards and received an OBE in the 2016 New Year's Honours 'for services to promoting the interests and reputation of British classical and theatrical dance worldwide'.
This treat of a show begins previews on Saturday March 4th at The Dominion Theatre.