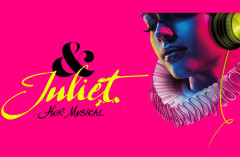 It's been announced that Miriam-Teak Lee from the original London cast of HAMILTON is to star in the premiere of a new musical sequel to ROMEO & JULIET. It's called & JULIET. Further casting will follow.
Let's wish the producers well as they prepare to open at the huge Manchester Opera House on 10 September before transferring to the huge Shaftesbury Theatre from 2 November. That's a lot of tickets to sell for an oddly titled, unknown musical with a star and composer no one's heard of. Frankly, at present, it all sounds a bit of a muddle.
We're told the show considers what might have happened if Juliet didn't die at the end of Shakespeare's play and the action, in the words of the press release, "follows her as she heads to Paris with her best friends to try to recover from the death of her soul mate".
It's not clear whether that means "Paris" the city or "Paris" - Romeo's rival in Shakespeare's Romeo and Juliet. The fact that no one's considered that this is confusing doesn't bode well.
Will Juliet continue to speak in Elizabethan verse once she leaves Shakespeare's plot? Pity the poor script writer (none is credited yet) who has to either write dialogue in Shakespeare's style or find a new mode of expression that's as rich and poetic.
He or she will also have the challenge of retaining the show's credibility whilst obliged to shoe-horn in pop hits like "Baby One More Time", "Love Me Like You Do", and "I Can't Feel My Face" by pop writer Max Martin, newly orchestrated by Bill Sherman.
We're told Max Martin has written songs for singers including Ariana Grande, Taylor Swift, Westlife, Britney Spears and the Backstreet Boys. But will his work stand up to inevitable comparisons with the score of WEST SIDE STORY, an undisputed masterpiece that also takes Romeo and Juliet as a starting point?
Thankfully there's a strong creative team behind it all. Luke Sheppard (In the Heights) directs the piece which has a story by David West Read (Schitt's Creek), choreography from Jennifer Weber, lighting from Howard Hudson, sound design from Gareth Owen, costume design from Paloma Young and set design from Soutra Gilmour.
Even so William Shakespeare, and West Side Story's composer Leonard Bernstein and lyricist Stephen Sondheim, may prove to be tough acts to follow with a "Love me Like you Do" jukebox show.