Quick Facts
Largest Ticket Inventory
in the West End
Real time
seat availability
Choose
your seats
Your booking is processed directly into the box office reservation system
This show is now closed.
The Importance Of Being Earnest
Tickets
4.5/5
-

based on

72

reviews
About The Importance Of Being Earnest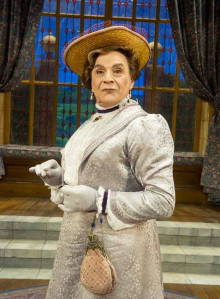 Performance Times
Starring:
David Suchet
The Importance Of Being Earnest description
The Importance of Being Earnest – A handbag?
It's the tail end of the Victorian era. The strict social code the time is so famous for is at its most powerful. And Oscar Wilde mercilessly took the mickey out of it. It was a risky business considering he flouted the code at every turn and his homosexuality put him at constant risk of imprisonment. But he wrote The Importance of Being Earnest anyway, to the utter delight of his many fans. Soon afterwards a nasty row with his lover's father led to disaster, with a court case, an eventual conviction for 'gross indecency' and a sentence of hard labour. And that was that. The production is directed by Adrian Noble.
The Importance of Being Earnest - The story
Jack and Algernon are rich and posh. Jack lives quietly and respectably in the country with his young ward Cecily. He has invented a naughty younger brother who he uses as an excuse to visit London whenever he wants to escape from the countryside. Algernon, in London, has also dreamed up an imaginary friend, the invalid Bunbury, who he 'visits' in the country whenever he wants to get out of a social occasion he doesn't fancy.
Jack wants to marry Algernon's cousin Gwendolen but her mother, Lady Bracknell, is a stupendously snobbish force to be reckoned with. Jack was abandoned in a handbag at Victoria station and is of uncertain parentage, which makes convincing Lady Bracknell of his worth a very tough task.
Algernon visits Jack and introduces himself to Cecily as Ernest, knowing she is captivated by the tales of Ernest's wickedness, and they become engaged. But when Jack arrives home and tells everyone Ernest is dead, things start to unravel…
The Importance of Being Earnest theatre tickets – Hilarious period satire
Want premium, full price or discount The Importance of Being Earnest tickets? We offer excellent availability on all seat and ticket types.
The Importance Of Being Earnest reviews
4.5 out of 5
based on

72

reviews
What to expect:
Acting
Music
Costumes
Story
Lighting
Recommended for:
Anyone (76%)
Families (76%)
Teenagers (81%)
Couples (93%)
Theatregoers (97%)
Latest customer reviews

Awesome!
Reviewed on 18 November 2015 by Mark, Derry, United Kingdom

Outstanding saturday afternoon
Reviewed on 11 November 2015 by Stephen, Bedford, United Kingdom

Loved every minute!
Reviewed on 11 November 2015 by Michael, Mesa, United States

outstanding
Reviewed on 09 November 2015 by Mairi, Exeter, United Kingdom

good quality show
Excellent acting
Reviewed on 30 October 2015 by Jacqueline, Tr3 6hs, United Kingdom

Clever and Amusing
Great story, very clever and amusing, excellent acting by everyone. A really great night out. Jim Reeve
Reviewed on 21 October 2015 by James, London, United Kingdom

Mediocre
Nothing to write home about
Reviewed on 20 October 2015 by Graham, Oakworth, United Kingdom

Classic comedy
Entertaining and wonderful acting.
Reviewed on 16 October 2015 by Frederick, Beccles, United Kingdom

Extremely hilarious
Excellent show, really enjoyed it, acting was extremely good, laughed out loud, so funny, would recommend it to anyone
Reviewed on 05 October 2015 by Kathleen, Waltham Cross, United Kingdom

Fun!
Reviewed on 03 October 2015 by Carolyn, Church Stretton, United Kingdom

Couldn't attend due to illness, no cancellation policy, so wasted money
Reviewed on 03 October 2015 by Lee, Hinckley, United Kingdom

Best at being Ernest
We very much enjoyed the show. It was a very good production of a play I have seen many times before. All the actors & actresses were excellent. It has good sets. For anyone who likes this sort of theatre I recommend that you go and see it.
Reviewed on 01 October 2015 by Colin, Brentwood, United Kingdom

Colorful, educational for youngsters!
The world is blessed to have David Suchet! And the whole cast are just sooooo fabulous! My husband in Norway gave me a plane ticket to go to London to see the show! as a birthday present! Even though we have given everything we own away, he said it is a must before leaving the planet earth! Best evening ever! (next to loving each other.....) Best regards Karen
Reviewed on 27 September 2015 by Karen Hume, Oslo, Norway

Need to see
Reviewed on 26 September 2015 by Lucyna, Rochester, United Kingdom

Delightful
I am a great fan of this play and this was the first time I had seen it performed live. Loved David Suchet as Lady Bracknell and miss Prism was perfect. A lovely time at the vaudeville theatre
Reviewed on 25 September 2015 by Stacey, East St Kilda, Australia

Great to see David as Lady Bracknell
We enjoyed the show but the actors were talking very fast. If I had not known the play I would have found it difficult to follow. Also Cecily's little girl voice was irritating. The scenery sets were fantastic
Reviewed on 24 September 2015 by Ronald, Broadway Ilminster, United Kingdom

Amazing. Simply amazing.
A great show. A great cast. David Suchet was as god in a female role, as in every male roles he has played. No less admirations for the rest of the cast. Amazingly talented actors, passionately performing a classical text, bringing something new in Wild's play. If you want to feel good, to laugh from heart, to see something greatly and masterly made - I recomend that it is IMPORTANT to see The Importance of Being Earnest. Alexander Angelov
Reviewed on 19 September 2015 by Alexander, Oslo, Norway

Applause Applause!
Reviewed on 16 September 2015 by Ellena, Granbury, United Kingdom

Hilarious!
Reviewed on 15 September 2015 by Zaskia, Brighton, United Kingdom

brilliant
Reviewed on 13 September 2015 by Flavia, Guernsey, United Kingdom

Constant laughter
Reviewed on 06 September 2015 by Fiona, Cowes, United Kingdom

Must See!
Reviewed on 05 September 2015 by Rebecca, Delafield, United States

An old favourite played to perfection
Reviewed on 04 September 2015 by Alex, San Francisco, United States

wonderful!
We loved this show, an absolute ensemble piece, but the standouts were Cicely and Algernon, brilliant to watch even when they weren't the focus of the scene, i'd recommend it to anyone who wants a laugh
Reviewed on 03 September 2015 by Shelley, Pontypridd, United Kingdom

A hilarious must-see!
Reviewed on 01 September 2015 by Taru, London, United Kingdom

The Importance Of Being Suchet
Forget his wonderful TV performances, David Suchet's stage presence is gargantuan. Having seen him on stage before, I knew what to expect, but this was absolutely terrific. These period pieces are sometimes difficult to find the humour in, not so this adaptation, I didn't realise how funny this play is. The (in the main) young cast must revel in the chance to 'up their game' competing against an old 'pro' like Suchet. From the Robert Downey Jnr lookalike, Philip Cumbus to another veteran, Michelle Dotrice, the cast gelled very nicely together. A wonderful experience, especially as it was a birthday treat for my Wife and me. Many thanks to those who brought it into being and those who performed it.
Reviewed on 24 August 2015 by Paul, Gillingham, United Kingdom

Fabulous!
Reviewed on 23 August 2015 by Emily, London, United Kingdom

Excellent - the humour is timeless
Reviewed on 20 August 2015 by Michael, Sissinghurst, United Kingdom

absolutely fantastic
Reviewed on 09 August 2015 by Eduardo, Derby, United Kingdom

Classic
David Suchet was excellent, supporting cast not so good
Reviewed on 29 July 2015 by Susan, Skipton, United Kingdom

Great acting!
The play is taken to another level of enjoyment when the actors are so superb. Suchet is of course brilliant, but the rest of the cast gave insightful and witty interpretations.
Reviewed on 25 July 2015 by Claire, Burton On Trent, United Kingdom

funny, witty, uplifting, fantastic play!!!
Reviewed on 24 July 2015 by Dominique, Sentosa Island, Singapore

Great entertainment
The show was great fun to watch and the three set designs were quite impressive and really help to set the scene. The plot was very easy to follow and it was amusing watching the story unravel on stage
Reviewed on 20 July 2015 by Henry, Maidstone, United Kingdom

Genius writing deserves top class acting- and this is what you get. An absolute joy.
This is a theatrical triumph from beginning to end. From perfect set, to fabulous costumes, and superb acting, transforming an 1895 classic into a modern gem. I had a smile on my face from beginning to end, as did my 13 year old son.Do not miss the opportunity to remind yourself of the true brilliance of a talented author. Inspiring.
Reviewed on 16 July 2015 by Claire, London, United Kingdom

A+ acting and witty script
Two out of the four people in my party don't usually enjoy the theater, but all four of us enjoyed this show immensely. The witty script and comedic skills of the actors kept us all entertained up to the last minute. A fantastic choice for our London theater event.
Reviewed on 09 July 2015 by Kathleen, Redmond, United States

A must see
Super show & superb cast. Very funny. One of the best productions we have seen.
Reviewed on 02 July 2015 by Narwinder, Bedford, United Kingdom

Great show
This was a very good production headlined by David suchet who was excellent and along with a very good cast made for a thoroughly enjoying evening. I have never laughed so much as I did last night
Reviewed on 26 June 2015 by Anonymous

all we had hoped it would be!
We came half way around the world to see this show! Not entirely, but on discovering it was on at the same time that we were in London, I was keen to make the booking from Australia. Booking went without a hitch, and the experience of seeing on the stage faces and voices we normally only know via the screen was delightful. The placement of Oscar Wilde's wonderful play within a further storyline about an amateur dramatic society was done cleverly and only enhanced the experience. One word of advice to patrons of the Harold Pinter Theatre - brign a cushion! Backside was very sore by half time!
Reviewed on 03 October 2014 by Anonymous

Classic
This is a brilliant performance of an evergreen classic-first rate actors in a timeless piece.
Reviewed on 21 September 2014 by Anonymous

Great production
A great twist in an excellent story.
Reviewed on 01 September 2014 by Anonymous

Brilliant fun! Ignore the reviews and go anyway
Sme reviews were sniffy about the play within a play concept. It is true that the evening really takes off when Oscar Wild's play starts but the cast are great fun -particularly Martin Jarvis and Nigel Havers
Reviewed on 28 August 2014 by Anonymous

classical brilliance
The brilliance of the original dialogue shines through the performance. The modern "framing" adds another level of amusement and fun
Reviewed on 28 August 2014 by Anonymous

Good show
I was not expecting change in the text in comparison to the Oscar While's text but pass the surprise I appreciated it.
Reviewed on 20 August 2014 by Anonymous

A well loved classic
Reviewed on 16 August 2014 by Anonymous

Earnest Review
A new twist on a well known play
Reviewed on 15 August 2014 by Anonymous

different construct
Wilde fans need to be aware that this is a play within a play, so those looking for classic Wilde will be disappointed
Reviewed on 14 August 2014 by Anonymous

Reviewed on 06 August 2014 by Anonymous

Bravo!
Well acted with a great way of presenting a very well known play
Reviewed on 31 July 2014 by Anonymous

good entertainment
great actors amusing story line
Reviewed on 12 July 2014 by Anonymous

good entertainment
great actors amusing story line
Reviewed on 12 July 2014 by Anonymous

Good
Reviewed on 10 July 2014 by Anonymous

Best show I've seen in years
Reviewed on 09 July 2014 by Anonymous

Vinnie and Chris' View
It was a novel adaptation of a classic. But it retained all of the original witty dialogue.
Reviewed on 08 July 2014 by Anonymous

Doesn't work
DOn't know why they decided to tamper with the form of this show but it does not work. They have created a silly play within a play and added very un-Wildean slapstick. The play is not organic in the sense that say a Shakespeare is and so does not lend itself to what they have tried to do - very disappointing.
Reviewed on 06 July 2014 by Anonymous