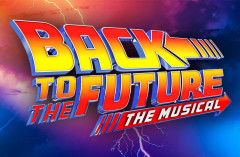 The producers of Back to the Future the Musical are delighted. So is everyone who has bought the album! A week since it was released the original cast recording has stormed into the Official UK Compilation Chart top 5. The soundtrack, crafted by Alan Silvestri and Glen Ballard along with a host of legendary pop artists, looks likely to score a place in a list of chart topping cast albums.
Who's involved in Back to the Future The Musical?
Alan Silvestri has been involved in a host of smash hit musical albums including Fandango, Back to the Future, Romancing the Stone, Pinocchio, The Witches, and Back to the Future: The Musical. Lyricist Glen Ballard is a long-time Silvestri collaborator, probably best known for co-writing and producing Alanis Morissette's 1995 album Jagged Little Pill, a Grammy winner for Best Rock Album and Album of the Year, and one of Rolling Stone magazine's 500 Greatest Albums of All Time. Here's the cast album song list:
It's Only a Matter of Time
Got No Future
Wherever We're Going
Hello – Is Anybody Home
It Works
Don't Drive 88!
Cake
Gotta Start Somewhere
My Myopia
Pretty Baby
Future Boy
Something About That Boy
21st Century
Put Your Mind To It
For The Dreamers
Teach Him A Lesson
The Letter/Only A Matter Of Time
Deep Divin'
Earth Angel (Will You Be Mine)
Johnny B Goode
The Clocktower/For The Dreamers
The Power Of Love
Doc Returns
Back In Time
Exit Music (Back In Time)
Buy Back to the Future The Musical Tickets
Buy your Back the Future tickets online with us and experience the magic for yourself. You can easily choose the best seats with our essential Adelphi Theatre seating plan. Then we'll send E-tickets direct to your email address for you to show at the theatre door when you arrive.
About the Adelphi Theatre
The Adelphi Theatre is a 1500 seater, packed with big production atmosphere, the fourth theatre to stand on the site. A specialist venue for popular comedy and musical theatre, it's known for being both big and cosy-feeling. These days the venue is owned by Sir Andrew Lloyd Webber's Really Useful Group. Past shows at the Adelphi Theatre include Sunset Boulevard, Chicago, Evita, and One Man, Two Guvnors.