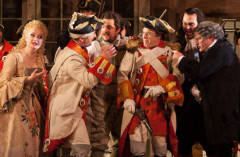 Jonathan Miller, who first found fame way back in the 1960's as part of the posh comedy group BEYOND THE FRINGE has achieved extraordinary success over the last few decades as the director of some of the best loved and most often revived opera productions in the modern repertoire.
It's great news then that his celebrated staging of Rossini's comic opera THE BARBER OF SEVILLE is to be revived as the centre piece of English National Opera's autumn season at the Coliseum Theatre, in the West End. There's only ten performances so it's well worth booking ahead to avoid disappointment.
Transporting audiences back to 18th century Seville, this sunny adventure follows the escapades of the barber Figaro as he assists Count Almaviva to prise the beautiful yet feisty Rosina away from her lecherous guardian Dr Bartolo. It's a prequel to the story of Mozart's The Marriage of Figaro and Miller conjures up a Venetian inspired staging that brilliantly combines Italian commedia dell'arte slapstick and modern farce.
There's a top notch cast conducted by Christopher Allen, currently Associate Conductor of Los Angeles Opera, making his UK debut conducting Rossini's sparkling score.
ENO favourite Andrew Shore returns as Bartolo, one of his signature roles, giving free rein to his peerless comic gifts and timing. Australian baritone Morgan Pearse will return to sing the title role for the first time after his ENO debut in Terry Gilliam's five-star production of Benvenuto Cellini. British mezzo-soprano and former ENO Harewood Artist Kathryn Rudge sings her first Rosina. Mexican tenor Eleazar Rodriguez (Count Almaviva) makes his ENO debut and 2013 BBC Cardiff Singer of the World finalist Katherine Broderick returns as Berta. Her 2013 performances in the role were described as "vibrant and well sung" by The Guardian. She is joined by Barnaby Rea as Don Basilio and British baritone Matthew Durkan as Fiorello.
Whether you're new to opera or already a fan you should find plenty to delight you in this classic production of a funny, sunny masterpiece.
The Barber of Seville opens at the London Coliseum on 28 September 2015 for 10 performances – Sep 28, 30, Oct 9, 15, 19, 30 & Nov 5, 11 at 7.30pm. Oct 3, 24 at 6.30pm