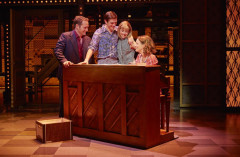 I always like to celebrate a show whose primary purpose is to give pleasure and Beautiful which is about to end its time at the Aldwych Theatre after a very respectable run of over two years, is just such a show.
You also learn a lot too. Although I've loved songs like So Far Away, Take Good Care of My Baby and Locomotion but I had no idea that the same songwriter was behind them all. That song writer was Carole King and the show takes the form of a gentle autobiography, dramatising scenes from King's life interspersed with musical numbers she's written.
The show originally opened on Broadway in January 2014 and King has visited the show in London twice, when she joined the cast on stage to sing You've Got a Friend.
The main thrust of the story features Carole King's life from her days as a school girl to her work with her husband and song writing partner Gerry Goffin. As the show's official website reminds us – "She fought her way into the record industry as a teenager and sold her first hit, Will You Love Me Tomorrow, when she was just seventeen. By the time she was twenty she was writing number ones for the biggest acts in rock 'n' roll, including the Drifters, The Shirelles, Aretha Franklin and the Monkees. But her greatest challenge was to find her own voice and finally step into the spotlight".
The full roster of glorious songs contained in the show and the characters from King's life who sing them is So Far Away - performed by Carole King, Oh! Carol - performed by Neil Sedaka, 1650 Broadway Medley - performed by the Ensemble, It Might as Well Rain Until September - performed by Carole, Be-Bop-A-Lula - performed by the Ensemble, Some Kind of Wonderful - performed by Carole, Gerry Goffin and The Drifters, Happy Days Are Here Again - performed by Cynthia Weil, Take Good Care of My Baby - performed by Gerry and Carole, Who Put the Bomp (in the Bomp, Bomp, Bomp) - performed by Barry Mann, Will You Love Me Tomorrow - performed by Carole, He's Sure the Boy I Love - performed by Cynthia and Barry, Up on the Roof and On Broadway - performed by Gerry and The Drifters, The Locomotion - performed by Little Eva, You've Lost That Lovin' Feeling - performed by The Righteous Brothers and One Fine Day performed by Janelle, Carole and The Ensemble.
You have until August 5th to catch this fascinating and crowd pleasing show which currently stars Cassidy Janson as King, alongside Matthew Seadon-Young as King's husband and song-writing partner Gerry Goffin, Stephanie McKeon as song-writer Cynthia Weil, Ian McIntosh as song-writer Barry Mann, Joseph Prouse as music publisher and producer Donnie Kirshner and Barbara Drennan as King's mother Genie Klein.
If you can't catch it in the West End the show is currently playing at the Stephen Sondheim Theatre and an Australian production will open in Sydney in September. Nearer to home the UK tour of the show opens in Bradford on 9 September 2017 and continues to Plymouth, Southampton, Norwich, Cardiff, Birmingham with more dates to be announced.