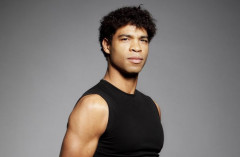 The biggest mega-star opening a show in London at the moment is the hugely popular Cuban dancer CARLOS ACOSTA who's currently starring at The Royal Opera House in CUBANÍA, a programme of work designed to show case his talent and sex appeal.
There are four commissioned pieces that are heavily influenced by the domestic and the spiritual landscape of his native country. The works in Cubanía include a combination of revivals of previous collaborations and premieres created especially for the occasion.
Acosta has spoken of his desire 'to bring together some of the Cuban artists I have worked with over the years, many of whom have travelled a long way on the journey with me'.
Among these artists are dancers Alexander Varona and Verónica Corveas, choreographer Miguel Altunaga and leading Cuban dance ensemble Danza Contemporánea de Cuba.
Acosta himself performs two duets – Altunaga's dynamic Derrumbe and Edwaard Liang's fluid, organic Sight Unseen – with contemporary dancer Pieter Symonds and Royal Ballet Principal Zenaida Yanowsky respectively. In between these works, Varona dances a solo, Flux, by Russell Maliphant, and George Cespedes's Ecuación – a striking group work for four dancers and a ten-foot metal cube – is performed by Danza Contemporánea de Cuba.
The show is presented with a live Cuban House Band, who perform onstage in Tocororo, the evening also features solos from Cuban violinist Omar Puente and an appearance by Pegasus – a London chamber choir.
Acosta has danced with many of the leading ballet companies in the world and is a Principal Guest Artist of The Royal Ballet where, since 2003 he's been a senasation in roles such as Siegfried (Swan Lake), Albrecht (Giselle), The Prince (The Nutcracker), Des Grieux (Manon), Prince Florimund (The Sleeping Beauty) and Don Quixote. His staging of Don Quixote, his first for The Royal Ballet, opened the 2013/14 Season.
He trained at the National Ballet School of Cuba, going on to dance with the English National Ballet, the National Ballet of Cuba and the Houston Ballet. The culture and history of his home country have been important influences throughout his career, and in 2003 his show Tocororo – A Cuban Tale, loosely based on his childhood, broke box office records at Sadler's Wells Theatre. His 2007 autobiography No Way Home was a UK bestseller and he is currently developing plans for a new ballet school in Cuba. 2013 saw the publication of his first novel, Pig's Foot. In June 2011 he performed with Tamara Rojo at the opening night of Romeo and Juliet at the O2 Arena, London, to an audience of 13,500.