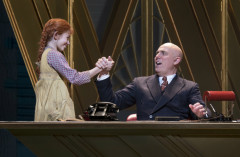 All good things must come to an end including the West Ends hit production of ANNIE which has announced the final kids who'll take on the children's roles in London before the production moves to Toronto.
This means you only have until February 18 to catch this joyful, heart-warming show. Based on a cartoon strip from depression-era America, it's the story of how orphan Annie escapes the clutches of a villainous orphanage owner to be adopted by a millionaire in 1930's New York. It's packed with great songs including the ever-popular show tunes It's A Hard Knock Life, Tomorrow and Easy Street.
Here's how the PR folk describe the new batch of child stars who'll play the orphans. "From 15 January 2018, Ruby Stokes (13-years old from Hampshire) will be joined by Isobel Khan (11 years old from Wakefield) and Agatha Meehan (10 years old from York) who will share the title role of Annie. The kids cast will also welcome Molly May Gibson (11 years old from Kent), Hannah Hutchins (13 years old from Bromley) and Amelie Green (10 years old from London), who join the three teams of young performers who play the girls in Miss Hannigan's orphanage".
In this current production baddie, Miss Hanigan, has been played by Miranda Hart, followed by Craig Revel Horwood and is currently portrayed by British comedian, actor and writer Meera Syal. She'll stay with the show until it closes along with Alex Bourne as Daddy Warbucks, Holly Dale Spencer as Grace Farrell, Jonny Fines as Rooster, Kate Somerset How as Lily and a chorus that includes Russell Wilcox, Bobby Delaney, Keisha Atwell, Sophie Ayers, Melanie Cripps, Nic Gibney, Patrick Harper, Ben Harrold, George Ioannides, Megan Louch, Benjamin Mundy, Marios Nicolaides, Ben Oliver, Heather Scott-Martin, Anne Smith, Katie Warsop and Amy West.
Amber, a 4 year-old Labradoodle, plays Annie's dog Sandy.
Annie has book by Thomas Meehan, adapted from the comic strip Little Orphan Annie, music by Charles Strouse and lyrics by Martin Charnin. The West End production has sets and costumes designed by Colin Richmond, choreography by Nick Winston, lighting by Ben Cracknell, sound design by Richard Brooker and orchestration and musical direction by George Dyer.