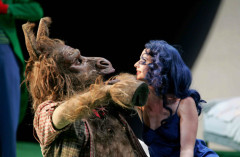 Major opera productions usually only get a run of 3 – 5 performances when presented in major opera houses. These venues are usually so large that in one night the cast can play to the same amount of people as would see the production over a week in a normal size theatre.
An important staging will then go on to be presented at other opera houses around the world and the venues can share the cost of these shows, which typically require huge amounts of scenery and costumes, with an army of singers and musicians to pay.
Particular hit productions then return to the circuit and are revived over and over again if there's a demand to see it.
Returning to English National Opera's West End base, The London Coliseum on St Martin's lane, is a celebrated operatic retelling of Shakespeare's most popular comedy, A Midsummer Night's Dream. This is its third revival at the venue, where it last appeared in 2004. It will open on Thursday 1 March at 7.30pm and play for 6 performances.
The music is by Benjamin Britten (1913-1976) and the words are adapted by Britten and Peter Pears.
We're promised that "Shakespeare's romantic comedy, with its two pairs of lovers enchanted, switched and finally given their happy ending by fairy magic, is beautifully retold in Britten's opera. Carsen's bewitching nocturnal staging, with Michael Levine's arresting dreamscape designs and Matthew Bourne's gorgeously fluid choreography, has enchanted audiences from La Scala to Beijing since its 1991 premiere at the Aix-en-Provence Festival."
Since the first performances choreographer Bourne has gone on to be world famous for his radical reinterpretations of classic ballets such as Swan Lake (1995) and Carmen (Bourne's The Car Man, 2000).
It's a big year for composer Britten and ENO are proud of the "historic role of the company in premiering and performing the composer's work" . Later in 2018 you'll be able to see his operas THE TURN OF THE SCREW at Regent's Park Open Air Theatre, PAUL BUNYAN at Wilton's Music Hall and a staged interpretation of his WAR REQUIEM in November.
As is so often the case these days, the publicists are making a feature of the fact that there'll be "an ensemble of some of British opera's most sparkling rising stars".
No actual opera stars then and a cheap wage bill for the producers. But the standard of singing at the London Coliseum is usually excellent, so you can book with confidence.
There'll be a new face on the conductor's podium too. Alexander Soddy will be making his debut conducting the ENO Orchestra. But the young singers are in safe hands - he's been Music Director at the National Theatre at Mannheim since 2016 and a guest conductor at the Hamburg and Berlin State Operas, as well as the State Theatre at Klagenfurt. It was here that he last conducted A Midsummer Night's Dream in 2015.
The full cast is:
Oberon - Christopher Ainslie
Tytania - Soraya Mafi
Lysander - David Webb
Hermia - Clare Presland
Demetrius - Matthew Durkan
Helena - Eleanor Dennis
Bottom - Joshua Bloom
Quince - Graeme Danby
Flute - Robert Murray
Snug - Jonathan Lemalu
Snout - Timothy Robinson
Starveling - Simon Butteriss
Theseus - Andri Björn Róbertsson
Hippolyta - Emma Carrington
Puck – Miltos Yerolemou