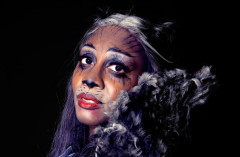 Andrew Lloyd Webber's iconic musical Cats is back due to phenomenal demand after playing to packed houses earlier this year. The production is due to open at the London Palladium on 23 October 2015.
Beverley Knight will star as Grizabella, the role made famous by Elaine Page in the original production and more recently by Nicole Scherzinger.
Knight will be joined by Adam Linstead as Old Deuteronomy, Danielle Cato as Cassandra, Paul F Monaghan as Gus, Marcquelle Ward as Tugger, Harry Francis as Mungojerrie, Jack Butterworth as Rumpus, Jane Quinn as Jennyanydots, Georgie Leatherland as Rumpelteazer, Jon-Scott Clark as Bill Bailey, Evan James as Skimbleshanks, Jordan Shaw as Pouncival, Hannah Kenna Thomas as Victoria, Javier Cid as Macavity, Gabrielle Cocca as Tantomile, Anna Woodside as Demeter, Emma Lee Clark as Bombalurina, Luke Cinque-White as Carbucketty, Clare Rickard as Jellylorum, Tarryn Gee as Jemima, James Titchener as Coricopat, Matt Krzan as Munkustrap and Mark John Richardson as Mistoffelees.
Directed by Trevor Nunn and with choreography by Gillian Lynne, Cats is based on T.S. Eliot's Old Possum's Book of Practical Cats and tells the story of a group of magical Jellicle Cats that once a year, choose one of their number to ascend to the Heaviside Layer and be reborn to a new life.
The show includes some of Andrew Lloyd Webber's best known songs such as 'Mr Mistoffelees', 'Macavity' and 'Memory'.
Cats opens at the London Palladium from 23 October 2015.