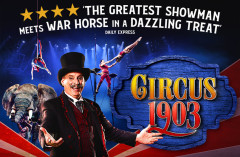 Update for Circus 1903 at the Royal Festival Hall.
It's Christmas! What could be better than one of the greatest shows on earth, a circus packed to the gills with astonishment and thrills. Welcome to Circus 1903, a world-class piece of festive entertainment involving stacks of talented international performers. This is the show's third year and the fun starts on 16th December 2021, running until 2nd January 2022. Prepare to be amazed, delighted and completely, utterly bedazzled.
Who's involved in Circus 1903?
Roll up, roll up... this is your chance to banish the covid blues, stretch your entertainment wings and treat yourself to some classic circus fun. You won't believe your eyes. The cast has just been announced and the elves are waiting in the wings, keen to get cracking. Make your way to the splendid Royal Festival Hall for the best Christmas show in the West End. Here's who's involved.
Your Ringmaster is Willy Whipsnade, joined by his two lovable elephants
The Daring Desafios, teeterboard daredevils: João Guilherme de Lima Siqueira, Luan de Souza Vieira, Leonardo Louzada de Freitas and Vinicius Vasconcelos da Silveira
The legendary balancing act Rola Bola, performed by Geddy "The Sensational Sozonov" Pavlovich
The Cycling Cyclone Florian Blummel
The Ethiopian contortionist, The Elastic Dislocationist Senayet Asefa Amare
The aerial artist duo The Flying Fredonis: Daria Shelest and Vadym Pankevych
The Russian Cradle by Les Incredibles: Olavo Rocha Muniz and Denise Torres de Souza
Juggling from mind-bending juggler The Great Gaston, Roberto Carlos
The Remarkable Risleys: Abiy Saleamlak Negash and Seife Desta Buser
The Russian Rolling Ball Hula Hoopist Mademoiselle Natalia: Natalia Leontieva
The Wheel of Death by Colombian trio Carlos Mayorga Macias, Mauricio Venegas Torres and Andres Felipe Daza Venegas
Buy Circus 1903 Tickets
Book your Circus 1903 tickets online with us and choose the best seats with our Royal Festival Hall Theatre seating plan. We'll send E-tickets to your email address – simply present them at the door on the day of the performance for the most thrilling, exciting, breath-taking show of the 2021 festive season.
About the Royal Festival Hall
The Grade 1 listed Royal Festival Hall is an extraordinary Brutalist venue dating back to 1951, inside the Southbank Centre on the Thames' south bank. It's famous for a varied cultural programme including talks, concerts, art exhibitions and gigs, literature, poetry, debates, workshops, and more and was renovated to perfection in 2007. Past shows at the Royal Festival Hall include 100 concerts a year by eight different orchestras, the London Literature festival, and comedy shows by everyone from newcomers to TV favourites and glittering Edinburgh Festival stars.