Royal Festival Hall
Belvedere Road, London, SE1 8XX GB
Royal Festival Hall Location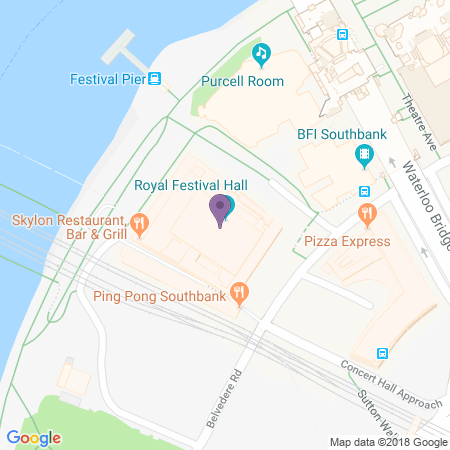 Directions
Travel Information
Nearest Tube station
Nearest Rail Station
Tube lines
Bakerloo
Jubilee
Northern
Waterloo & City
Circle
District
Day buses
(York Road) 76, 77, 341, 381, 507, RV1; (Waterloo Road) 1, 4, 26, 59, 68, 139, 168, 171, 172, 176, 188, 243, 521, X68
Night buses
(York Road) 341, N76, N381; (Waterloo Road) 139, 176, 188, 243, N1, N68, N171, N343
Royal Festival Hall history
From the outside
A massive complex built in 1950s Modernist style that looks as fresh today as when it was new, the Royal Festival Hall has recently undergone restoration to create a beautifully lit wood-panelled auditorium with bright lighting and an airy high ceiling.
Royal Festival Hall architecture and history
The foundation stone of the Royal Festival Hall was laid in 1949 by the Prime Minister of the time, Clement Attlee, on a site where a brewery dating back to 1837 used to stand. Although only built in the 1950s, the Royal Festival Hall is Grade One listed by English Heritage in 1998 in recognition of its unique style. It has the honour of being the first ever post-war building to be so protected.
Created as part of the prestigious Festival of Britain by the architect firm Holland, Hannen and Cubitts and designed by young up and coming architects Leslie Martin, Robert Matthew and Peter Moro, the venue officially opened its magnificent doors in 1951.
The building was changed almost beyond recognition in 1964, when the famous foyers and river terraces were added. And the alterations also removed the Scandinavian-style, modernist face to make it even plainer. Later still, raised concrete walkways were added to serve the nearby Queen Elizabeth Hall, Purcell Room and The Hayward, completed in 1968.
Controlled by the Greater London Council for many years, the Hall was taken over by the Arts Council in 1986. Since the late '80s the hall has opened its massive foyer to the public during the day, and today they are one of the most popular and widely enjoyed public spaces in the city.
In 2005 Allies and Morrison Architects renovated the building again, sorting out the acoustics, which were so dreadful that they allegedly made performers 'lose the will to live'! The stage canopy and walls were also reconstructed, despite the objections of conservationists. The hall eventually reopened in 2007 with Jarvis Cocker's famous Meltdown festival, opening with the band Motorhead.
Past shows at the Royal Festival Hall
A classic concert hall, the famous London Philharmonic and Philharmonia Orchestras perform most of their London concerts at the Royal Festival Hall. Over the years it has hosted countless famous music events from classical to rock, folk to full orchestral performances.
Royal Festival Hall access
Every level in the auditorium is accessible via lifts. There are spaces for wheelchair users and companions in the rear stalls, rows AA and XX, the side stalls in row W, Boxes 3 and 31 and row B of the choir. Plus there are easy-access seats in rows A, B, BB, XX, W, X of the stalls and the bottom and top tier of the boxes.
Royal Festival Hall tickets
We're a popular destination for a wide variety of seat types and prices, with excellent availability on the full range of Royal festival Hall tickets.