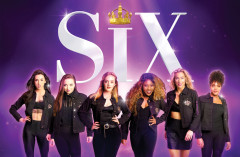 Turning on my PC this morning, two very different unopened emails sit side by side demanding my attention.
The first trumpets that the show SIX will bring the West End back to life as the first musical to open and play in a West End theatre since Lockdown.
• SIX by Toby Marlow and Lucy Moss will become the first West End musical to resume performances in a West End theatre when the show temporarily moves from its home at the Arts Theatre to the Lyric on Shaftesbury Avenue for a limited 11-week run beginning on Saturday November 14 through to January 31, 2021.
SIX will return to the Arts Theatre in March 2021 subject to the lifting of social distancing, and Get Up, Stand Up! The Bob Marley Musical opens at the Lyric.
Tickets for SIX at the LYRIC THEATRE will go on sale at 8am Friday 18 September.
The second is a roundup of the latest news headlines from the Guardian, not a newspaper known for sensationalism.
Almost 86% of doctors in England say they expect a second peak of coronavirus in the next six months.
New cases are running at their highest rate since May. Doctors have condemned the NHS test-and-trace system as an "utter shambles" amid continued stories about people facing trips of hundreds of miles to get a Covid-19 test.
Thousands of pubs, bars and nightclubs will be forced to close for good due to renewed lockdown curbs unless they receive fresh state support, according to a survey of licensees.
A bleak survey by the Institute for Employment Studies says up to 700,000 more jobs could be lost across the country this autumn.
How on earth do those two emails square up? It's impossible to predict but let's wish the producers of SIX, a fantastic show, all the luck in the world. They're going to need it.