404 Strand, London, WC2R 0NH GB
Quick Facts
Largest Ticket Inventory
in the West End
Real time
seat availability
Choose
your seats
Your booking is processed directly into the box office reservation system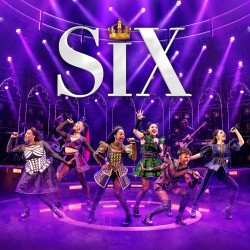 SIX
Tickets
4.8/5
-

based on

218

reviews

from

218

verified reviews
Booking until: Sunday, 3 November 2024
Running time: 1hr 20mins
Tickets from £38.00
Tickets refunded if your event is cancelled
Real time seat availability
Largest ticket inventory in the West End
Secure online booking
Information
Cheap Tickets
Reviews
News
About SIX Tickets
SIX description
Six – Henry 8th's six wives are alive and rocking
When Toby Marlow was in his final year at Cambridge University, he had an idea... and it wouldn't go away. His collaborator Lucy Moss had her doubts but got involved anyway, and they both worked hard at it while studying for their finals. The idea? To stage a musical presented as a rock concert, featuring Henry 8th's six wives.
The world premiere of Six took place at the Edinburgh Fringe festival during 2017, and instantly grabbed the attention of a number of producers. It returned to Edinburgh in 2018 before transferring to the Arts theatre in the West End, starring Jarneia Richard-Noel as Catherine Of Aragon, Millie O'Connell as Anne Boleyn, Natalie Paris as Jane Seymour, Alexia McIntosh as Anne of Cleves, Aimie Atkinson as Katherine Howard, Maiya Quansah-Breed as Catherine Parr, plus Grace Mouat as the Dance Captain.
A successful UK tour followed the stint at the Arts, and now Six is back on the road once more, at the Vaudeville theatre in early 2019 for a 16 week initial run. Not bad for a random, crazy idea hatched by a couple of students!
This is being called 'The most uplifting piece of new British musical theatre' by the Evening Standard, and no wonder when everyone and his dog seem to be losing their head over it, pun intended! The musical has been widely, enthusiastically acclaimed right across the nation, and the sound track has already hit the music charts running.
What can you expect? You'll see a bunch of Tudor Queens transformed into Pop Music Princesses as they tell their stories in song. Together they blend five centuries of heartbreak into a bold celebration of girl power in the 21st century. This is history.... remixed.
You'll rock the rafters with a host of splendid show tunes: Ex-Wives, No Way, Don't Lose Your Head, Heart of Stone, Haus of Holbein, Get Down, All You Wanna Do, I Don't Need Your Love and of course the title tune, Six itself. Each queen has her say five hundred years down the line, and every one of them is strong and feisty. The costumes are extraordinary, a triumph of wonderful weirdness complete with Tudor ruffs. The tunes are spectacular. And the ladies themselves will knock your socks off with their sassy comeback to the murderous, bullying, bloated Henry.
If you like your revenge sweet, walk this way...
Who is this show for?
This show is recommended for people aged 12 plus.
Useful Information
Booking until:


Sunday, 3 November 2024

Running time:


1hr 20mins

Age restrictions


10+. Children under 16 must be accompanied by an adult.
Performance Times
Next Performances for SIX at the Vaudeville Theatre
today
30th Nov 2023
8:00pm
tomorrow
1st Dec 2023
8:00pm
Saturday
2nd Dec 2023
4:00pm
Saturday
2nd Dec 2023
8:00pm
Sunday
3rd Dec 2023
3:00pm
Sunday
3rd Dec 2023
4:00pm
SIX cheap tickets
We have a great selection of cheap SIX tickets. We can help you save up to 70% on SIX tickets! If you're looking for discount theatre tickets have a look below for our latest offers for SIX at the Vaudeville Theatre.
There are no special offers available at the moment but we still have great ticket prices for SIX at the Vaudeville Theatre.
SIX reviews
4.8 out of 5
based on

218

reviews
What to expect:
Acting
Music
Costumes
Story
Lighting
Recommended for:

Families (81%)

Teenagers (94%)

Couples (90%)

Theatregoers (94%)
Latest customer reviews
great show!!
Reviewed on 29 November 2023 by Daniel, Singapore, Singapore
Great fun evening
Wasn't sure what to expect in terms of how the story was to be told but found it fantastic.
Reviewed on 29 November 2023 by Andrew, Holmfirth, United Kingdom
The show was amazing - singing, acting, dancing, music was fab! Would recommend - takes a new perspective on a story that hasn't ever been fully told. It's very modern so if you like classical musical theatre it may not be ideal!! But if you want an uplifting but sad show this will be it! 100% recommend!! Xx
Reviewed on 26 November 2023 by Katie, Crawley, United Kingdom
Fabulous
Reviewed on 25 November 2023 by Lynne, Isle Of Man, Isle Of Man
Funny and enjoyable
Brilliant show. Watched with my 10 year old grandson who also loved it. Great music and costumes. Great characterisation. Only thing I would change was our seating. Sat in row AZ in touching distance of stage. Would be better a bit further back
Reviewed on 25 November 2023 by Susan, Leeds, United Kingdom
Absolutely amazing
Very enjoyable, great acting , amazing vocals, endless humour
Reviewed on 09 November 2023 by Carina-leigh, Tunbridge Wells, United Kingdom
Now I know why it's so popular!
Reviewed on 08 November 2023 by Erin, Edmonton, Canada
Great Show!
The Queens put on an amazing show that was extremely entertaining! 5 stars!
Reviewed on 15 October 2023 by Donna, Ottumwa, United States Of America
Absolute blast... really surprised
Came into this with no expectations other than it has been running a while. Show is condensed into 80ish minutes of non-stop entertainment. No filler at all. Each song interspersed between humorous chat between the cast, all backed by four very talented musicians. Not sure if there's much for children here but the songs are catchy enough and plenty of colour and energy... fact that there were no restless kids in a family populated audience speaks volumes.
Reviewed on 02 October 2023 by Nicholas, Burgess Hill, United Kingdom
Lots of fun at Six
I like history & theatre. Six fit both. The six wives of Henry VIII trying to decide who the top queen is set to music. Great fun. Costumes, lighting & music were terrific and these six actors can sing their hearts out. Very impressive. Noted that the entie band and most of the support staff were women so huge props for that too. It was a good decision to see it. It was the onlyWest End show I've ever seen that did not have an intermission. They performed straight start to end. Welldone!
Reviewed on 12 September 2023 by Steve, Hudson, United States Of America
One to see
Really entertaining musical. The costumes, the music, the actors were all amazing. Made me want to read up on the history of the 6 wives of Henry the 8th. Also the staff at the theatre are really friendly and helpful.
Reviewed on 04 September 2023 by Donna, Sydney, Australia
Fun and Fabulous!
Even though he's not involved, it's a cross between Shakespeare and the Spice Girls. Great show. Also love the price of the Merch t 's. Taking mine to California to promote SIX!
Reviewed on 03 September 2023 by Terri, Folsom, United States Of America
An absolute must see!!
This was incredible. So simple yet so entertaining. A must see.
Reviewed on 23 August 2023 by Paul, Spokane Valley, United States Of America
Vibrant
Reviewed on 22 August 2023 by Carol, Leeds, United Kingdom
Sharp-witted historical whirl!
Excellent historical content delivered with a modern twist! The quality of the singing was incredible and I actually found it quite moving in parts. The band were also amazing!
Reviewed on 20 August 2023 by Emma, Newcastle Upon Tyne, United Kingdom
Absolute must see performance
Throughly entertained from start to finish, great music, great acting, just fab
Reviewed on 20 August 2023 by Samantha, Brecon, United Kingdom
Short, loud and vacuous
In my opinion this show divides the audience, my daughter who accompanied me loved the show and I didn't think it had any saving grace.The story such as it is was drivel and the music wasn't to my taste, I described it afterwards as like watching a demented spice girls gig.My Daughter however thought the music was good and enjoyed the dancing. The tickets were expensive for what is a very short show with no interval but my Daughter really wanted to see it and it was a birthday gift. The marketing for the show clearly works.
Reviewed on 14 August 2023 by Ian, Bedford, United Kingdom
Imagininitive and energetic
Reviewed on 26 June 2023 by Kenneth, Apo, United States Of America
Great time at the theatre
Loved the energy and the message! It's LOUD!
Reviewed on 16 June 2023 by Mary Ann, Bigfork, United States Of America
Had a blast!
Reviewed on 15 June 2023 by Vanessa, Minneapolis, United States Of America
A great night out with the Wives
The show is a blast from start to finish. Great music, great vocals and an engaging story
Reviewed on 12 June 2023 by Neil, Masterton, New Zealand
Great
Reviewed on 04 June 2023 by Martina, Brodersby, Germany
Excellent
Reviewed on 03 June 2023 by Jo, Friend, United Kingdom
So much fun - pure delight!
The cast is excellent - each voice is superb. Costumes are beautiful and the music is catchy. I loved every minute.
Reviewed on 19 May 2023 by Lea, Reading, United Kingdom
WOW unexpected
The singing is incredible. The dancing is perfectly corordinated. The music is excelently perform and the sound very good. The story educative, funny and original and over my expectation.
Reviewed on 11 May 2023 by Jacques, Brossard, Canada
Absolutely fantastic show we loved it!
We love the show, how ever the theatre is not the best we have been too, we were in the on the back seats in the stalls and my son age 10 could not see in front of him and neither could my mum I wasn't to bad although a little restricted
Reviewed on 07 May 2023 by Claire, Bradford, United Kingdom
Great songs, great performances, a treat for the eyes
Visually gorgeous, with a great live band providing all the music, we were swept away by these six superb voices. Every actor radiated charisma. Really strong songs, choreography, lighting. Witty, informative, thought-provoking. Something for everyone of any age. Pure entertainment.
Reviewed on 01 May 2023 by Steve, Guildford, United Kingdom
I love six the musical
Reviewed on 30 April 2023 by Amy, London, United Kingdom
Fantastic, one of the best shows I have ever seen
Reviewed on 03 April 2023 by Carol, Leicester, United Kingdom
So much fun! Amazing music you just want to sing a long
Reviewed on 28 March 2023 by Tove, Huddinge, Sweden
Fast and funny!
Reviewed on 19 March 2023 by Deborah, Norwich, United Kingdom
Amazing high-energy performance! Must see!
SIX was recommended by our tour guide on a London walking tour, and I must say we were over-the-top impressed with this performance. Every lady from the 6 wives to the band provided a high-energy, vibrant performance. This musical kept me dancing in my seat for the entire show!
Reviewed on 18 March 2023 by Theresa, Wake Forest, United States Of America
Spectacular Really enjoyed the show from the story told and the costumes and the music
Enjoyed the show the story the costumes and music
Reviewed on 10 March 2023 by Patricia, Old Coulsdon, United Kingdom
She cried!!
My two daughters, aged 8 and 12 know all the lyrics to the soundtrack, but have never seen the show. We surprised them both, with a trip to finally see Six! We were all blown away by the amazing singing and routines, the performer's voice's were incredible and the choreography was brilliant. My eldest burst into tears from the first note and couldn't stop crying, she was so blown away! I can thoroughly recommend this for the whole family.
Reviewed on 09 March 2023 by Darren, Worcester Park, United Kingdom
Une énergie incomparable ! Bravo!
Reviewed on 20 February 2023 by Catherine, Aix-en-provence, France
10/10 must see
I had just seen Six on Broadway a few months ago, and it was great. This West End cast, however, was absolutely phenomenal! Every voice was perfection, the acting and dancing was fantastic, and the energy was through the roof! Side note: Anne Boleyn was hilarious and Anne of Cleves was fantastic with her facials, body language, everything! This show and cast is a must-see!!
Reviewed on 27 January 2023 by Santiago, Pasadena, United States Of America
Fun
It was very well and professional made. Just the Autotune was a bit too much for me.
Reviewed on 10 January 2023 by Erdzhan, Vienna, Austria
Must see
Other visitors need to be aware that not a very long performance with no interval. All female hand and fast were great.
Reviewed on 08 January 2023 by Julie, Bristol, United Kingdom
Yes still great and upbeat
Reviewed on 07 January 2023 by Adrian, Saffron Walden, United Kingdom
Please see!
Please see this show, talented and caring at the stage door. A brilliant way to start the year.
Reviewed on 01 January 2023 by Roisin, Bonnyrigg, United Kingdom
Please see this show!
Cast amazing, story amazing, if you love history this is the show to see!
Reviewed on 29 December 2022 by Roisin, Bonnyrigg, United Kingdom
Colourful, lively, great music
Great music and singing - a fun and very imaginative take on the six wives of Henry VIII. The girls in our family loved it and I & my son enjoyed it too!
Reviewed on 29 December 2022 by Greg, London, United Kingdom
Fabulous
Reviewed on 28 December 2022 by Lisa, Albany, United Kingdom
Amazing
Reviewed on 08 December 2022 by Katharine, Richmond, United Kingdom
Energetic and feel good
Strong performances and good music , the Queens were great especially Anne of Cleves ! Went with my two teenage daughters and we're not big into musicals but we all enjoyed the show . I loved the fact there was no interval and it wasn't too long either .
Reviewed on 02 December 2022 by Vanessa, London, United Kingdom
I have my favorites, but the Queens Rule!
I'm a sucker for a ballad and Jane Seymour gives an absolute MASTER CLASS of standing in one spot and delivering a song that made me weep. The entire show is fun beyond measure and perfectly balanced.
Reviewed on 30 November 2022 by David, Seattle, United States Of America
Excellent!
Reviewed on 26 November 2022 by Ruth, Fgura, Malta
Spectacular and amazing
I loved the show because it brought pure enjoyment, entertainment, great choreography, singing, dancing and I would definitely go back to see it again!
Reviewed on 17 November 2022 by Sheila, Romford, United Kingdom
Fempowering !
Reviewed on 16 November 2022 by Honor, Ramsgate, United Kingdom
Vibrant and exciting
From the first note this show has you on the edge of your seat. It has everything. Songs and singers are fantastic. Costumes are stunning. Great witty narrative. We loved it!
Reviewed on 13 November 2022 by Val, Oswestry, United Kingdom
Nice
I had a good time. The songs were good and the costumes were gorgeous. Loved the band.
Reviewed on 05 November 2022 by Amy, Frittenden, United Kingdom
Amazing six ladies
What an amazing show, good for everyone including children, some adult content but executed in a classy manor that no child would question it :-) Highly recommend seeing these six very talented individuals who take on such a historic theme with grace and ease Well done to all on the stage!! By far the best show I've seen in a long time
Reviewed on 03 November 2022 by Zoe, Ashford, United Kingdom
Vibrant, fun, pithy musical
Reviewed on 02 November 2022 by Yvonne, Edinburgh, United Kingdom
amazing music
We went to see Six as a family of 6 ages 10 to 70 and had an amazing time. It's such an entertaining and funny show with a soundtrack to match.
Reviewed on 24 October 2022 by Chris, Wakefield, United Kingdom
Reviewed on 14 October 2022 by Gerardine, Sutton, United Kingdom
Absolutely amazing .Fantastic
Reviewed on 05 October 2022 by Ann, Warrington, United Kingdom
Awesome show
You learn a little history while rocking out to the great beats and laughing at the wise cracks.
Reviewed on 30 September 2022 by Fleur, Alice Springs, Australia
Amazing, singers outfits and story it is really great I didn't want it to end
Reviewed on 29 September 2022 by Michelle, Sidcup, United Kingdom
Reviewed on 24 September 2022 by Riona, Co Dublin, Ireland
Loved it!
Fabulous performers, so impressed with their talent!!!
Reviewed on 15 September 2022 by Lisa, Framingham, United States Of America
energetic
could barely see the show as my view was obstructed by a person in front. no leg space and very crampted (I am only 5'1").
Reviewed on 15 September 2022 by Efrat, Kfar Saba, Israel
A royal treat!
This was the third and final show I saw on the west end in my recent trip to London. The first two I saw were classic musical theatre staples and were fantastic, so I did not know how a more modern piece would translate and I am so pleased to say that it held its own against these two classics. I adore this musical's soundtrack and had watched any performances the group did, so I already knew the songs but this show is SO much more than a pop concert. The humor, wit, and fun that the characters and the actors have is electric and just leaves you wanting another three hours. I believe that I also underestimated the acting within this show and was so moved by every queens story and the feminine power that propelled the story. I could go on and on about the beauty of the costumes and AMAZING lighting design but I encourage anyone reading this to go experience it for yourselves. One final note, the band is absolutely FANTASTIC and is such a great part of the show!
Reviewed on 14 September 2022 by Emma, Hartville, United States Of America
Hilarious must see
Reviewed on 13 September 2022 by Susan, Crawley, United Kingdom
VIBRANT. EXCELLENT
Reviewed on 10 September 2022 by Stephen, Bedford, United Kingdom
Amazing
Reviewed on 21 August 2022 by Luna, Buenos Aires, Argentina
Energizing
Reviewed on 17 August 2022 by Julie, London, United Kingdom
Maravilloso, vestuario y coreografías muy originales y creativas
Un enfoque femenino a la historia de las esposas de Enrique VIII. Rock stars compitiendo y destacando sus virtudes en un concurso en el que todas son ganadoras
Reviewed on 16 August 2022 by Homero, Naucalpan, Mexico
Excellent performance from an all female cast ?
Reviewed on 13 August 2022 by Lynne, Richmond, United Kingdom
Very very very good
This is my 2nd time seeing six on the west end was brilliant as usual
Reviewed on 07 August 2022 by John, Inverness, United Kingdom
Stunning
Absolutely amazing in every way.
Reviewed on 22 July 2022 by Lysa, Howell, United States Of America
Music extravaganza
Took two teenage daughters to see the show. Amazing costumes and the singing was absolutely amazing. We loved it.
Reviewed on 21 July 2022 by Kay, Bridgend, United Kingdom
Great music, entertaining, would see again
Reviewed on 10 July 2022 by Richard, Saint Louis, United States Of America
Brilliant
Absolutely loved it.
Reviewed on 07 July 2022 by Janne, Campania, Australia
High powered show
Reviewed on 06 July 2022 by Irwin, Miami, United States Of America
Very unique concert-style girl-band show.
Reviewed on 03 July 2022 by Michael, Livermore, United States Of America
Fun show
Reviewed on 08 June 2022 by Dorothy, Murfreesboro, United States Of America
6out of 6
Reviewed on 31 May 2022 by Roy, Southend On Sea, United Kingdom
Uplifting, fun and feel good
You can't help but leave the theatre with a smile... great music, great voices and fun with history.... or herstory. Even better this time than the first time I saw it!
Reviewed on 31 May 2022 by Jo, Uxbridge, United Kingdom
A must see show!
Modern take on history, funny and interesting. Wonderful cast and live band!
Reviewed on 26 May 2022 by Hagar, Tamat Hasharon, Israel
Lacking content
Whilst the cast are all talented and did a splendid job, I feel there was not enough content for a full length show. The songs all sounded pretty much the same. Reminded me of the Spice Girls - pleasant enough but no real substance.
Reviewed on 24 May 2022 by Patrice, Cape Town, South Africa
Better than imagined
Reviewed on 22 May 2022 by Riley, Phoenix, United States Of America
Queens for Our Day!
I came from the states really wanting to see this show. It did NOT disappoint! As a child the stories of Henry VIII fascinated me; as a college English major they came to life, and as a teacher of gifted children for 42 years, this period holds so much to excite kids about learning. These six young women would have been truly at home in the 21st century. A'head' of their time, if you will. The passions and dreams of the 1500s are still what young women deal with in the 2000s. What magical stories and heritage. As shown in the lay, they truly carved their places in time. The entire show was empowering. Musically, historically and personally. Take your teens and fall in love with the romantics of the pre-renaissance queens!
Reviewed on 20 May 2022 by Shauna, Rodanthe, United States Of America
The Greatest Show We've Seen
Vibrant, colorful, energetic, and humorous. The only thing that could have made it better odd if we would have gotten to meet the cast and tell them how great they were.
Reviewed on 17 May 2022 by Mel, Belleville, United States Of America
Sensationally sassy powerhouse performances
Six incredible voices and great on stage band bring the stories to life and keep you entertained with a modern musical interpretation. Lots of sass and female empowerment for a lively funny show you'll want to get up and dance to. Great for anyone who loves amazing vocals (think beyonce) or wants a strong short introduction to musical theatre
Reviewed on 10 May 2022 by Gemma, Leicester, United Kingdom
Under expectation
Reviewed on 06 May 2022 by Amal, Brighton, United Kingdom
Fun energetic
Reviewed on 29 April 2022 by Amanda, Purley, United Kingdom
Best original show I've seen in years
Reviewed on 24 April 2022 by Lisa, Chatswood, Australia
Powerful, energetic and fun
Reviewed on 20 April 2022 by Paula, Pirbright, United Kingdom
Fabulous
High energy . The music was fabulous. Felt unusual not to have an interval.
Reviewed on 11 April 2022 by Suzanne, Billingham, United Kingdom
10 out of 10 for 6
My daughter had already seen this and said I should go. Was not sure if what to expect. My goodness, what a fantastic show. Everything was fantastic, great writing, great acting, the music. And you could also see that everyone in the audience loved it and you could feel that as well. What a fantastic evening out.
Reviewed on 10 April 2022 by Lee, Fareham, United Kingdom
A great night out!
Reviewed on 05 April 2022 by Tabitha, Port Seton, United Kingdom
vibrant and innovative
Reviewed on 01 April 2022 by Briony, Banstead, United Kingdom
A great afternoon to lift the spirits
Everything was amazing the Queens are so talented they sing they dance and they are fabulous.
Reviewed on 21 March 2022 by Yvonne, Warwick, United Kingdom
Awesome
Everything was excellent. Thank you.
Reviewed on 19 March 2022 by Douglas, Lisle, United States Of America
Thoroughly uplifting
Amazing cast, amazing story and great music. Highly recommend going to see
Reviewed on 16 March 2022 by Barry, Milton Keynes, United Kingdom
Amazing music and great energy overall! So much fun!!!
If you are into music this is the show for you!!!
Reviewed on 15 March 2022 by Julia, New York, United States Of America
I love six
What a great show!I was enthralled throughout this really was a fabulous show
Reviewed on 09 March 2022 by Joanne, Chatham, United Kingdom
Stunning, Gorgeous and Powerful
Reviewed on 08 March 2022 by Flaviana, São Paulo, Brazil
Amazing
Reviewed on 05 March 2022 by Abbie, Peterborough, United Kingdom
Sadly not the best
Started later than usual which was surprising. It became apparent some way through that there wouldn't be an interval, something we weren't aware off. It seemed like a cheap production. Costumes and staging didn't seem to be the same standard we're used to. We were a bit disappointed sadly.
Reviewed on 11 February 2022 by Claire, Chelmsford, United Kingdom