404 Strand, London, WC2R 0NH GB
Quick Facts
Largest Ticket Inventory
in the West End
Real time
seat availability
Choose
your seats
Your booking is processed directly into the box office reservation system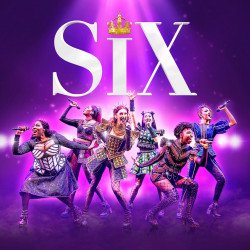 SIX
Tickets
4.8/5
-

based on

106

reviews
Booking until: Sunday, 2 April 2023
Running time: 1 hour 15 minutes
Tickets from £20.00
Book tickets
COVID secure venue
This venue will utilise social-distancing, increased health and safety measures, temperature checks and more to ensure your visit is safe and enjoyable.
Buy with confidence
Grab the best seats today, in the knowledge that all bookings can be exchanged.
Information
Cheap Tickets
Reviews
News
About SIX
Performance Times
Booking until: Sunday, 2 April 2023
Running time: 1 hour 15 minutes
SIX description
Six – Henry 8th's six wives are alive and rocking
When Toby Marlow was in his final year at Cambridge University, he had an idea... and it wouldn't go away. His collaborator Lucy Moss had her doubts but got involved anyway, and they both worked hard at it while studying for their finals. The idea? To stage a musical presented as a rock concert, featuring Henry 8th's six wives.
The world premiere of Six took place at the Edinburgh Fringe festival during 2017, and instantly grabbed the attention of a number of producers. It returned to Edinburgh in 2018 before transferring to the Arts theatre in the West End, starring Jarneia Richard-Noel as Catherine Of Aragon, Millie O'Connell as Anne Boleyn, Natalie Paris as Jane Seymour, Alexia McIntosh as Anne of Cleves, Aimie Atkinson as Katherine Howard, Maiya Quansah-Breed as Catherine Parr, plus Grace Mouat as the Dance Captain.
A successful UK tour followed the stint at the Arts, and now Six is back on the road once more, at the Vaudeville theatre in early 2019 for a 16 week initial run. Not bad for a random, crazy idea hatched by a couple of students!
This is being called 'The most uplifting piece of new British musical theatre' by the Evening Standard, and no wonder when everyone and his dog seem to be losing their head over it, pun intended! The musical has been widely, enthusiastically acclaimed right across the nation, and the sound track has already hit the music charts running.
What can you expect? You'll see a bunch of Tudor Queens transformed into Pop Music Princesses as they tell their stories in song. Together they blend five centuries of heartbreak into a bold celebration of girl power in the 21st century. This is history.... remixed.
You'll rock the rafters with a host of splendid show tunes: Ex-Wives, No Way, Don't Lose Your Head, Heart of Stone, Haus of Holbein, Get Down, All You Wanna Do, I Don't Need Your Love and of course the title tune, Six itself. Each queen has her say five hundred years down the line, and every one of them is strong and feisty. The costumes are extraordinary, a triumph of wonderful weirdness complete with Tudor ruffs. The tunes are spectacular. And the ladies themselves will knock your socks off with their sassy comeback to the murderous, bullying, bloated Henry.
If you like your revenge sweet, walk this way...
Who is this show for?
This show is recommended for people aged 12 plus.
Age restrictions
Recomended age 12+
Important Information
Online Venue check-in
: Please note you will be contacted by the venue 48 hours before the performance with instructions on how to check-in and retrieve your e-ticket. You will receive an email to confirm your booking with us. 48 hours before performance you will receive a pre-visit email from the venue including a link to check in.
You will be required to confirm that no members or your party have Covid-19 symptoms. After check-in your eticket will be sent to you by the venue within 24 hours.
Once in the venue you will be required to wear a face covering and you will have your temperature checked. Please note that social distancing will be in place at this venue. In rare cases this may necessitate us contacting you in order to amend your seat details in line with social distancing requirements.
Next Performances for SIX at the Vaudeville Theatre
today
20th May 2022
8:00pm
tomorrow
21st May 2022
4:00pm
tomorrow
21st May 2022
8:00pm
Sunday
22nd May 2022
4:00pm
Sunday
22nd May 2022
7:00pm
Tuesday
24th May 2022
8:00pm
SIX cheap tickets
We have a great selection of cheap SIX tickets. We can help you save up to 70% on SIX tickets! If you're looking for discount theatre tickets have a look below for our latest offers for SIX at the Vaudeville Theatre.
There are no special offers available at the moment but we still have great ticket prices for SIX at the Vaudeville Theatre.
SIX reviews
4.8 out of 5
based on

106

reviews
What to expect:
Acting
Music
Costumes
Story
Lighting
Recommended for:
Anyone (79%)
Families (81%)
Teenagers (94%)
Couples (91%)
Theatregoers (95%)
Latest customer reviews

The Greatest Show We've Seen
Vibrant, colorful, energetic, and humorous. The only thing that could have made it better odd if we would have gotten to meet the cast and tell them how great they were.
Reviewed on 17 May 2022 by Mel, Belleville, United States Of America

Sensationally sassy powerhouse performances
Six incredible voices and great on stage band bring the stories to life and keep you entertained with a modern musical interpretation. Lots of sass and female empowerment for a lively funny show you'll want to get up and dance to. Great for anyone who loves amazing vocals (think beyonce) or wants a strong short introduction to musical theatre
Reviewed on 10 May 2022 by Gemma, Leicester, United Kingdom

Under expectation
Reviewed on 06 May 2022 by Amal, Brighton, United Kingdom

Fun energetic
Reviewed on 29 April 2022 by Amanda, Purley, United Kingdom

Best original show I've seen in years
Reviewed on 24 April 2022 by Lisa, Chatswood, Australia

Powerful, energetic and fun
Reviewed on 20 April 2022 by Paula, Pirbright, United Kingdom

Fabulous
High energy . The music was fabulous. Felt unusual not to have an interval.
Reviewed on 11 April 2022 by Suzanne, Billingham, United Kingdom

10 out of 10 for 6
My daughter had already seen this and said I should go. Was not sure if what to expect. My goodness, what a fantastic show. Everything was fantastic, great writing, great acting, the music. And you could also see that everyone in the audience loved it and you could feel that as well. What a fantastic evening out.
Reviewed on 10 April 2022 by Lee, Fareham, United Kingdom

A great night out!
Reviewed on 05 April 2022 by Tabitha, Port Seton, United Kingdom

vibrant and innovative
Reviewed on 01 April 2022 by Briony, Banstead, United Kingdom

A great afternoon to lift the spirits
Everything was amazing the Queens are so talented they sing they dance and they are fabulous.
Reviewed on 21 March 2022 by Yvonne, Warwick, United Kingdom

Awesome
Everything was excellent. Thank you.
Reviewed on 19 March 2022 by Douglas, Lisle, United States Of America

Thoroughly uplifting
Amazing cast, amazing story and great music. Highly recommend going to see
Reviewed on 16 March 2022 by Barry, Milton Keynes, United Kingdom

Amazing music and great energy overall! So much fun!!!
If you are into music this is the show for you!!!
Reviewed on 15 March 2022 by Julia, New York, United States Of America

I love six
What a great show!I was enthralled throughout this really was a fabulous show
Reviewed on 09 March 2022 by Joanne, Chatham, United Kingdom

Stunning, Gorgeous and Powerful
Reviewed on 08 March 2022 by Flaviana, São Paulo, Brazil

Amazing
Reviewed on 05 March 2022 by Abbie, Peterborough, United Kingdom

Sadly not the best
Started later than usual which was surprising. It became apparent some way through that there wouldn't be an interval, something we weren't aware off. It seemed like a cheap production. Costumes and staging didn't seem to be the same standard we're used to. We were a bit disappointed sadly.
Reviewed on 11 February 2022 by Claire, Chelmsford, United Kingdom

Brillant going again and again and again
Reviewed on 23 January 2022 by John, London, United Kingdom

Takes learning history to a new level
I wasn't sure what to expect from the show, just that I had been told the music was good and on that score I was not disappointed. If all history was taught this way it would be the most popular lesson in school. The performers were slick, they sounded fantastic and it was funny, with just innuendo for a snigger or to, without having to explain to the younger members of the audience. We enjoyed it so much so, we have already booked a tour date later this year to see it again.
Reviewed on 16 January 2022 by Marie, Ulverston, United Kingdom

Fabulous
Very entertaining evening
Reviewed on 16 January 2022 by Graham, York, United Kingdom

Great entertainment.
Wonderful must see and l would like to thank the staff,for finding my phone, which l dropped on leaving
Reviewed on 10 January 2022 by Catherine, Doncaster, United Kingdom

This should be required study material
Clever lyrics, catchy tunes, stellar talent and a message of empowerment. I would watch this again and again. Loved taking my girls. Husband was also in awe.
Reviewed on 04 January 2022 by Kerry, Singapore, Singapore

Great little musical
Great show, great music. Cast of 6 plus 4 musicians, all were fantastic ladies. Only 80 minutes long with no interval so time passed very quickly
Reviewed on 30 December 2021 by Rachel, Harlow, United Kingdom

Absolutely Fantastic. DO NOT MISS
I am a huge Tudor nerd so was supremely excited to see this. I was delighted that the history was more or less accurate but with a modern twist. The costumes are FANTASTIC. The music was ACE and the actors INCREDIBLE. I love how the script involves the audience and the actors really made us feel like they were acting towards us not at us. The songs are fab. You will be humming them for days. Also huge shout out to the staff at the theatre. They were so amazing in ensuring everyone felt welcome and safe. I attended the matinee and loved it so much I immediately bought another ticket for the evening performance.
Reviewed on 26 December 2021 by Judith, London, United Kingdom

Fun, fantastic and fabulous!
Reviewed on 15 December 2021 by Nicholas, Wigston, United Kingdom

I loved it
Reviewed on 04 December 2021 by Loukia, Croydon, United Kingdom

Jaw dropping performance
Amazing service and acting. Loved the entire experience and performance so much. Actors were quick on their feet and made fun of their mess ups.
Reviewed on 02 December 2021 by Roshni, Singapore, Singapore

Uplifting
Very entertaining, easy watching and educational
Reviewed on 01 December 2021 by Vanessa, Southsea, United Kingdom

Unexpectedly great!
My grandsons choice for our annual theatre trip- was not really sure on his choice BUT I was very happy to be proven wrong - a great performance by six very talented woman and the women in the band - superb
Reviewed on 29 November 2021 by Kim, Stevenage, United Kingdom

Brilliant fun show
The performance was very fast paced. The Costumes were spectacular. The music was really good. A great night suitable for all.
Reviewed on 21 November 2021 by Carol, Buckie, United Kingdom

Powerful
The only problem was that people where not wearing masks and I couldn't enjoy fully the show because I was worried and upset that I and my family will end up sick do to peoples negligence.
Reviewed on 20 November 2021 by Emiko, Goleta, United States Of America

Unforgetable
Six captivates you from start to end. Singing songs you'll just love to sing and dance too. I cannot recommend this enough.
Reviewed on 14 November 2021 by Adam, Gibraltar, Gibraltar

Brilliant!
The show is witty and thoroughly entertaining. The cast is so talented; not a weak link among them! Great entertainment.
Reviewed on 07 November 2021 by Sally, Porthcawl, United Kingdom

Excellent show, wonderful singing & informative
Reviewed on 05 November 2021 by Sophie, Mexborough, United Kingdom

Absolutely wonderful
Reviewed on 09 October 2021 by Michal, Bahan, Israel

Best show I've ever seen!
I've saw a lot of shows and not many musicals sadly. But what I saw today was just amazing. Nothing was bad. Pure fun and energy. Recommended for everyone.
Reviewed on 06 October 2021 by Itay, Herzliya, Israel

Amazing
Reviewed on 03 October 2021 by Wendy, Baños Y Mendigo, Spain

Amazing !!! A must see
Reviewed on 23 August 2021 by Laura, Gwersyllt, United Kingdom

Amazing For Kids SIX ;) and Older!
Both my children (SIX and Eight) absolutely loved the show. What a fabulous way to learn about history. Thank you!!!
Reviewed on 11 August 2021 by Jill, London, United Kingdom

High energy awesome voices
Great show very funny in places. Music and songs catchy you will sing them on the way home
Reviewed on 03 August 2021 by Melissa, Peterborough, United Kingdom

A must see
Highly recommend this show!!!
Reviewed on 02 August 2021 by Roisin, Edinburgh, United Kingdom

Spectacular sassy sexy showstopper!
Reviewed on 27 July 2021 by Yvonne, Whitehaven, United Kingdom

Great show, exceeded my expectations.
Reviewed on 22 July 2021 by Molly, London, United Kingdom

Lively, funny, energetic
Reviewed on 15 July 2021 by Helen, Rugby, United Kingdom

Just great to be back in theatre to watch great musicals. A lovely good feel factor show.
Reviewed on 08 July 2021 by Sudi, Horsham, United Kingdom

Funny, sassy story of history
Brilliant night. Covid rules aside it was all easy. It was a short show with no interval but thoroughly enjoyable
Reviewed on 06 July 2021 by Catherine, Blackwood, United Kingdom

Must see!!!
Amazing, hilarious and all round fun!!! Will go again!!!
Reviewed on 25 June 2021 by Melissa, Barnsley, United Kingdom

Fun show
Probably more appealing to ladies. Perfect girlie show. 'Six' create a great atmosphere and everyone in the theatre was clapping along and cheering. Was quite emotional to see after such a long time away from the theatre after lockdown.
Reviewed on 13 June 2021 by Becky, Wimborne, United Kingdom

Absolutely entertaining from start to finish!
Reviewed on 24 May 2021 by Ramona, Corby, United Kingdom

An excellent history refresher
Reviewed on 24 May 2021 by Giacomo, London, United Kingdom

Entertaining
The show was a modern take with fantastic singing and adult humour. The womens voices were incredible.
Reviewed on 12 December 2020 by Pearl, Crewkerne, United Kingdom

Good fun
Very enjoyable and fun given the difficult times we are in. For me - got a bit 'samey' after the first four wives or so. Not for young kids or 'serious' types.
Reviewed on 11 December 2020 by Richard, Upminster, United Kingdom

Good fun
Reviewed on 29 February 2020 by Stefan Pall, Hafnarfjordur, Iceland

Amazing
One of the best musicals I have seen! A must see!
Reviewed on 16 February 2020 by Emma, Witney, United Kingdom

Best musical I have ever seen!
I loved the show! The music was super good (live music) and the characters were portaited in such fantastic way by these extremely talented actresses! And don't even get me started on the costumes/lights/... Every Queen has her individual outfit in one color and the lights match these signature colors,too. Everything fit together perfectly. All in all a beautiful, funny, sometimes very emotional masterpiece, with a great message at the end. 10/10 Would definitely see again!
Reviewed on 16 February 2020 by Peter, Muelsen, Germany

Good fun and well presented
Small theatre with great atmosphere, we were on the back row but had no difficulty seeing the whole stage. Great energy from all the actors and strongly supported by the band. Well done ladies!
Reviewed on 13 February 2020 by Linda, Tusmore, Australia

Loved it!
A really fun and entertaining show and I learned some stuff too! The music was brilliant - I didn't want it to end! Be warned, it is shorter than most shows. About an hour and a quarter and there's no interval.
Reviewed on 10 February 2020 by Michelle, Maidenhead, United Kingdom

Fantastic! Simple as that.
Reviewed on 07 February 2020 by Robert, Writtle, United Kingdom

Genius!
A unique combination of talent - from the story line to the lyrics to the vocal performances. An absolute must see!
Reviewed on 03 February 2020 by Colette, Leatherhead, United Kingdom

Great show - fun, engaging and even teaches a bit of history.
Reviewed on 25 January 2020 by Donna, Brooklyn, United States Of America

A fantastic reminder that men are, and have always been, trash! Amazing!
Reviewed on 10 January 2020 by Natasha, London, United Kingdom

Fun sassy and lively
All the staff at front of house were funny helpful ,such a lovely crew it made for a pleasant start . The show itself was fantastic, throughly enjoyed it girls amazing. Anne of cloves song I cant stop singing brilliant and Anne boleyn. Fantastic night thank you.
Reviewed on 03 October 2019 by Nicola, Sittingbourne, United Kingdom

Perfect
Reviewed on 14 August 2019 by Zeynep, Ankara, Turkey

Amazing energetic performance by six talented artists
Amazing dancing singing and content. So moved by Catherine Parr I had to fight back the tears.
Reviewed on 01 August 2019 by Helen, Fleet, United Kingdom

Lively and full of fun
Reviewed on 23 July 2019 by Jennifer, Looe, United Kingdom

Amazing
Reviewed on 21 July 2019 by Lauren, Hull, United Kingdom

Amazing
Fantastic modern take on the part of history we all know!!!
Reviewed on 13 July 2019 by Manon, Cardiff, United Kingdom

What great fun!
This show is just absolutely the most fun. What a fabulously talented set of ladies both in the cast and the band. Incredibly clever writing that evokes Hamilton, delivered with a combination of sass, spunk and emotion that's just superb. Just absolutely delightful.
Reviewed on 29 June 2019 by Raymond, Summit, United States Of America

Best for ages
Reviewed on 16 June 2019 by Michelle, Gharghur, Malta

Loved every minute of it!
Reviewed on 12 June 2019 by Laura, Weybridge, United Kingdom

Well-conceived creative
Reviewed on 16 May 2019 by Lisa, Santa Monica, United States Of America

Faultless
Reviewed on 12 May 2019 by Susan, Barnet, United Kingdom

Could see it again and again!!
I've seen this show 4 times,never fails to thoroughly entertain! The girls all have incredible voices and range,and make their own individual characters something special. One word really...'Fantastic'...would I go again...100%.. The theatre is small but sitting anywhere you can see and appreciate the whole show.
Reviewed on 08 May 2019 by Gail, London, United Kingdom

Fantastic performance
Excellent singers, fabulous choreography, nice costumes to recognize those women. Lots of sense of humor in this piece of History. The pace is very dynamic. It is unbelievable how the time is running out. I love this show.
Reviewed on 30 April 2019 by Alicia, Madrid, Spain

Fantastic show
Visiting London, we chose this show looking for something different. It exceeded our expectations. Our family of five found the plot engaging and the music excellent. The varied types of songs combined with outstanding vocal skills made it top notch. Would see it again and highly recommend.
Reviewed on 18 April 2019 by David, Henrietta, United States Of America

Good Show
Reviewed on 15 April 2019 by Sharifah, London, United Kingdom

Six stars for six
Me and my daughter lived this. More a concert than a theatre show but we knew that. Really different and well performed by cast, band and crew Highly recommended. We had restricted view cheap seats but they were actually pretty good
Reviewed on 01 April 2019 by James, Aberdeen, United Kingdom

Amazing!
Music, costumes and all girls were absolutely amazing! A must see!
Reviewed on 01 April 2019 by Danielle, London, United Kingdom

History rocks
The Six are the best pop concer you'll go to this year, badass, fierce but ultimately empowering this was the version of the tutors we should have been taught at school!
Reviewed on 09 March 2019 by Amandeep, London, United Kingdom

Good fun!
Reviewed on 04 March 2019 by Rosemary, Ingatestone, United Kingdom

Absolutely incredible!
I cannot our into words how incredible this show is. I came of it crying with tears at how good it was and I cannot explain how much empowerment I felt. It is amazing
Reviewed on 03 March 2019 by Shannon, Peterborough, United Kingdom

Fantastic
Was a brilliant show, lots of talent. The songs were great you just wanted to get up and dance and the actors were amazing!
Reviewed on 24 February 2019 by Lisa, Greenford, United Kingdom

Above and Beyond
A quick burst of fun loving energy. Super informative and you can't help but want to get up and dance along with them! The energy was incredible. What a fun night out.
Reviewed on 09 February 2019 by Emily, Edinburgh, United Kingdom

Incredible
Reviewed on 05 February 2019 by Josh, Brighton, United Kingdom

The show was really amazing; the girls were great. I wish there would have been a DVD :-)
Reviewed on 21 September 2018 by Daniel, Ensdorf, Germany