29 Shaftesbury Avenue, London, W1D 7ES GB
Quick Facts
Largest Ticket Inventory
in the West End
Real time
seat availability
Choose
your seats
Your booking is processed directly into the box office reservation system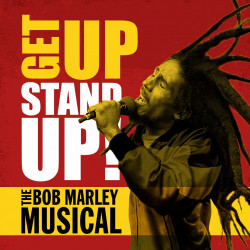 Get Up, Stand Up! The Bob Marley Musical
Tickets
4.6/5
-

based on

75

reviews
Booking until: Sunday, 29 January 2023
Running time: 2 hours 20 minutes (including interval)
Starring: Arinzé Kene
Tickets from £18.00
Book tickets
Information
Cheap Tickets
Reviews
News
About Get Up, Stand Up! The Bob Marley Musical
Performance Times
Booking until: Sunday, 29 January 2023
Running time: 2 hours 20 minutes (including interval)
Starring:
Arinzé Kene
Get Up, Stand Up! The Bob Marley Musical description
Welcome to Get Up Stand Up, the Bob Marley Musical. It's the perfect subject for a superb stage musical, and the producers are delighted to present the dazzling world premiere of a fresh new musical revealing the astonishing story of the iconic reggae artist. It's opening at the refurbished Lyric theatre and previews in early 2021.
The Bob Marley Musical is brought to you by an Olivier award-winning team, namely the writer Lee Hall and the director Dominic Cooke. It stars the brilliant Arinzé Kene as Marley himself, and features 'unprecedented access' to the musician's back catalogue. You can expect to hear all the great Marley hits performed live by the cast, including the legendary No Woman No Cry, Exodus, 3 Little Birds, and Get Up Stand Up itself.
What's the plot?
Inspired by Bob Marley's visionary lyrics and tunes, this show reveals the extraordinary personal life story behind the glittering star.
Who's in it?
Arinzé Kene plays Marley. He's a multi-talented writer and performer whose one man play, Misty, thrilled everyone so much at the Bush theatre then transferred to the West End. It got him a nomination for two Oliviers, one for Best Actor and the other for Best New Play. He also portrayed Sam Cooke in One Night in Miami at the Donmar Warehouse, as well as starring in the Old Vic production based on Bob Dylan's music, Girl from the North Country.
Lee Hall, the award-winning British playwright and screenwriter, penned the book and lyrics for Billy Elliot The Musical, which ran for more than ten years in theatreland. It won an Olivier for Best New Musical and 10 Tonys for the Broadway production. He was also involved in The Pitmen Painters, Cooking with Elvis and Shakespeare in Love in the West End, as well as 'Network' starring Bryan Cranston at the National Theatre over here and on Broadway.
Dominic Cooke is a highly experienced and respected theatre, film, and television director who was Artistic Director of the Royal Court Theatre from 2007 to 2013. He was nominated Best Director at the Evening Standard Awards and won 2018's Critic's Circle Best Director Award for his National Theatre production of Follies starring Imelda Staunton, itself nominated for ten Oliviers and winning two.
Next Performances for Get Up, Stand Up! The Bob Marley Musical at the Lyric Theatre
tomorrow
29th Jun 2022
7:30pm
Thursday
30th Jun 2022
7:30pm
Friday
1st Jul 2022
7:30pm
Saturday
2nd Jul 2022
2:30pm
Saturday
2nd Jul 2022
7:30pm
Sunday
3rd Jul 2022
2:30pm
Get Up, Stand Up! The Bob Marley Musical cheap tickets
We have a great selection of cheap Get Up, Stand Up! The Bob Marley Musical tickets. We can help you save up to 70% on Get Up, Stand Up! The Bob Marley Musical tickets! If you're looking for discount theatre tickets have a look below for our latest offers for Get Up, Stand Up! The Bob Marley Musical at the Lyric Theatre.
-23%
Was £32.50
Now £25.00
Valid Sun-Fri eve perfs from 22 Jun-31 Jul 2022. Book by 3 Jul.
-25%
Was £99.50
Now £75.00
SAVE UP TO £44.40 ON TICKETS Valid Tuesday - Thursday and Sunday Evening performances 14 June - 31 July 2022. Book by 30 June 2022
Get Up, Stand Up! The Bob Marley Musical reviews
4.6 out of 5
based on

75

reviews
What to expect:
Acting
Music
Costumes
Story
Lighting
Recommended for:
Anyone (76%)
Families (79%)
Teenagers (80%)
Couples (87%)
Theatregoers (89%)
Latest customer reviews

Exciting
I enjoyed the show immensely Especially."were Jamming"
Reviewed on 27 June 2022 by Robert, Warrington, United Kingdom

Fantastic show
The musical was brilliant, best by far. Acting and Jamaican accent spot on.As a massive Marley fan the singing and adaptation of his songs was outstanding. Think my hubby and myself will see it again.
Reviewed on 12 June 2022 by Patricia, Nottingham, United Kingdom

Wonderful Show of a Legend who wrote songs of freedom
Reviewed on 08 June 2022 by Karen, Croydon, United Kingdom

Disappointed
It was very difficult to understand what they were saying with their accent
Reviewed on 03 June 2022 by Cristina, Ashford, United Kingdom

Good music
Seating good. Found language hard to follow.
Reviewed on 30 May 2022 by Jacqueline, West Molesey. Surrey, United Kingdom

Brilliant
Superb acting, fantastic voices, true feeling
Reviewed on 29 May 2022 by Lisa, Borehamwood, United Kingdom

Great performance
Really entertaining great performance
Reviewed on 14 May 2022 by Gillian, Ludlow, United Kingdom

Brilliant musical and true to Bob Marley's life
The production was top class.
Reviewed on 14 May 2022 by Sue, London, United Kingdom

Amazing show
Recommend to anyone. Music was great and singing amazing from everyone in the cast. We would definately go again.
Reviewed on 02 May 2022 by Julie, Norwich, United Kingdom

Powerful story about an iconic musician and humanitarian
I really enjoyed the show. The music was fantastic! I had a little trouble understanding the Jamaican accents, But I guess that gave it some authenticity. Top class actors and singers.
Reviewed on 01 May 2022 by Valerie, Burlington, Canada

Fantastic show, great music
Reviewed on 30 April 2022 by Marcia, Wembley, United Kingdom

Outstanding Musical, not to be missed.
The actor couldn't have been any more like Bob Marley than he was. Superb acting and out of the world singing. I saw Phantom of the Opera in New York but Get Up Stand Up was on another level. Needs more publicity, as it was an ace of a production.
Reviewed on 28 April 2022 by Julie, Solihull, United Kingdom

Unbelievable!!
This show transported me to another world. I felt like I was watching Bob Marley himself in concert. It is uplifting emotional, colourful and combines all of Bob Marely's greatest hits so beautiful with his life story. As for the singer that plays Rita Marley, her voice is Unbelievable she genuinely brought me to tears. This is a must see for everyone and the theme rings so through for all that's going on in the world today. What a tribute to the one and only Bob Marley❤️
Reviewed on 20 April 2022 by Niamh, Limerick, Ireland

Not as good as I thought it was going to be
Reviewed on 18 April 2022 by Denise, Sheerness, United Kingdom

Great show especially if you are a fan of Bob Marley
It is good to read a little bit about Bob Marley's life to be more emerged into the show
Reviewed on 13 April 2022 by Rania, Geneva, Switzerland

Absolutely brilliant
Great story , excellent production.
Reviewed on 11 April 2022 by Ellen, St. Albans, United Kingdom

Kingston in Theatre land
The story managed to thread the various significant parts of Marley's life. A real Stand up and sing experience. It's a west end must!
Reviewed on 09 April 2022 by Gwyneth, Gourock, United Kingdom

Stand up dam right!
Fantastic, Must see... Bobs life narrowed down into a few hours but performed fantastically.undersatnding clearly the meaning behind all of his life and tunes... would see again.
Reviewed on 07 April 2022 by Patricia, London, United Kingdom

Great singing & atmosphere
Balconys are steep. Great show and story
Reviewed on 28 March 2022 by Danielle, Orpington, United Kingdom

Bob would have enjoyed this.
A very fun show. The lead performers were very good. A great evening out, especially for those who grew up with Marley's music.
Reviewed on 19 March 2022 by Michele, Croydon, United Kingdom

Amazing
Came with 5 friends and couldn't believe how amazing the show was.
Reviewed on 11 March 2022 by Carol, Bath, United Kingdom

Must see
Even if you don't especialy like Bob Marley, it's a really good show and this is a history really intense.
Reviewed on 06 March 2022 by Charles, Paris, France

Inspiring!
I never paid much attention to Bob Marley even though I grew up in Jamaica but it is incredible that 50 years later, his music is still relevant. My 15 year old son likes the music and we never get tired of listening to Tuff Gong radio every day on SiriusXM. We know all the words to the songs and it was nice to see his story told by his songs. The young lady that plays Rita Marley has an incredible voice!
Reviewed on 05 March 2022 by Christopher, Kingwood, United States Of America

Good story about his life
Reviewed on 04 March 2022 by Suk Yee Halina, London, United Kingdom

Creative… A must see
Reviewed on 01 March 2022 by Amy, Witham, United Kingdom

Great cultural experience!
Reviewed on 27 February 2022 by Michael, Milton Keynes, United Kingdom

Totally Heartwarming and Amazing
A must see show, you will not be disappointed! We saw Michael Duke as Bob Marley. Bravo, he should feel very proud of his performance tonight! Thank you
Reviewed on 17 February 2022 by Nicola, Brighton, United Kingdom

Excellence
Reviewed on 09 February 2022 by Doreen, London, United Kingdom

Bob Marley
It was one of the best shows I've seen, the performers were brilliant and they sounded so good 😊
Reviewed on 29 January 2022 by Caroline, Hereford, United Kingdom

Great performance! Great understanding and showcase of BMs story
Reviewed on 24 January 2022 by Leonie, Swindon, United Kingdom

Must see extravaganza!
Growing up listing to the songs of Bob Marley was amazing. Being able to relive his life and the fantastic music was not to be missed. The acting was captivating. The singing however, was the highlight for me. Being a West Indian man, the show reconnected me in more ways than one to, not just Caribbean way, but the musical contribution to the world. A must see. Bring your kids, show them what true art is. There are no dislikes.
Reviewed on 22 January 2022 by Decland, Hayes, United Kingdom

entertaining
Reviewed on 17 January 2022 by Christian, Upwell, United Kingdom

Great performers, audience participation encouraged.
Some bad language and short sections of violence but only unsuitable for very young. Actors voices amazing and great use of minimal scenery. Didn't know what to expect but bowled over and would definitely see again.
Reviewed on 06 January 2022 by Geran, Mexborough, United Kingdom

Fantastic show, great music, perfect performance
Reviewed on 05 December 2021 by Alex, Kapellen, Belgium

There could have been more music,and less talk. The songs and music were great
Reviewed on 28 November 2021 by Andrew, Hull, United Kingdom

Great score.
Reviewed on 27 November 2021 by Angela, Harpenden, United Kingdom

Disappointing
The dialogue was difficult to understand also was very quiet we had stall seats struggled to hear shame great concept poor performance sorry
Reviewed on 23 November 2021 by Sharon, Essex, United Kingdom

Amazing
Reviewed on 21 November 2021 by Elena, London, United Kingdom

Excellent
Brilliant show from start to finish
Reviewed on 21 November 2021 by Gabrielle, Sittingbourne, United Kingdom

anyone who loves music must go
uplifting, great performance and vocals, and will definitely get you moving in your seat.
Reviewed on 04 November 2021 by Chris, London, United Kingdom

Should run for years!
A fantastic show. The whole atmosphere was electric and the standing ovation they received was unbelievable. We would definitely go to see it again and that's not something we would usually say and we've seen a lot of shows! Came out feeling really alive and it's a real tonic to all the dreadful time we've all been living through. Thoroughly recommend
Reviewed on 03 November 2021 by Martin, Wymondham, United Kingdom

Amazing show
Fabulous show, great story well acted, and singing was amazing, only criticism is that the lighting was very bright for us on the balcony at times, and not enough people working for theatre watching people taking photos through the show, we was asked to wear masks for Covid reasons and hardly anyone did which was disappointing I felt.
Reviewed on 28 October 2021 by Carole, Colchester, United Kingdom

Reviewed on 24 October 2021 by Mark, Glandore, Ireland

Definitely worth it!
Reviewed on 24 October 2021 by Khamara, London, United Kingdom

I did not receive my tickets
I can't leave a review as my tickets should have been emailed to me, I see you have my email address and all correspondence be it phone or email was not replied to so I spent £200 on tickets for my brothers 40th birthday that I did not get
Reviewed on 23 October 2021 by Jacqueline, Bury, United Kingdom

most enjoyable
Reviewed on 21 October 2021 by Alison, Aberdeen, United Kingdom

The show was fantastic
But wish theatres would stop letting late arrival in, interruptions are not needed
Reviewed on 18 October 2021 by Darren, Cambridge, United Kingdom

interesting take on Marley's music, not great stage view not good dont sit on upper left.
Reviewed on 17 October 2021 by Vicky, London, United Kingdom

Great Bob
Great souvenir of Bob Marley the e of the most important showman ever. Very good performs e with good singers. Everything perfect
Reviewed on 16 October 2021 by Alberto, Vicenza, Italy

Reviewed on 10 October 2021 by Teodora, Mitcham, United Kingdom

Amazing ? well worth seeing
Brilliant show very good costumes, dancer ? ?
Reviewed on 10 October 2021 by Jennifer, Cheltenham, United Kingdom

Reviewed on 06 October 2021 by Gunnur, Cambridge, United Kingdom

Fabulous First Post Lockdown Theatre Outing
Vibrant, poignant, exciting and fabulous musical experience Congratulations to all involved Loved it
Reviewed on 05 October 2021 by Sara, Swansea, United Kingdom