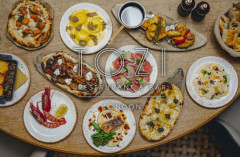 It's easy to forget that a thriving theatre scene isn't just about audiences, auditoriums and actors. For many people dinner after a show is very much a part of their theatre going ritual.
Although restaurants are technically allowed to open the spacing required between tables to ensure diners are socially distanced means they're forced to serve far less customers than usual.
On top of this, anyone who's ventured into the West End recently will tell you it's like a ghost town. Whilst the theatres remain closed there's simply no reason for most people to brave public transport in an uncomfortable mask to come into central London.
Restaurateurs are struggling to fill even the few tables that are still operational.
So I was delighted when I received news today that TOZI restaurant in Victoria, home to Hamilton and Wicked have come up with a new theatre themed initiative.
To celebrate its official reopening they've partnered with actress Harriet Thorpe to develop an especially indulgent dish to benefit Acting for Others. The charity provides financial and emotional support to theatre workers in times of need through 14 member charities. Of course now, more than ever, their role is vital.
Together with TOZI's Head Chef, Maurilio Molteni, Harriet has created a Scottish Scallop Carpaccio, with samphire, dried tomatoes & lemon oil. Starring on the menu for £12.50, the new Scottish Scallop Carpaccio will be available until the end of October.
TOZI describe themselves as inspired by the casual dining ethos and culture of the Veneto region of Italy. Their focus is on small plates that are bursting with flavour, which they claim, take guests to the heart of Venice with every bite.
Maurilio Molteni, commented - We're very excited to reopen our doors and it's been a pleasure to work with Harriet to create this special dish, that will help us play our part in supporting the theatre industry as it recovers from the impact of COVID-19. With two of London's most revered shows on our doorstep, we wanted to support our friends during these incredibly challenging times.
Harriet Thorpe added - I'm excited to be working with Maurilio and create something that will directly benefit those in our industry. Support for the arts has never been more important, and I implore all of TOZI's guests to try our Scottish scallop carpaccio, which combines my personal favourite of the intense samphire with sumptuous scallops – it's truly delicious, even if I say so myself!
As part of its reopening plans, TOZI Restaurant & Bar has launched its own 'EOTHO' scheme, offering £10 off meals Tuesday, Wednesday and Thursday throughout September.
Open for dinner only during September, booking is via www.tozirestaurant.co.uk or call +44 20 7769 9771.