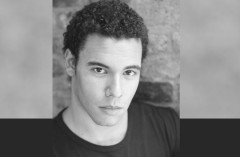 Motown the Musical have just announced a new leading man and I'm very excited to hear that it's David Albury who'll be taking over the role of Smokey Robinson just as producers release 500,000 new tickets for sale, securing the show at the Shaftesbury Theatre until 5 January 2019.
I directed David last year in the new musical Exposure at the Other Palace and he's not only an exceptionally handsome young man but he's also a formidable talent, equally comfortable with singing, dancing and acting. He also gave an acclaimed performance in the recent Southwark Playhouse production of The Life.
Actually Motown doesn't require anyone to do much acting, although it nominally tells the story of Motown founder Berry Gordy.
The Press team summarise the plot as follows – "With just $800 borrowed from his family, Motown founder Berry Gordy, goes from featherweight boxer to heavyweight music mogul, discovering and launching the careers of Diana Ross, Michael Jackson, Stevie Wonder, Smokey Robinson, Marvin Gaye and many more. Motown the Musical uncovers the true story of the legendary record label that changed music history and created the soundtrack of a generation."
The cast's main job is to belt out the 50 incredible, classic Motown tracks including Ain't No Mountain High Enough, I'll Be There, Dancing In The Street, Stop! In The Name Of Love, My Girl and I Heard It through the Grapevine accompanied by a sixteen-piece orchestra.
David is more than capable of delivering great renditions of this material.
And if you know of any kids who could look and sing like the Young Michael Jackson, Berry Gordy and Stevie Wonder they could star alongside him!
According to the press release "on Saturday 19 August, Motown the Musical will hold children's open auditions. Registration will be at 9.15am, taking place at the Brixton Community Base, Talma Road, London SW2 1AS. For more information please visit http://motownthemusical.co.uk/childrens-auditions/"
The roles are currently played by young Londoners, Nana Ageyman-Bediako, 11 years old from Haringey, Raphael Higgins-Humes, 11 years old from Greenwich, Rio Myers, 11 years old from Lewisham and Tumo Reetsang, 12 years old from Southwark.
The full official listing of cast joining David is as follows -
On 4 September 2017 David Albury and Kayi Ushe will join the cast as Smokey Robinson and as Marvin Gaye respectively. They will perform alongside Cedric Neal as Berry Gordy with Lucy St. Louis as Diana Ross. Members of the ensemble play the roles of Eddie Kendricks, Jackie Wilson, Anna Gordy, Esther, Teena Marie, Florence Ballard, Martha Reeves, Tito Jackson, Jermaine Jackson, Mary Wells, Mary Wilson and Stevie Wonder. The ensemble features KM Drew Boateng, Ryan Carter, Samuel Edwards, Vanessa Fisher, Dujonna Gift-Simms, Simon Ray Harvey, Terique Jarrett, Cameron Bernard Jones, Cleopatra Joseph, Wilson Kiiru, Natasha Leaver, Kieran McGinn, Simone Mistry-Palmer, Samuel Nicholas, Brianna Ogunbawo, Matt Overfield, Jay Perry, Timothy Quinlan, Sharon Rose, Lawrence Rowe, Ashley Samuels, Brandon Lee Sears, Carl Spencer, Alex Thomas-Smith, Cherelle Williams , Richard Taylor Woods, Michael Woolston-Thomas and Jayme-Lee Zanoncelli.