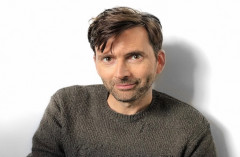 In October, David Tennant returns to the West End in Dominic Cooke's revival of C.P Taylor's Good - the highly anticipated and pertinent political play centered around World War II.
Following his acclaimed turn in Don Juan in Soho in 2017, David Tennant is set to return to the West End later this year. Starring as John Halder in Dominic Cooke's revival of C.P Taylor's Good, the production will run for a limited 10-week season at the Playhouse Theatre.
Playing alongside Fenella Woolgar (as the character of Helen) and Elliot Levey (as Maurice), Tennant's Halder – a liberal Frankfurt professor – is forced to navigate a fast-changing moral landscape. Set in Pre-war Germany, though time is poised to step over the threshold of the Second World War, Good is widely regarded as one of the definitive creative works on the Holocaust ever to be written in the English language. Described as the epitome of a 'good man', Halder is shown as devoted to his wife and children, and fiercely attentive to his aged mother. However, the dawn of Nazism sees the weaving – and consequent tangling – of an intricate social and political web. One in which Halder finds himself as would a fly, prey to anti-Semitic predation.
Crucially, Good marks the inauguration of Ficitonhouse, a new independent production company launched by Cooke and Kate Horton. The event sees a mirroring of their successful tenure at The Royal Court as Artistic and Executive Director respectively. With plans to produce theatre, film and TV projects both nationally and internationally, Fictionhouse crystallises the pair's working relationships with some of the industry's top writing, acting and directing talent.
During their partnership at The Royal Court, Cooke and Horton produced over 100 new plays, were nominated for and the recipients of countless awards, and performed a key role in establishing the theatre's more commercial branches. Ground-breaking works such as Jez Butterworth's Jerusalem, Lucy Prebble's Enron, Laura Wade's Posh and April de Angelis Jumpy are among some of the stunning successes conceived under their administration – names that are now synonymous with history's most influential theatrical developments.
Speaking on his return to the West End, Tennant says: "Dominic is one of the UK's all-time great theatre directors. I am really inspired and delighted to finally get a chance to work with him, and especially on a wonderful play like C. P Taylor's Good - a fantastic bit of writing that is more pertinent and resonant now than it has ever been".
Good runs from the 6th October-16th December 2020, with tickets available to book now – subject to high demand.