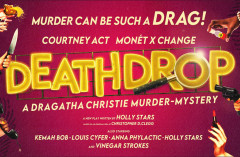 A few weeks ago a West End show was announced for the Garrick theatre with very little fanfare. Given the that the creators have entitled it DEATH DROP in the midst of a pandemic I assumed it was some kind of a tasteless hoax and ignored it.
However I was chatting with a designer friend of mine the other day who revealed he's designing the set and so, now convinced it's legit, let's take a look at what we can find out from the press release.
Tickets are on sale now.
The shows full title is Death Drop: A Dragatha Christie Murder-Mystery.
Borrowing from Drag Race terminology apparently it will "serve you whodunnit, Agatha Christie-realness with a killer cast of drag queen favourites and endless belly laughs".
It will star RuPaul's Drag Race season 6 runner-up Courtney Act and All Stars season 4 winner Monét X Change and it's written by Holly Stars (is that a real name) and based on an idea by Christopher D. Clegg.
Here's how they're describing the show –
It's 1991 and a bangin' gang of guests flock to Tuck Island for a glamourous soirée that's absolutely to die for! The suspense begins to build up once they reveal their dodgy pasts, resulting in savage confrontation and ferociously fierce finger pointing. One by one, the guests lip sync for their lives, leading up to a grand finale of epic proportions where we hilariously find out who did it! Packed with more ridiculous plot twists than a John Waters film, Death Drop is ready to work!
Wigs on fleek, outfits on stun, these two beloved drag performers are Naomi Campbell-ing the competition. Don't miss these covergirl glamazons slay the West End stage this holiday season at the Garrick!