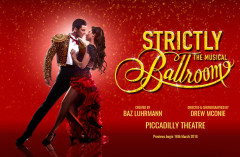 Excitement is building ahead of the West End premiere of Strictly Ballroom, the stage adaptation of Baz Lurman's feel good cult movie. Previews begin 29th March 2018 at the Piccadilly Theatre.
The P.Rs are doing a great job of wetting our appetites by releasing some terrific images of the production in rehearsals. There's also an engaging video promo and you can find each on the show's Facebook page.
Here's what we know so far.
The show's producers describe the plot as follows -
"When rogue championship ballroom dancer Scott defies all the rules of competition to follow his heart, he teams up with left-footed partner Fran to compete in the Pan Pacific Championship his own way. Their love blossoms as their routines flourish, and together they triumph in bringing down the sequin-clad regime of the Dance Federation"
It's a juke box musical, borrowing existing hit songs and integrating them into the story, and you can look forward to hearing Love is in the Air, Perhaps Perhaps Perhaps and Time After Time as well as, what we're promised will be, "electrifying songs from a host of internationally acclaimed artists"
Singer/songwriter Will Young will be returning to the West End to play the new role of Wally Strand, a band leader, and the two lovers at the heart of the story will be played by Jonny Labey who won ITV's Dance Dance Dance, and stage favourite Zizi Strallen.
Also in the cast are Anna Francolini and Gerard Horan. We're told Francolini will play Shirley Hastings, described as "the hilarious former dancer who will do whatever it takes to ensure her son Scott succeeds" Anna's stage credits include wonder.land (National Theatre), That Day We Sang (Royal Exchange Theatre), Peter Pan (National Theatre) and Onassis (Novello Theatre).
Gerard Horan will play Barry Fife, who we're told is "the corrupt ruler of the ballroom-dancing world" Gerard's stage credits include The Ferryman (Royal Court / Gielgud Theatre), The Vote (Donmar Warehouse), The Christmas Truce (Royal Shakespeare Company) and One Man Two Guvnors (Theatre Royal Haymarket).
The show is produced by Global Creatures and next up for them are the Broadway-bound spectaculars King Kong, and Moulin Rouge! Let's hope they bring those shows to London too!!
Strictly Ballroom was enormously influential for ballroom dance making it popular again after years in which it had been regarded as old fashioned and unfashionable. It led to the current glut of competitive TV dance shows, predominantly of course, STRICTLY COME DANCING, which grips the public every winter.
It seems likely the musical will be just as popular, so book now for the right seats on the right date for you.