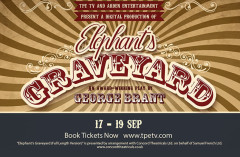 Colin Blumenau, the Artistic Director of The Production Exchange has been in touch about their latest project. They're an agency representing the interest of actors but unusually they also create productions that show case their clients.
Covid conditions have inspired them to move activities on line and they've teamed up with Arden Entertainment to create TPE TV, described as "a new digital theatre venture" which will "explore the place between live theatre and television."
Their first production will be ELEPHANT'S GRAVEYARD by George Brant. This is apparently a powerful award winning play and his company are presenting it to stream between 17th and 19th September at tpetv.com.
It sounds intriguing. Blumenthal tells us "Elephant's Graveyard is based on a true story about a travelling circus that, in the early 20th century, stumbled into a muddy Tennessee town where lynching was not unusual. The subject of this lynching is, however, utterly unique. The play buzzes with poignancy, comedy and truth about the consequences of prejudice, selfishness and man's inhumanity. What could be more relevant in these days of heightened nearly a century later?"
Amongst the cast is Phil Sealey who I've directed in numerous productions and he's always excelled in everything from Shakespeare to pantomime dame. He's joined by Dannie Harris, Sam James Page, Patrick Marlowe, Phoebe Naughton, Lucy Jane Parkinson, Caroline Moroney, Philippa Hogg, Esmée Cook, Shaun Blaney, Harriet Leitch, Nickcolia King N'da and Gareth Tempest.
If you'd like to find out more go to https://tpetv.com/ where you'll find a trailer and booking details.