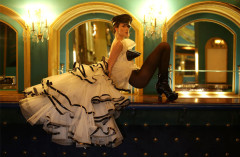 Here's something a little different and an exciting addition to London's Theatre scene.
Jean Paul Gaultier's FASHION FREAK SHOW will have its UK Premiere this summer at the Southbank Centre's Queen Elizabeth Hall from Tuesday 23 July for 13 performances and we're promised a "spectacular revue show" exploring "50 years of pop culture through the eyes of fashion's enfant terrible".
The rather shrill press release continues breathlessly, "Eccentric, scandalous, provocative, exuberant and funny as ever, Jean Paul Gaultier is shaking up London with his stunning new creation".
Expect "an explosive combination of a revue and fashion show" in which "actors, dancers and circus artists take to the stage and play outlandish, passionate, larger than life, rude, sexy, sassy creatures and personalities".
All this in front of a video wall which will show clips of pre-recorded special guests, as "author, director and costume designer, Jean Paul Gaultier takes a look at our times in both an extravagant and tender way, invites us behind the scenes… and pays tribute to those who have inspired him, in film (Pedro Almodovar & Luc Besson), music (Madonna, Kylie Minogue & Mylène Farmer) and dance (Régine Chopinot & Angelin Prejlocaj)… from disco to funk, from pop to rock and new wave and punk, the Fashion Freak Show is an explosive playlist of hits that have inspired the artist throughout his life".
What's more Jean Paul Gaultier has designed hundreds of new exclusive outfits for the show, which we're told (warned?) will be "conceived like a grand party".
The man himself declares "I am honoured that my Fashion Freak Show will premiere at Southbank Centre. London is dear to my heart and a constant source of inspiration. I have been coming here since my youth and have been greatly influenced by British music, theatre and cinema throughout my career from the Rocky Horror Show through Punk and New Wave and I keep coming back. I hope that audiences will enjoy the show as much as I did creating it."
And if you can't wait until the summer for your "chance to encounter, live, the great good fun, genius fashion, and raucous influences of Gaultier's life" it's currently playing at the Folies Bergère in Paris.