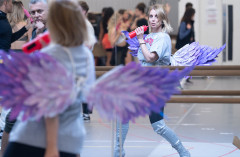 GREASE is going to be the word again from 2 June, as it returns to the Dominion Theatre.
To celebrate its upcoming return to the West End, rehearsal room photos have been released, which feature Louise Redknapp (who is taking on the role of Teen Angel at certain performances) and choreographer Arlene Phillips.
Directed by Nikolai Foster, Grease was seen by over 500,000 people last summer, making it the Dominion Theatre's most successful summer run since We Will Rock You.
Featuring iconic songs including Summer Nights, Greased Lightnin and You're The One That I Want, the role of Teen Angel will be split across the run by Louise Redknapp (2 June to 29 July, excluding Mondays), Jason Donovan (14 August to 28 October) and Peter Andre (29 August to 19 October).
The lead cast also includes Dan Partridge as Danny, Olivia Moore as Sandy, Jocasta Almgill as Rizzo and Solomon Davy as Kenickie. This production of Grease is dedicated to the memory of Olivia Newton-John, who sadly passed away in August 2022.
You know what you want - tickets to see Grease in the West End!