268-269 Tottenham Court Road, London, W1T 7AQ GB
Quick Facts
Largest Ticket Inventory
in the West End
Real time
seat availability
Choose
your seats
Your booking is processed directly into the box office reservation system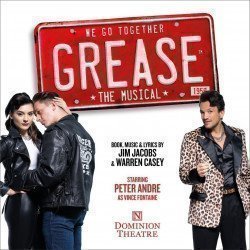 Grease
Tickets
4.4/5
-

based on

36

reviews
Booking until: Saturday, 29 October 2022
Tickets from £18.00
Book tickets
COVID secure venue
This venue will utilise social-distancing, increased health and safety measures, temperature checks and more to ensure your visit is safe and enjoyable.
Buy with confidence
Grab the best seats today, in the knowledge that all bookings can be exchanged.
Information
Cheap Tickets
Reviews
News
About Grease
Performance Times
Booking until: Saturday, 29 October 2022
Grease description
Grease The Musical – Danny and Sandy are back!
Did you love Grease back in the 1970s? Did you wear the clothes and insist on the hairstyles, and did you sing along to the soundtrack? Grease has delighted millions in movie and musical form for decades, now it's due at the Dominion Theatre in 2022, directed by Nikolai Foster and choreographed by Arlene Philips. Are you ready for a proper stage musical spectacular?
What's the plot of Grease The Musical?
It's the school summer break. Danny and Sandy meet on holiday, and fall in love. Sandy is sweet and innocent, Danny is a bad boy with a soft centre. When Sandy turns up at Danny's school the following autumn, both of them find it hard to revive their feelings. Sandy remembers the sweet boy who treated her like a lady, Danny feels he's far is too cool for love and boasts about his conquest. Heartbreak follows until Sandy realises the only way to get her Danny back is to try to become just as cool as he is. With the help of the Pink Ladies she transforms herself into a sizzling hot woman and Danny is hers once more.
Who is Grease The Musical for?
Grease is recommended for people aged seven or over, and children under five are not allowed in the auditorium.
Buy tickets for Grease The Musical
Our website makes buying tickets for Grease The Musical simple and enjoyable. We'll email e-tickets to you, which you simply show at the door on the big day.
Age restrictions
The production is recommended for ages 7+. Children under the age of 5 cannot be admitted to the auditorium.
Important Information
All patrons, regardless of age must have a valid ticket. Smoking depicted on stage / occasional strong language.
Next Performances for Grease at the Dominion Theatre
today
20th May 2022
7:30pm
tomorrow
21st May 2022
2:30pm
tomorrow
21st May 2022
7:30pm
Monday
23rd May 2022
7:30pm
Tuesday
24th May 2022
7:30pm
Wednesday
25th May 2022
7:30pm
Grease cheap tickets
We have a great selection of cheap Grease tickets. We can help you save up to 70% on Grease tickets! If you're looking for discount theatre tickets have a look below for our latest offers for Grease at the Dominion Theatre.
There are no special offers available at the moment but we still have great ticket prices for Grease at the Dominion Theatre.
Grease reviews
4.4 out of 5
based on

36

reviews
What to expect:
Acting
Music
Costumes
Story
Lighting
Recommended for:
Anyone (75%)
Families (83%)
Teenagers (83%)
Couples (81%)
Theatregoers (83%)
Latest customer reviews

Fantastic show - a must see!
Reviewed on 19 May 2022 by Marjory, London, United Kingdom

Good performance
Reviewed on 17 May 2022 by Paolo, Tribano, Jamaica

Family event
Absolutely brilliant would recomend show 100%
Reviewed on 17 May 2022 by Elaine, Clacton-on-sea, United Kingdom

fantastic
beautiful done.good acting and very good singers
Reviewed on 17 May 2022 by Vincenza, London, United Kingdom

Great
The show was great, loved every part. One exception- the end was a bit disappointing. Sandy's makeover was should've been more dramatic, it was hardly noticeable. Other wise- fantastic show
Reviewed on 15 May 2022 by Shanee, Ashdod, Israel

Forgettable show - Feels more like a HEAT magazine article - terrible audience too
Overall, hard to engage emotionally with the show on many levels. Some good singing but quality is far from broadway - Not for theatregoers very average. Two lead characters were ok but I felt there were better ones doing secondary characters (Rizo for example). I struggled to engage emotionally, I was watching actors rather than the characters. Very HEAT magazine. 4 people in the audience were kicked out; lots of drunken ladies who've never been to the theatre before. Trashy overall.
Reviewed on 15 May 2022 by Anna, London, United Kingdom

The same but different
i guess changing the story in parts and mucking around with the song order for example would upset the pure Grease fans and to be honest it was a slight dissapointment. however the songs and performances were strong, excellent house band...singing performances were slightly off par for what you expect from a west end show. overall though still very entertaining with a rousing finish.
Reviewed on 15 May 2022 by David, Chester Le Street, United Kingdom

Fantastic - must see
Reviewed on 15 May 2022 by Jean, Romford, United Kingdom

Good all round
Fantastic night out, really good actors and brilliant singers. Enjoyed every minute,plus Peter Andre was in it, although he didn't overshadow all the other brilliant performers, would definitely recommend.
Reviewed on 14 May 2022 by Richard, Coventry, United Kingdom

Uplifting
Reviewed on 14 May 2022 by Michelle, Carshalton, United Kingdom

fun!
Reviewed on 13 May 2022 by Liz, Nottingham, United Kingdom

Amazing
Couldn't have been better, music choreography the dancers were just fantastic as was Peter Andre. I would gladly go again
Reviewed on 13 May 2022 by Andrea, Cheshunt, United Kingdom

Bucket list
I found the show highly enjoyable and entertaining, now thinking of going again & taking the oldest granddaughter. The acting & music were at the highest level and would recommend anyone to go and see the show.
Reviewed on 13 May 2022 by Brian, Dagenham Essex, United Kingdom

It's a loud musical!
I was disappointed with the storyline. Vaguely similar but not what I recall or others remember. Songs were in the wrong order ! Sandy was a brunette and forget political correctness, she was blonde in the original Grease!
Reviewed on 13 May 2022 by Bushra, Poole, United Kingdom

Was it a rehearsal it was bad
This was possibly the worst show I have seen ever Perter Andre tried to save it and in fairness he was ok but the story singing casting were awful lost interest people walking out and complaining sorry wish I had not wanted the money it was painful to watch
Reviewed on 12 May 2022 by Jill, Benfleet, United Kingdom

Very entertaining
Reviewed on 12 May 2022 by Stephen, Stanford Le Hope, United Kingdom

I just loved Peter Andre's character.
I would recommend that people go and watch it. There were more women then men. It's a woman's love story to watch
Reviewed on 12 May 2022 by Servet, Princes Risborough, United Kingdom

Nicely time we spend on this show. It was indeed a great performance.
Reviewed on 10 May 2022 by Faik, Istanbul, Turkey

Fast moving colourful and memorable moments
Never saw the original show ... but I remember it well from the film. This production is first class and shouldn't be missed.
Reviewed on 10 May 2022 by Alan, Stockton-on-tees, United Kingdom

Amazing show. Great cast
Reviewed on 08 May 2022 by Emma, Swadlincote, United Kingdom

great stage scenery
Really enjoyed the show great atmosphere throughout x
Reviewed on 08 May 2022 by Suzanne, London, United Kingdom

Lively and Entertaining
Great show! Loved it. The singing and dancing were both superb. Peter Andre as Teen Angel was fantastic! All three generations of our family had an amazing time and thoroughly enjoyed every dance filled minute!
Reviewed on 07 May 2022 by Angela, York, United Kingdom

Fantastic show
Absolutely fantastic well presented actors were all amazing
Reviewed on 07 May 2022 by Mark, Manchester, United Kingdom

Wonderful dancing
Overall had a good time but was a little disappointed that "Sandy"didnt seem to be as visible as the other cast members. I would thoroughly recommend it to my friends though.
Reviewed on 07 May 2022 by Julie, Rotherhithe, United Kingdom

Doesn't follow the story
The story of Grease wasn't followed, they mixed things up that wasn't in the story. Crowd around was constantly talking. Security and staff constantly in and out of doors and not stopping the constantly crowd noise. Wasn't impressed by the show, very young and not to west end standard as the storyline didn't match. Wasn't impressed by the theatre standard either. Singers were brilliant however and the dancing. This quality was definitely there.
Reviewed on 06 May 2022 by Laura, Kent, United Kingdom

Grease is the word
The staff were first class treated with respect at all times.The Grease film is a hard act to follow but it matched it at times.Rizzo was the best singer by far and Peter Andre was superb and stole the show overacting and thoroughly enjoying himself.An excellent evening out .Well done to all concerned
Reviewed on 05 May 2022 by Paul, Caerphilly, United Kingdom

Brilliant
Absolute brilliance from start to finish really highly recommend this show
Reviewed on 03 May 2022 by Christopher John, London, United Kingdom