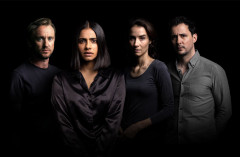 Production images have just been released for the transfer of Danny Robins' popular supernatural thriller 2:22 - A Ghost Story. The show's about to embark on a third season at the Criterion Theatre following a record breaking run at the Noel Coward and another at the Gielgud. It's on stage at its new home until 4th September 2022.
Who's involved in 2:22 – A Ghost Story?
Three Olivier Nominations and a win for Best New Play from Whatsonstage awards say it all – this is one you won't want to miss. Directed by Matthew Dunster, it has been described as 'intriguing, funny and scary'. If you like nothing better than an adrenaline fuelled night's entertainment, where secrets emerge and ghosts may appear, this one's for you. Check out the cast images below, taken by Johan Persson.
Tom Felton plays Sam. He played Draco Malfoy in the Harry Potter movies as well as starring in the movies The Rise of the Planet of the Apes, A United Kingdom, and Belle. Recently he wowed audiences with TV's Save the Cinema, and he'll soon star in the independent movie, Burial
Mandip Gill plays Jenny, who delighted us opposite Jodie Whittaker in three series of TV's Doctor Who. She also starred in Hollyoaks and appeared in Cuckoo, Doctors, The Good Karma Hospital, and Casualty
Beatriz Romilly plays Lauren, loved for her work in Assassin's Creed Valhalla, Final Fantasy XIV: Shadowbringers and War of the Worlds
Sam Swainsbury plays Ben, who played Jason in the BBC sitcom Mum, Rowan in the movie Fisherman's Friends, and in the film Thor: The Dark World
Set design is by Anna Fleischle, costume design by Cindy Lin, lighting design by Lucy Carter, sound by Ian Dickinson for Autograph Sound, co-direction by Isabel Marr, casting by Jessica Ronane CDG and the illusions by Chris Fisher.
The play is produced by Tristan Baker and Charlie Parsons for Runaway Entertainment, Isobel David and Kater Gordon
Buy 2:22 – A Ghost Story Tickets
Buy cheap 2:22 – A Ghost Story tickets online via our site and pick your favourite seats with our Criterion Theatre seating plan. Then relax, enjoy great service, and show the etickets we email to you at the door of the venue on the day. We make it all nice and easy.
About the Criterion Theatre
The Criterion Theatre is one of just a few independent theatres in the West End. It opened way back in March 1874 with a programme including HJ Byron's An American Lady and Topseyturveydom by W S Gilbert. And that makes the venue an impressive 148 years old. Past shows at the Criterion Theatre include Amelie the Musical, A Comedy About a Bank Robbery, and Pride and Prejudice * (*sort of).