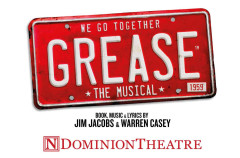 Would you like to see some sneak-peek production images for the new West End production of Jim Jacobs & Warren Casey's iconic musical GREASE? The fun opens at the Dominion Theatre on Tuesday 17th May 2022 and the previews kicked off on 3rd May 2022. This year marks GREASE's 50th anniversary since it opened on Broadway. And, proving its wide appeal, it is just as popular as ever.
Who's involved in GREASE?
See photos of Peter Andre as Vince Fontaine, Mary Moore as Jan, Paul French as Kenickie and loads more, revealing the colour, the fun, the fantastic costumes, the set and the atmosphere. It looks like this is going to be a top class production. The photos showcase the romance, the comedy highlights, and the fabulous score perfectly.
GREASE was originally staged in Chicago in 1971, moving to Broadway in 1972, where it attracted seven Tony Award nominations, including one for Best Musical
GREASE stars Dan Partridge as Danny, Olivia Moore as Sandy and Peter Andre as Vince Fontaine at certain performances
Darren Bennett plays Officer Mailie and Vince Fontaine at certain performances.
Special Guest Star Jason Donovan will play Teen Angel at certain performances for six weeks from 29th June
Also in the cast are Jocasta Almgill as Rizzo, Paul French as Kenickie, Mary Moore as Jan, Jake Reynolds as Doody, Lizzy-Rose Esin-Kelly as Marty, Damon Gould as Sonny, Eloise Davies as Frenchie, Jessica Croll as Patty Simcox, Katie Lee as Cha Cha, Ronan Burns as Johnny Casino and Corinna Powlesland as Miss Lynch
GREASE is directed by Nikolai Foster and choreographed by Arlene Phillips.
Buy GREASE Tickets
Buy cheap Grease tickets online via our site for great service you can trust, plus convenient e-tickets sent to you via email. Just show them at the door on the day. Did you know you can choose the best seats in the house with our Dominion Theatre seating plan?
About the Dominion Theatre
The Dominion Theatre dates back to 1929. Past shows at the Dominion Theatre include long runs of musical movies; The Sound of Music and South Pacific to name but two. It was also home to concerts from stars like Judy Garland, Maurice Chevalier, and Shirley MacLaine. And Time, the Dave Clark musical starring Cliff Richard, opened here in 1986, starring a hologram of Laurence Olivier.