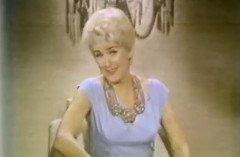 Thank you to reader James Horne, who brought this to my attention.
The AJ Hunsucker facebook page is always full of fascinating footage from past and present American Theatre. This clip features Ethel Merman and Gypsy Rose Lee discussing the Broadway production of GYPSY on The Gypsy Rose Lee Show in 1967.
As you'll recall, Ethel Merman starred in GYPSY the classic, much loved musical, about the rise of stripper Gypsy Rose Lee and the influence of her pushy mother (a role written for, and first played by Merman).
If you're a fan of Old School Broadway (and camp older ladies) this is well worth a look. I was particularly fascinated by –
What a fabulous comedienne Gypsy Rose Lee was. Her presence is as effervescent and witty as you'd expect. I've never seen footage of her in action before.
Ethel's hat!
The look of venom that flashes across Ethel's face when her birthday is mentioned, conveying an instant "don't you dare ask my age" warning.
The fascinating footage towards the end of this clip that shows the original GYPSY company and creatives in rehearsal, including the writers Author Laurents and a young Stephen Sondheim.
It's a gem. Enjoy!