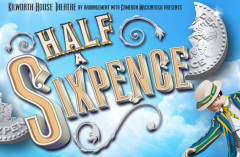 Amidst the raft of ingenious initiatives announced to keep us entertained during self-isolation this has to be my favourite so far.
According to his Facebook post my friend and former colleague, the award winning choreographer Andrew Wright, will be organising a HALF A SIXPENCE mass dance-a-thon via Instagram.
Andrew choreographed the acclaimed 2016 revival of the show in the West End, where Elster acted as dance captain ensuring that his choreography was performed perfectly every night.
The dance-a-thon will take place at 2pm on 27 March, and you can join in by visiting Wright's Instagram page here: https://www.instagram.com/andrewwrightchoreographer/
More details as we get them but what an extraordinary opportunity for us all to enjoy "virtually" dancing along side the best in the business without anyone seeing or caring how bad we are!