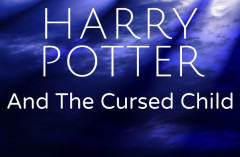 There's a lot of buzz this morning with the announcement that Sonia Friedman, one of the UK's most successful and prolific producers, here and on Broadway, will bring Harry Potter to the West End stage.
We don't have a lot of information at the moment except for the fact that the show will be created by the team behind ONCE, the cult musical which recently closed at the Phoenix Theatre after a long run and LET THE RIGHT ONE IN in the West End and on Broadway. The director John Tiffany recently had a massive flop with THE TWITS at the Royal Court but let's ignore that.
We know it's to be an original story by J.K. Rowling, written with playwright Jack Thorne and Tiffany, and it's called HARRY POTTER AND THE CURSED CHILD.
It will open in London's West End in the summer of 2016 at the Palace Theatre and we'll be able to buy tickets in the autumn with further news published on an official website in July.
How tantalising! More info as soon as we have it. One thing's for certain, the popularity of Potter will mean ticket sales around the world that could earn everyone involved in the show's creation millions.
The search to find kids to play the lead roles is going to be epic. Expect lots of press coverage and a media circus bigger than the X Factor!