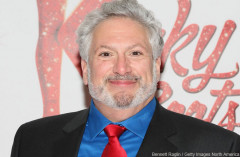 The musical KINKY BOOTS is currently in previews and by all accounts audiences are loving it. I saw the original Broadway production and it's undoubtedly a crowd pleaser.
The songs are by eighties pop star Cyndi Lauper and this is her first musical but the book (Script) adapted from a low budget British film of the same name, is by the prodigious Broadway legend Harvey Fierstein.
The talents of this gravel voiced performer and writer have helped power a number of hit Broadway musicals to success in London and New York and you can guarantee that with his name on a show that you'll get an evening of sharp wit and assured theatricality.
He's probably best known for the play and film TORCH SONG TRILOGY, which he wrote and starred in, winning him two Tony Awards, for Best Play and Best Actor in a Play, two Drama Desk Awards, for Outstanding New Play and Outstanding Actor in a Play.
It's an autobiographical piece dramatising a drag queen's discovery of love and family. Like many people who saw him playing the central role when it transferred to the West End I'd count it as one of the foremost experiences of my theatre going life.
This success led him to write the book for the drag queen musical, LA CAGE AUX FOLLES (1983), winning another Tony Award, this time for Best Book of a Musical, and a Drama Desk nomination for Outstanding Book. He's a plus size performer (originating the role of Edna in HAIRSPRAY on Broadway) and it was a real privileged to see him wobbling and growling his way through the lead role of ZaZa in a recent New York revival.
He brought extraordinary warmth, incredible charisma and impeccable comic timing to the script he himself wrote all those years ago. To say his voice was shot to pieces is an understatement, the pieces were shot to pieces but somehow it didn't matter he was mesmerizing and the moments of pathos were heart stopping.
As he was predominantly known for gay related shows Disney took a risk in 1992 when they brought him in to write the book for the family musical NEWSIES, along with Alan Menken (music) and Jack Feldman (lyrics). The show was a huge hit and lead to another Tony Award nomination.
He continues to write very funny and insightful plays too. Returning to issues surrounding sexuality CASA VALENTINA was produced on Broadway last year.It's about the secret culture of cross dressing in the 1950s. I loved it and you can catch the UK première at the Southwark Playhouse next month.