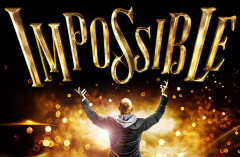 New magic show Impossible that has taken the West End by storm is due to return to London's Theatreland in 2016, following a worldwide tour.
Producers of Impossible announced the plans after revealing that the show recouped its costs of £950,000 following a very successful five-week run at the Noel Coward Theatre, closing on Saturday 29 August 2015.
Lead producer Jamie Hendry said in a statement that 'Impossible was a hugely high-risk show to produce and I'm delighted for everyone involved that it has proved to be a commercial success story so quickly. Impossible has managed to very quickly find its place in the crowded market of musicals and plays, and by its nature delivered one of the most spectacular shows you can see on a London stage. I am thrilled that we will be announcing plans for our UK and worldwide tour very shortly and look forward to bringing Impossible back to the capital next year'.
Impossible includes world-renowned magicians and performers such Ben Hart and Jamie Allan, mind reader Chris Cox and escapologist Jonathan Goodwin. The two-hour show features death-defying stunts, breath-taking illusions and dangerous magic.
The Noel Coward Theatre is now in preparations for the upcoming production of Photograph 51 staring Nicole Kidman, which is scheduled to open on 14 September and run through to 21 November 2015.