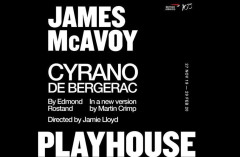 The news that popular theatre director, Jamie Lloyd is to take up another residency is good news for the West End. He provided a string of star-led quality productions at the the Trafalgar Studios, at the Duke of York's and his Harold Pinter season has been a big hit. It seems he's now to present a season of plays at the Playhouse Theatre.
The first to be announced is a production of Cyrano De Bergerac starring James Mcavoy.
When it's done well, and I think we can count on these guys to do it well, it's a magnificent evening that's both funny and deeply moving.
Cyrano is the joker amidst a group of soldiers, his large nose makes him afraid to reveal his love for the beautiful Roxanne so he helps his good looking friend write her the love letters he'd love to be sending himself.
Actor and director have successfully worked together before on The Ruling Class and Macbeth at Trafalgar Studios, Three Days of Rain at Apollo Theatre and Heart of Darkness for BBC Radio 4. The production opens at Playhouse Theatre on 6 December, with previews from 27 November and runs until 29 February.
But the really good news about this season is the commitment the Jamie Lloyd Company is making to nurturing new audiences thanks to a sponsorship deal with British Airways.
According to the press release -
"The Jamie Lloyd Company, supported by British Airways, deepens its commitment to making theatre more accessible, offering 15,000 free tickets to first time theatre-goers, invited through a special outreach programme and 15,000 tickets for £15 for key workers, under 30s, and those receiving job seeker's allowance or other government benefits".
Jamie Lloyd said today, "I can't wait to get back into the rehearsal room with James McAvoy, who shares my commitment to accessibility in the arts. In a radical move for the West End, we will invite thousands of people who have never visited a theatre before to experience our work, performed by world-class actors, for free. That's 15,000 completely free tickets across the season, thanks to our relationship with Ambassador Theatre Group and the new partnership with British Airways. Every day, we talk about making theatre more accessible to absolutely everyone, but, inspired by free museum and gallery entry, I believe that true and meaningful access actually means free tickets. I hope that this inspires other theatre companies and producers to investigate similar schemes in the future, changing the landscape of West End theatre forever."