6 Panton Street, London, SW1Y 4DN GB
Quick Facts
Largest Ticket Inventory
in the West End
Real time
seat availability
Choose
your seats
Your booking is processed directly into the box office reservation system
Cyrano de Bergerac
Tickets
4.8/5
-

based on

25

reviews
Opens: Thursday, 3 February 2022
Booking until: Saturday, 12 March 2022
Running time: 2 hours 50 minutes
Starring: James McAvoy
Tickets from £30.00
Book tickets
About Cyrano de Bergerac
Age restrictions
12+
Contains swearing and full nudity.
Important Information
Please be aware there is no re-admission into the auditorium once the performance has started. The show is 2 hours 50 mins (Part One: 1 hour and 29 mins; Part Two 55 mins).
Performance Times
Opens: Thursday, 3 February 2022
Booking until: Saturday, 12 March 2022
Running time: 2 hours 50 minutes
Starring:
James McAvoy
Cyrano de Bergerac description
Cyrano De Bergerac – Presented by the Jamie Lloyd Company
The Jamie Lloyd Company is an enormously successful partnership between the Ambassador Theatre Group and the talented Artistic Director Jamie Lloyd. They're thrilled to announce that the Golden Globe and Olivier Award nominated James McAvoy will play the lead role in Edmond Rostand's brilliant Cyrano de Bergerac, adapted by Martin Crimp. This production marks the first in a brand new season directed by Jamie Lloyd at the Harold Pinter Theatre.
Jamie Lloyd and James McAvoy have worked together many times before on plays including The Ruling Class at Trafalgar Studios, Macbeth at the same venue, Three Days of Rain at the Apollo and more. Jamie Lloyd himself is famously keen to make theatre more accessible, as is McAvoy, and a partnership between Lloyd and British Airways means there are 15,000 free tickets available to first time theatre-goers, plus 15,000 tickets for £15 aimed at London's key workers, under 30s, and people on benefits.
This is the first time that thousands of theatre novices will be invited to enjoy a show for nothing. Hopefully this unique joint initiative they've created between them will spread to other West End venues, enrich the lives of thousands of Londoners, and breathe new life into theatreland as a whole. By all accounts Jamie Lloyd can't wait to start rehearsals with McAvoy.
The show comes with design by Soutra Gilmour, Lighting Design by Jon Clark, Sound and Composition by Ben and Max Ringham, and Fight Direction by Kate Waters. Martin Crimp, who adapted the show, has an impressive background studded with hits like When We Have Sufficiently Tortured Each Other, In the Republic of Happiness, Play House, The City, and Fewer Emergencies, to name just a few of an enormous portfolio.
James McAvoy plays Cyrano de Bergerac, with top class theatrical credits including The Ruling Class, Macbeth, Breathing Corpses, Privates on Parade and many more theatre hits behind him. On TV he has wowed audiences with roles in Watership Down, Shameless, Early Door, State of Play and more. And on the big screen he's loved for roles in X-Men: Dark Phoenix, Glass, Sherlock Gnomes, Submergence, Atomic Blonde, Split... and that's just for a start. Jamie Lloyd directs, the respected creator of Betrayal, Pinter One, Two, Three, Six and Seven, The Maids, The Ruling Class, Richard III, The Pride, The Hothouse, Macbeth... the list goes on and on.
The story? A dashing officer of the guard and romantic poet, the large-nosed Cyrano de Bergerac is secretly in love with his cousin Roxane. Will she reject him because of his massive nose? He's too scared to find out so he writes letters to Roxane on behalf the young army cadet Christian, who is also in love with her. She falls for the letters' extraordinary charm, believing they're written by the less-than-poetic written by Christian, and marries. Cyrano keeps his secret, even when tragedy strikes.
Who is this show for?
This dazzling classic is probably best suited to people aged 14 or more.
Next Performances for Cyrano de Bergerac at the Harold Pinter Theatre
Thursday
3rd Feb 2022
7:30pm
Friday
4th Feb 2022
7:30pm
Saturday
5th Feb 2022
7:30pm
Sunday
6th Feb 2022
2:30pm
Tuesday
8th Feb 2022
7:30pm
Wednesday
9th Feb 2022
7:30pm
Cyrano de Bergerac reviews
4.8 out of 5
based on

25

reviews
What to expect:
Acting
Music
Costumes
Story
Lighting
Recommended for:
Anyone (56%)
Families (56%)
Teenagers (76%)
Couples (92%)
Theatregoers (100%)
Latest customer reviews

Absorbing and emotional
An emotive telling of the story with amusing characterisations. Great to see a diverse talented cast, well utilised. Great evening ! James McAvoy ❤️
Reviewed on 03 March 2020 by Sue, Watford, United Kingdom

Breathtaking, cosmic!
First of all, James Mcavoy - he is brilliant actor - for him playing is like drinking water... so natural and easy like in a real life. Sometimes I flew in the space when he speak a lot...) All of the actors group were great - they supplement each other. You MUST see it! It's stunning, breathtaking an unique. I love it!
Reviewed on 29 February 2020 by Anastasiia, Moscow, United Kingdom

Amazing adaptation with great acting
I really liked the script adaptation, very impressed by all actors ability to have long complex dialog rhyme/rap and be funny. There was a technical problem in this night but the cast picked up with class and took advantage of the audience response and support. There was something in the story that made it feel too long by the mid of the second act, might of been the intensity of the entire play. My favorite part (and I think everyone) was the duel. It was not only inventive, you felt all of it, the right way.
Reviewed on 27 February 2020 by Carla, Hayes, United Kingdom

An incredible production!
Captivating performances all round, especially from James McAvoy,who is electric. I'd highly recommend this play to anyone, it's hands down one of the best I've ever seen.
Reviewed on 20 February 2020 by Christina, Worksop, United Kingdom

Amazing and exciting..a marvellous experience
Reviewed on 19 January 2020 by Antoinette, Altrincham, United Kingdom

Engaging, clever,
Reviewed on 18 January 2020 by Iain, Romsey, United Kingdom

Must see
Great performance of James Mcavoy. Its impressive bus energy on stage. Also the adaptation and the ensemble is outstanding.
Reviewed on 14 January 2020 by José, Ciudad De México, Mexico

Brilliant performance
Reviewed on 11 January 2020 by Rui, London, United Kingdom

Brilliant!
James McAvoy is magnificent!!! He plays his heart out!
Reviewed on 05 January 2020 by Iudit, London, United Kingdom

I love words. That's all
Old play, modern production. A must for all of those who love poetry slams.
Reviewed on 22 December 2019 by Pia, Stuttgart, Germany

Powerful
Reviewed on 21 December 2019 by Cetin, Singapore, Singapore

Very nice Show ! James McAvoy is sensational
Everything was great and the atmosphere was very lovely !
Reviewed on 19 December 2019 by Marine, London, United Kingdom
02

Nov
2021

This Week in the West End: Cyrano de Bergerac, Dear Evan Hansen, and more
by London Box Office | Tuesday, November 2 2021, 10:56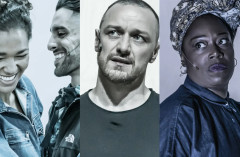 We've had our share of exciting news this week from the West End. From the extensions of London's most popular musicals Wicked and Getup Stand up, to the release of Lion King tickets and the announcement that Cyrano de Bergerac - starring James Mac Avoy - will take to the stage at the Harold Pinter, it's all good news for theatre-goers. Read on to see what's been happening.
This Week in the West End: Cyrano de Bergerac, Dear Evan Hansen, and more
13

Jan
2020

Review: CYRANO DE BERGERAC at the Playhouse Theatre
by Justin Murray | Monday, January 13 2020, 20:28
It's the 1640s - or perhaps it's today. In the Jamie Lloyd Company's modern-dress production of CYRANO starring James McAvoy, one isn't quite sure.
Either way Cyrano is still the fiercest fighter and wittiest wordsmith in Paris - just don't mention his large nose, which is something of a sore point.
Anita-Joy Uwajeh, Eben Figueiredo, and James McAvoy in Cyrano de Bergerac
Review: CYRANO DE BERGERAC at the Playhouse Theatre
05

Aug
2019

Director Jamie Lloyd to Make 15,000 tickets Free to First Time Theatre Goers
by Phil Willmott | Monday, August 5 2019, 10:48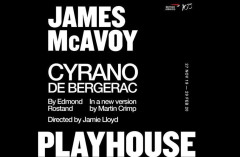 The news that popular theatre director, Jamie Lloyd is to take up another residency is good news for the West End. He provided a string of star-led quality productions at the the Trafalgar Studios, at the Duke of York's and his Harold Pinter season has been a big hit. It seems he's now to present a season of plays at the Playhouse Theatre.
Director Jamie Lloyd to Make 15,000 tickets Free to First Time Theatre Goers