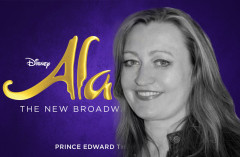 Disney Theatrical Productions announced have just announced who is to play the leads in the West End premiere of the new musical based on the classic Academy Award®-winning animated film, Aladdin. The eagerly awaited big budget Broadway show will open at the Prince Edward Theatre on Wednesday 15 June 2016, with previews from Friday 27 May.
Don't get too excited, it's no one you've ever heard of, mostly ex members of THE LION KING and BEND IT LIKE BECHAM casts although no doubt they're excellent performers. The big news is that Broadway cast member Trevor Dion Nicholas will make his London stage debut as Genie.
Check him out on Youtube to see just how lucky we are to have him recreate his show stopping performance in our city.
Having been part of the casting process for several West End shows I think we should recognise quite how tough it must have been identifying and auditioning thousands of suitable UK actors with the right look and talent to match the Broadway cast. The talent pool is so much smaller here than in the USA as relative to our much smaller population.
Despite this Thomas Schumacher from Disney, the show's producer, has said "As we cast this exceptional company, I was impressed again – as I have been many times in the last two decades – by the vast, deep pool of musical theatre talent in London and throughout Britain. And how gratifying that talent is a microcosm of the country in all its diversity and distinction. I'm so proud this beautiful cast reflects that."
So all credit to casting director Jill Green who's not only masterminded this process but is also in charge of finding a conveyor belt of top talent to populate several long running shows including JERSEY BOYS and THE LION KING.