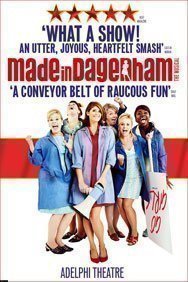 The new British musical adapted from the screen, Made in Dagenham has posted its notice at the Adelphi Theatre. The acclaimed production starting Gemma Arterton will play its final performance on 11 April 2015.
Made in Dagenham opened on the West End in October last year to excellent reviews, most praising the Rupert Goold's direction and the shows leading lady, Gemma Arterton. However, even after winning a flurry of awards, the show has continued to struggle at the box office, not pulling in a long-term audience.
The shows leading producer, Rebecca Quigley said on the announcement of the closure "I'm immensely proud of Made in Dagenham and of everyone involved in bringing it to the stage. Brand new, British musicals are few and far between - particularly those that can make you laugh and move you in equal measure. Our writers, creative team and company have been particularly passionate about telling this true story of a remarkable event in our history with the wit, heart and creativity it deserves. They've achieved that and so much more."
Adapted for the stage by Richard Bean, Made in Dagenham tells the true story of Rita O'Grady (Gemma Arterton), and her mission to rally her female work colleagues into going on strike against the might of the Ford Motor Company in 1960's Dagenham, to fight for gender equal pay.
Made in Dagenham plays at the Adelphi Theatre until the 11 April 2015.