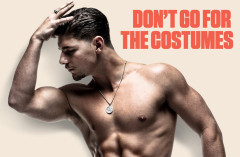 Update for Magic Mike at The Theatre at the Hippodrome Casino
The West End is about to come back to vibrant life and we're thrilled to welcome Channing Tatum's Magic Mike Live back to the Hippodrome. The full cast has been announced and the show returns to its London home on 21st May 2021. This is one of the first West End shows to reopen after covid and we're really looking forward to the fun. Welcome to the end of lockdown!
Who's involved in Magic Mike?
Magic Mike Live is a fabulous curated lounge and bar experience for people aged 18 or over. The setting is a club, where a group of extraordinary artists perform a 360 degree dance and acrobatic spectacular in front of, behind, and above the audience. The show has been conceived and co-directed by Channing Tatum. It stars a load of exciting new songs and dance sequences. There's free 'bottomless' Prosecco throughout the show until 1st August. And the latest fabulous cast for this dazzling fresh production of Magic Mike Live in London includes:
Daniel Blessing
Courtenay Brady
Jake Brewer
Harry Carter
Ellie Clayton
Hannah Cleeve
Matt Jordan
Charlie Knight
Mark Lace
Sophie Linder-Lee
Jack Manley
David Morgan
Theo Oloyade
Ross Sands
Josie Scamell
Manny Tsakanika
Aaron Witter
Buy Magic Mike Tickets
Book your Magic Mike tickets online through us and enjoy great seats thanks to our London Hippodrome seating plan. We'll send E-tickets to your email address. All you do is present them on the day of the performance.
About The Theatre at the Hippodrome Casino
You'll find The Theatre at the Hippodrome Casino on Cranbourn Street just off Leicester Square. Past shows at The Theatre at the Hippodrome Casino include the brilliant burlesque cabaret La Clique and Prince's final live UK performance in 2014.