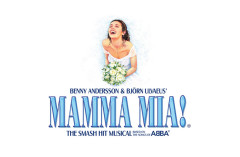 Update for Mamma Mia! at the Novello Theatre
It's brilliant to be able to showcase the return of Mamma Mia!, a dazzling spectacular of a musical that's been sadly missed. It's just as brilliant to announce the full cast for this global smash. This is its 23rd year in the West End and it's back on stage on 25th August 2021. Plenty of the original cast members are returning to the show, and we have a collection of fabulous new talent joining the fun, too.
Who's involved in Mamma Mia?
So far there have been more than 50 productions of MAMMA MIA! in 16 languages, and it has grossed an awe-inspiring $4 billion at the box office, seen live by 65 million people. 2011 saw it becoming the first ever Western musical staged in Mandarin in the People's Republic of China. The 2008 film fast became the highest grossing live action musical movie ever, and MAMMA MIA! HERE WE GO AGAIN is the most successful live musical movie sequel of all time. So who's in the cast for 2021?
Mazz Murray returns as Donna, who is also played by Natalie Langston in some performances
Richard Trinder plays Sam again
Neil Moors plays Harry once more
Stephen Beckett returns to his role as Bill
Sophie Matthew plays Lisa as beautifully as she did before covid
The original returning ensemble cast members are Natasha Agnew, Chloe Ames, Frankie Jones, Lauren Hampton, Grace Moorhouse, Jodie Nolan, Dan O'Brien, Michael Storrs, Michael Tyler and Simon Willmont
The show's new cast members:
Josie Benson plays Tanya
Gemma Goggin is Rosie
Emma Mullen, who played Sophie in the UK and on the show's international tour, is Sophie
Jack Danson is Sky
Tegan Bannister is Ali
Michael Nelson, who portrayed Eddie in the UK and on the international tour, plays Eddie
Alexandros Beshonges is Pepper
The new ensemble cast members are Gemma Atkins, Chloe-Jo Byrnes, Nicole Carlisle, Angus Good, Natalie Jayne Hall, James Humpleman, Morgan Jackson, George Olney, Kyle Turner and Alex Woodward
Buy Mamma Mia! Tickets
Book your Mamma Mia tickets online with us and pick your perfect seats thanks to our handy Novello Theatre seating plan. We'll send convenient E-tickets by email so you can present at the venue on the day of the performance.
About the Novello Theatre
The Novello was originally called the Waldorf Theatre, then the Strand Theatre, then the Whitney Theatre, then it was re-named the Strand Theatre. In 2005 it was given its current name in honour of Ivor Novello, who lived in a flat above the venue for many years. Past shows at the Novello Theatre include Crazy For You, Noises Off, Derren Brown's Svengali tour and, of course, Mamma Mia!, which has played there since autumn 2012.