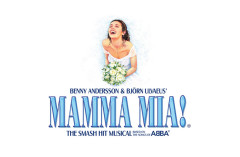 MAMMA MIA! Re-opened post-covid on 25TH August 2021, and the fun hasn't stopped since then. The show is now in its 23rd year, a living legend, and at the moment it's booking until 2nd April 2022. We're thrilled to reveal the first-look production images from the show, giving you an intimate insight into the musical that has delighted millions of people across the world and is set to delight millions more.
Who's involved in MAMMA MIA!?
MAMMA MIA! is Judy Craymer's remarkable vision, beautifully staging the compelling tale of family and friendship through Abba's greatest hits. The action unfolds on an exotic Greek island and has been enjoyed by an awe-inspiring 65 million people so far, across every continent. The show has inspired two box office-busting movies and the music and lyrics, by Benny Andersson and Björn Ulvaeus, are quite simply magical.
Written by Catherine Johnson
Directed by Phyllida Lloyd
Choreographed by Anthony Van Laast
Produced by Judy Craymer, Richard East and Björn Ulvaeus for Littlestar, in association with Universal
Mazz Murray leads the cast as Donna
Natalie Langston plays the role of Donna at some performances
Richard Trinder plays Sam
Neil Moors is Harry
Stephen Beckett is Bill
Sophie Matthew plays Lisa
They're joined by Josie Benson as Tanya, Gemma Goggin as Rosie, Emma Mullen as Sophie, Jack Danson as Sky, Tegan Bannister as Ali, Michael Nelson as Eddie and Alexandros Beshonges as Pepper
Buy MAMMA MIA! Tickets
Book your MAMMA MIA! tickets online with us and choose the best seats with our Novello Theatre seating plan. We'll send E-tickets to your email address. Simply present them at the door on the day of the performance to fall in love with Abba's amazing tunes – and this fantastic story – all over again.
About the Novello Theatre
The Novello Theatre is just one of the many names given to this amazing venue in the past. It opened in 1905 as the Waldorf Theatre, was renamed as the Strand Theatre in 1909, the Whitney Theatre in 1911, and the Strand Theatre in 1913. It acquired its current name in 2005 in honour of Ivor Novello, who used to live in a flat above the venue. Past shows at the Novello Theatre include Betty Blue Eyes, Crazy For You, and Noises Off, and it was home to Derren Brown's Svengali Tour in 2012.