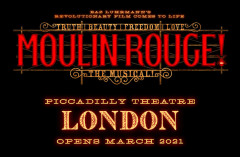 The big West End news of recent days has been the announcement that the stage version of Baz Lurman's hit Hollywood musical MOULIN ROUGE is to transfer from Broadway to the Piccadilly Theatre, London, and no ones more excited than me.
I had hoped to be reporting to you from New York on the original production. Alas illness prevented me from making the trip so instead I've scoured the Broadway press for clues as to what we can expect. It's pretty exciting.
A lot will depend on the UK casting which has yet to be announced but here's ten things we know about the feel, look and music of the show.
An eye-watering budget of $28 million has been spent to bring the show to the stage.
The New York promotion boasts we can "Enter a world of splendor and romance, of eye-popping excess, of glitz, grandeur and glory! A world where Bohemians and aristocrats rub elbows and revel in electrifying enchantment. Pop the champagne and prepare for the spectacular spectacular…Welcome to Moulin Rouge! The Musical!" That's a lot of hype to live up to!
The set design sounds almost as dazzling as the film. As at the original windmill club a huge model elephant sits alongside the action. Everything is deepest red and there's at least a dozen chandeliers and a mockup of the famous Parisian nightclub's iconic windmill. And that's just the auditorium decor!
Preshow you'll find decadent, gorgeously attired, period Parisians draped around the place smoking cigars and flirting with you.
Proceedings begin with an opening address which sounds rather like the beginning of Kander and Ebb musicals CABARET and CHICAGO with a master of ceremonies figure welcoming you with the words "reprobates and rascals, artistes and arrivistes, soubrettes and sodomites... No matter your sin, you're welcome here." Saucy!
Our leading lady makes a star entrance on a trapeze from above, dressed in top hat and glittery tail feathers.
As with the film the score is a mash up of past and present smash hits. More than 70 songs are heard (or briefly alluded to) - apparently applauding your favourites is part of the fun!
Excitingly a highlight is still "Diamonds," a compilation of Jule Styne and Leo Robin's "Diamonds Are a Girl's Best Friend"; "Material Girl," by Peter Brown and Robert Rans; and a snippet of Beyoncé's "Single Ladies (Put a Ring on It)."
Elsewhere in the show we're told the crowd go particularly wild for Dolly Payton's "I Will Always Love You" and Katy Perry's "Firework".
At the top of Act 2 everyone's up on their feet for a brand new tango medley crated especially for the show which includes Lady Gaga's "Bad Romance," and New Romantic hits "Tainted Love," "Toxic" and "Sweet Dreams (Are Made of This)"
It has to be said some critics haven't liked it and I have several friends who've agreed with those reviewers who've found it a rather soulless and overblown spectacle.
However The Hollywood Reporter described it as "both intoxicating and exhausting in its unrelenting visual and sonic assault. But it virtually defies you not to be entertained".
Sounds good to me!