16 Denman Street, London, W1D 7DY GB
Quick Facts
Largest Ticket Inventory
in the West End
Real time
seat availability
Choose
your seats
Your booking is processed directly into the box office reservation system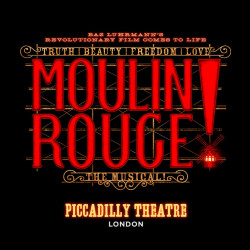 Moulin Rouge! The Musical
Tickets
5/5
-

based on

5

reviews
Booking until: Saturday, 23 July 2022
Running time: 2 hours 35 minutes (one interval)
Tickets from £25.00
Book tickets
About Moulin Rouge! The Musical
Important Information
Mask
We recommend that you wear a mask while inside this venue.
Proof of vaccine and/or test
You are required to show proof of a negative Covid-19 test or proof of vaccination in order to attend this performance.
Health check
When you arrive at this venue, you may be asked to fill out a health questionnaire or have your temperature taken.
Performance Times
Booking until: Saturday, 23 July 2022
Running time: 2 hours 35 minutes (one interval)
Moulin Rouge! The Musical description
Moulin Rouge the Musical – A magical jukebox musical!
The cabaret venue Moulin Rouge in Paris has a long history of sauciness and fun, home to the infamous Can-Can dance. The 2001 movie of the same name transformed the fun into a dazzling musical with romance at its heart. It was a smash hit. Now it's on stage, fresh from Broadway, and it's set to delight West End audiences with colour, action, light, dance, song and - of course – true love. It's brilliant.
The original Moulin Rouge, AKA 'Red Mill' burned to the ground in 1915, having been founded in 1889 by Charles Zidler and Joseph Oller, owners of the infamous Paris Olympia. The venue was on the doorstep of Montmartre in Paris, in the district of Pigalle, famed for the scarlet windmill on its roof. It was the birthplace of the modern Can-Can, originally danced by the prostitutes who worked out of the site. It soon became a form of entertainment in its own right and inspired cabarets to pop up all over Europe. These days the Moulin Rouge is a tourist attraction providing dance entertainment to visitors, but examine the décor and you'll see it still reflects the romance of fin de siècle France.
The plot? The scene is Paris in 1899. A young Englishman falls for the lovely Satine, a singer at the Moulin Rouge. But the manager of the venue has promised Satine to a wealthy Duke, as a reward for paying the costs of his latest stage production. The lovers have to meet in secret, but as Satine's wedding to the Duke approaches she hides a fatal secret from both men.
Moulin Rouge! The Musical is a jukebox musical. The book is by John Logan and the show's based on the 2001 movie, which was directed by Baz Luhrmann, written by Luhrmann and Craig Pearce. The musical premiered in summer 2018 in Boston, USA, and in 2019 it transferred to Broadway. Now it's over here.
The characters include Arabia, The Duke, Christian, Nini, Satine, La Chocolat, Toulouse-Lautrec, Babydoll, Santiago, Harold Zidler and more, and the show tunes are absolutely gorgeous. You'll find yourself swaying in your seat to delights like Welcome to the Moulin Rouge, Bohemian Idea, Satine's Entrance, Dancing with the 'Duke', In the Elephant and many more, all containing wonderful references to modern chart stoppers that you'll recognise in an instant, and can sing along to.
If you're one of the few musical fans who hasn't seen the 2001 film yet, shelve that idea for now and come see the stage musical first. It will blow your mind in the most wonderful way and you'll leave feeling buoyed up, inspired and charmed by the classic tale of two young lovers whose very different worlds collide. Christian is a penniless writer from England who adores the ideals of the Bohemians. Satine is a dancer who dreams of becoming a famous actress. Together they make sparks fly. It's a dazzler... come and see it!
Who is this show for?
Innuendo and mature themes make this splendid musical most suited to people aged 14+.
Moulin Rouge! The Musical reviews
5 out of 5
based on

5

reviews
What to expect:
Acting
Music
Costumes
Story
Lighting
Recommended for:
Anyone (80%)
Families (80%)
Teenagers (80%)
Couples (100%)
Theatregoers (100%)
Latest customer reviews

Great Show.!!I loved every minute of it.
Reviewed on 19 January 2022 by Ioannis, Glasgow, United Kingdom

Must see
I thoroughly enjoyed Moulin Rouge which was beautifully staged and set. The acting, singing and dancing were all excellent.
Reviewed on 09 January 2022 by Ursula, London, United Kingdom

Awesome
This show is incredible, best west end show I've ever seen performed by amazing people. From the beginning it was electric...total must see!!
Reviewed on 09 January 2022 by Lynne, King's Lynn, United Kingdom
17

May
2021

Moulin Rouge! the Musical – 2021 West End Premier Dates
by London Box Office | Monday, May 17 2021, 21:38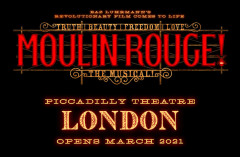 Update for Moulin Rouge! The Musical at the Piccadilly Theatre
Alex Timbers' brilliant production has just confirmed its West End dates, and the fun kicks off on 12th November 2021 at the Piccadilly Theatre. Moulin Rouge! is based on the gorgeous 20th Century Fox film by Baz Luhrman, and you're in for a wonderful experience. The Musical is about a group of artists fighting to keep their stage show alive, but there's so much more to it than that. The set has been described as lavish and immersive, it's a real extravaganza of passion and romance, and you're going to love every minute of it.
Moulin Rouge! the Musical – 2021 West End Premier Dates
21

Oct
2019

MOULIN ROUGE is coming to London!!! What can we expect?
by Phil Willmott | Monday, October 21 2019, 15:07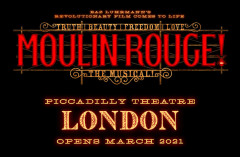 The big West End news of recent days has been the announcement that the stage version of Baz Lurman's hit Hollywood musical MOULIN ROUGE is to transfer from Broadway to the Piccadilly Theatre, London, and no ones more excited than me.
MOULIN ROUGE is coming to London!!! What can we expect?