Due to popular demand, the new hit family stage musical MRS DOUBTFIRE has extended its time in the West End.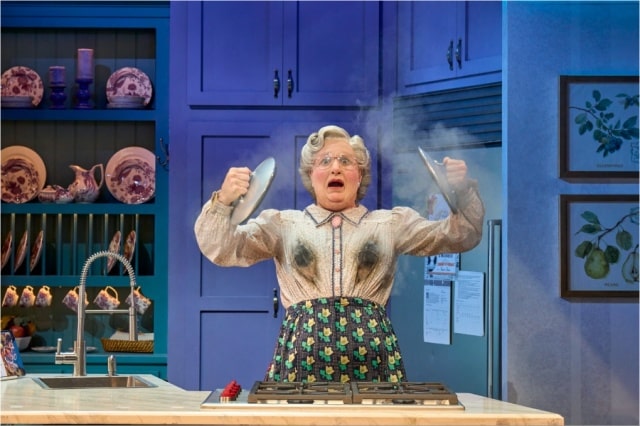 Gabriel Vick (Mrs. Doubtfire) in Mrs. Doubtfire The Musical at Shaftesbury Theatre. Picture by Manuel Harlan
MRS DOUBTFIRE THE MUSICAL is extending its booking period until June 2024 after opening to critical acclaim at the Shaftesbury Theatre.
The news also coincides with a new weekly schedule including Sunday performances from January 2024. As part of the new booking period, a dedicated relaxed performance scheduled for Saturday 20 January at 2.30pm will be put on sale soon.
The cast of MRS. DOUBTFIRE THE MUSICAL
The cast of Mrs. Doubtfire includes Gabriel Vick (Avenue Q) as Daniel Hillard, Laura Tebbutt (School of Rock) as Miranda Hillard, Carla Dixon-Hernandez (Matilda the Musical) as Lydia Hillard, Cameron Blakely (Newsies) as Frank Hillard, Marcus Collins (Kinky Boots) as Andre, Samuel Edwards (Anything Goes) as Stuart Dunmire, Ian Talbot OBE (Hairspray, and Director of The Mousetrap) as Mr. Jolly and Kelly Agbowu (Sylvia) as Wanda Sellner.
Further cast include Nicole Carlisle, Joshua Dever, Joseph Dockree, Rebecca Donnelly, Amy Everett, Maria Garrett, Kiera Haynes, Vicki Lee Taylor, Adam Lyons, Lisa Mathieson, Corey Mitchell, Ellie Mitchell, Matt Overfield, Rhys Owen, Christopher Parkinson, Micha Richardson, Tom Scanlon, Paulo Teixeira, and Samuel Wilson-Freeman.
Mrs. Doubtfire also introduces Max Bispham, Elliot Mugume, and Frankie Treadaway who alternate the role of Christopher Hillard and Scarlett Davies, Angelica-Pearl Scott, and Ava Posniak who alternate the role of Natalie Hillard.
What is MRS. DOUBTFIRE THE MUSICAL about?
MRS. DOUBTFIRE MUSICAL is a hilarious and heartfelt story about holding onto your loved ones against all odds, it is the musical comedy we need right now.
Out-of-work actor Daniel will do anything for his kids. After losing custody in a messy divorce, he creates the ​alter ego of Scottish nanny Euphegenia Doubtfire in a desperate attempt to stay in their lives. As his new character takes on a life of its own, Mrs. Doubtfire teaches Daniel more than he bargained for about how to be a father.
What do the critics say about MRS. DOUBTFIRE?
★★★★ "This take on the Robin Williams favourite is a complete joy" - The Telegraph
★★★★ "Cross-dressing comedy soars from screen to stage" - The Times
Book your MRS. DOUBTFIRE THE MUSICAL tickets now
Playing until June 2024 at the Shaftesbury Theatre, don't miss out on the new musical that everybody's talking about.