Quick Facts
Largest Ticket Inventory
in the West End
Real time
seat availability
Choose
your seats
Your booking is processed directly into the box office reservation system
This show is now closed.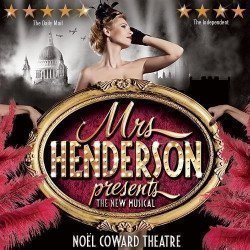 Mrs Henderson Presents
Tickets
4.7/5
-

based on

60

reviews
Starring: Tracie Bennett, Ian Bartholomew, Emma Williams
About Mrs Henderson Presents
Performance Times
Starring:
Tracie Bennett, Ian Bartholomew, Emma Williams
Mrs Henderson Presents description
Mrs Henderson Presents – History brought to life
There's nothing like a true story to give a stage show a tantalising edge, and this tale is as true as they come. Keep your eyes peeled for our announcement about the chosen West End venue.
Mrs Henderson Presents - The story
It's the 1930s and Laura Henderson, at seventy, has been widowed. And she's bored, bored, bored. How can she fill those achingly lonely, empty hours? When the Windmill theatre comes up for sale, she jumps at the chance to convert a lifetime's love of the stage into a fulfilling hobby... and she actually buys the venue. Thus begins a true-life theatrical legend.
In 1937 Mrs H and her autocratic manager Vivian Van Damm dream up an enormously popular continuous variety review show called Revudeville, a format which catches the theatregoing public's imagination to such a extent that a host more West End venues follow suit. When the Windmill's takings take a battering because of the competition, Mrs Henderson springs into action.
It's hardly the kind of idea you expect from an elderly lady. But when she and Mr Van Damm decide to spice up their revue with nude women a la Moulin Rouge, all hell lets loose.
Thankfully the Lord Chamberlain, the second Earl of Cromer, understands Mrs H's argument. She insists her show gives young men off to war their only chance to see a naked female before potentially being killed in the trenches, and he gives his permission... as long as the women remain completely still at all times.
This satisfies the law and transforms the show from something unacceptable in the stuffy moral climate of the time into something different altogether. The revue is no longer about flaunting sexuality, it's suddenly all about fine art, with the women classified in the same way as Roman statues and nude paintings.
The Windmill remains open throughout the Blitz, with full houses night after night as the bombs fall and London burns. Tragedies happen, disasters are averted, hearts are broken... and Mrs H stands firm as the show goes on, until her death in 1944. It's heart-warming stuff!
Mrs Henderson Presents theatre tickets – Irresistible, quirky, poignant
Want premium, full price or discount Mrs Henderson Presents tickets? We offer great availability and excellent value for money on the complete range of ticket types and seats. Click and see!
Mrs Henderson Presents reviews
4.7 out of 5
based on

60

reviews
What to expect:
Acting
Music
Costumes
Story
Lighting
Recommended for:
Anyone (38%)
Families (38%)
Teenagers (43%)
Couples (83%)
Theatregoers (88%)
Latest customer reviews

Fab
Reviewed on 19 June 2016 by Isobel, Isle Of Leis, United Kingdom

What a gem
I was not sure ,as I had seen the movie, but it was excellent, it stuck to the premise of the film. Great singing,dancing and acting. Mrs Henderson voice was very clear .The girls were very discreetly placed on stage and was not offensive in anyway.Very rousing and patriotic.
Reviewed on 17 June 2016 by Carol, Grays, United Kingdom

Great show, great value for money
You should see it! Strongly recommend the Stalls.
Reviewed on 12 June 2016 by Kevin, Stevenage, United Kingdom

thoroughly enjoyable
Good mixture of humour, music and story. Definitely worth going.
Reviewed on 04 June 2016 by Sandra, Exeter, United Kingdom

Cleverly choreographed.
Thoroughly enjoyed the show. It was tastefully done and very cleverly choreographed with excellent lighting choices. Would recommend to adults and avid theatre goers. Loved it!
Reviewed on 31 May 2016 by Irene, Todmorden, United Kingdom

A Fantastic Show!
I originally saw the film and thought the stage show would be worth watching. I was right it was absolutely fantastic. The actors all performed brilliantly and they created a genuinely exciting story. The music was played extremely well and added to a wonderful evening. I will be recommending this show to all my friends.
Reviewed on 31 May 2016 by Nigel, West Bromwich, United Kingdom

entertaining and full of life
Had heard mixed reviews and was expecting a mediocre performance. Was delighted by the story, cast and overall performance. Works really well in the NC theatre. Left with a smile on my face. First class.
Reviewed on 27 May 2016 by Andrew, Banchory, United Kingdom

Worth seeing!
The story flows smoothly. The songs are good. You will be pleasantly surprised that the show is quite good.
Reviewed on 20 May 2016 by Gilbert, Hercules, United States

Fantastic!
A brilliant show, funny, sad, uplifting and definitely one of the best shows I've ever seen. An experience I'll remember for a long long time for all the right reasons. This is a 'must see'
Reviewed on 18 May 2016 by Gillian, London, United Kingdom

full of life and fun
A wonderful show full of action, humour and wonderful singing.
Reviewed on 14 May 2016 by Jenny, Looe, United Kingdom

Great exprience
Whilst the odd piece of (tasteful) nudity might not suit all - the acting superb, the experience sublime - over from new Zealand and simply delighted I took this opportunity to attend - bravo to the cast!
Reviewed on 13 May 2016 by Karyn, Ngaruawahia, New Zealand

Story with heart n soul
Loved the show. Not an adults only show, but more
Reviewed on 13 May 2016 by Junaida, Petaling Jaya, Malaysia

A Touching Musical Comedy
The singing was first class; the cast a talented crew. A play that reflects the British WWII spirt and determination - Brits really love their Country when the chips are down.
Reviewed on 11 May 2016 by Leigh, Calgary, Canada

Reviewed on 08 May 2016 by Robin, Mountsorrel, United Kingdom

A lovely surprise
Very enjoyable but probably suitable for adults. Music lovely and standard of actin and dancing very high. I was very impressed
Reviewed on 06 May 2016 by Karen, Milltimber, United Kingdom

Interesting
This show was great fun and the story was fascinating. The score was perfect and reflected the era in which it was set creating a very nostalgic experience. The subject was handled with decorum and finesse and was not in the least offensive. Don't miss it!
Reviewed on 05 May 2016 by Ana, Barcelona, Spain

Quirky and entertaining
Great story,a bit of everything, laughter,burlesque and tugging on the heart strings.
Reviewed on 03 May 2016 by Diane, Sheffield, United Kingdom

Wonderful experience
Reviewed on 29 April 2016 by Goldie, Sudbury, United States

Teriffic
A great, funny show. An adult show, Nudity parts were tastefully done.
Reviewed on 25 April 2016 by James, Birnamwood, United States

fabulously funny
Me and my husband enjoyed tho musical. Great acting, good comedy. Can't fault it at all. Great evening at the theatre! Defo a must see!!
Reviewed on 24 April 2016 by Nicola, Benson, United Kingdom

a must see excellent
Great show very impressed with acting and courage of the actors.
Reviewed on 22 April 2016 by Carol, Hastings, United Kingdom

Wonderful Mrs Henderson
The (tasteful) nudity restricts who would like the show but is a good show. Tracie Bennett in the title role is superb
Reviewed on 21 April 2016 by Chris, Salford, United Kingdom

Awesome!
Reviewed on 20 April 2016 by Laura, Salaspils, Latvia

Great show - wish it wasn't ending in June.
Reviewed on 08 April 2016 by James, Birnamwood, United States

A must see
Reviewed on 08 April 2016 by Angeline, Chesterfield, United Kingdom

Good, not great.
This show is good, not great. Worth seeing at a discount, certainly. Tracy Bennett has star quality and is worth the ticket price alone. The nudity is excellent.
Reviewed on 05 April 2016 by Anthony, London, United Kingdom

Great entertainment.
Reviewed on 03 April 2016 by Robert L, Auckland, New Zealand

The standing ovation said it all.
Enjoyed every minute, as clearly did the rest of the audience. Congratulations to every member of the cast. They were all stars and clearly had enjoyed entertaining us. The smaller size theatre really made you feel you were at the Windmill with them. As seniors who have the time, we enjoy taking in a West End show at least once every month, and this beat several of the 5 Star ones that we have seen recently. Would happily go and see it again.
Reviewed on 01 April 2016 by Anthony, Hythe, United Kingdom

Show with a showing
Reviewed on 01 April 2016 by Bradley, Lutterworth, United Kingdom

Very different and earnest
Reviewed on 31 March 2016 by Sambhashiva, Manafield, United States

Did see it
I was not impressed. I felt dissapointed after seeing the Movie. Can't put my finger on it, but I was almost bored, there was nothing impressing about this show.
Reviewed on 29 March 2016 by Arve, Loddefjord, Norway

not slick enough
just dosnt make it, good story, but the production needs a lot of work
Reviewed on 25 March 2016 by Maurice, East Finchley, United Kingdom

Back to the good old traditional British Musical
Reviewed on 24 March 2016 by Norman, Richmond, United Kingdom

One Play with Many Emotions
We really enjoyed the performance We booked the tickets not really knowing what the show / storyline was about. Everything was perfect, the acting was superb, the costumes were lovely, the nude scenes were so tastefully and prettily done. I laughed and cried. I would love to see it again when we are next in London.
Reviewed on 23 March 2016 by Kenneth, Stafford, United Kingdom

Great fun
Very good fun for adults but wouldn't bring the kids
Reviewed on 19 March 2016 by Iwona, London, United Kingdom

good nostalgic entertainment
Reviewed on 11 March 2016 by Ralph, Lancing, United Kingdom

An absolutely must see show
Reviewed on 10 March 2016 by Edwin, Halstead, United Kingdom

Brilliant!
What a fantastic show! The acting and music were great and the female actors did extremely well in their rolls especially! I would definitely recommend. I was a bit hesitant about our choice of seats (Row T in the Stalls) but needn't be as they were very good.
Reviewed on 28 February 2016 by Maigan, St Neots, United Kingdom

very feel good show
Reviewed on 25 February 2016 by Andy, Harrow, United Kingdom

A must see
Reviewed on 20 February 2016 by Katherine, Shorwell, United Kingdom
18

Feb
2016

Review: MRS HENDERSON PRESENTS at the Adelphi Theatre
by Phil Willmott | Thursday, February 18 2016, 15:49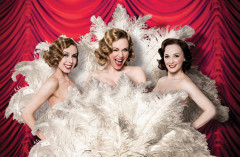 MRS HENDERSON PRESENTS, which is being promoted as a new British musical, has been adapted from a 2005 film of the same name which starred Judy Dench in the title role.
Mrs H was an upperclass lady who took it into her head to buy the dilapidated Windmill Theatre in London's Soho. When her hopes of a non-stop variety review failed to find an audience she hit upon the idea of parading topless show girls on her stage.
Review: MRS HENDERSON PRESENTS at the Adelphi Theatre
09

Oct
2015

New Musical Mrs Henderson Presents transfers to the West End
by Oliver Mitford | Friday, October 9 2015, 14:11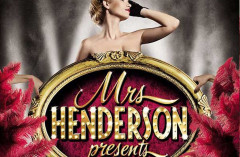 New British musical Mrs Henderson Presents has announced its transfer to the West End following its recent critically acclaimed run at Bath Theatre Royal.
Adapted from the 2005 feature film of the same name, Mrs Henderson Presents will open at the Noel Coward Theatre in the New Year, with Tracie Bennett staring as the eccentric Mrs Henderson, Ian Bartholomew as Vivian Van Damm, and Emma Williams as Maureen.
New Musical Mrs Henderson Presents transfers to the West End