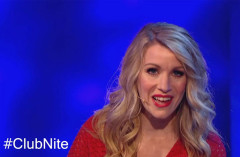 Here's the comedian Rachel Parris appearing on Harry Hill's ClubNite back in Nov 30, 2019.
As she explains in her introduction she's performing a parody of all the feel good numbers in the GREATEST SHOWMAN but it's actually a pretty accurate pastiche of plenty of the contemporary musical theatre that we love, from WICKED to FROZEN.
Parris has obviously studied the structure of songs like this with great precision and perception and lays bare all the "tricks of the trade" with such relish that she clearly adores the originals.
And in doing so she's actually written something that DOES lift your spirits in exactly the same way that a great show tune can.
It made me laugh a lot but also feel a little sad. I miss writing musicals. My new show MRS. EINSTEIN was due to open, Off-West End, next month. Who knows now when it'll ever take flight.
In the meantime here's Rachel from last year, and standing amidst a crowd! Doesn't it seem like another world?