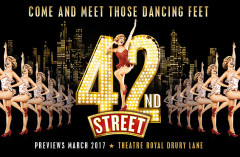 This musical is Broadway's story about Broadway; those for whom it is home and the starstruck, from-out-of-town wannabes eager for their big break, a slice of success in the spotlight and with a bit of luck, (or someone else's misfortune), a fleeting dalliance with stardom.
During the depression era of the 1930s, Hollywood created a steady stream of uplifting movie musicals in which the trials and tribulations of Broadway stars, greedy impresarios, naïve young hopefuls and caustically, acid-tongued has-beens, were presented to audiences hungry for escapism and razzamatazz. The huge chorus numbers have become the stuff of legend with their sharply choreographed and stylish tap routines populated with uniformly dapper, handsome young men paired with equally beautiful and glamorous dancing girls.
The Theatre Royal Drury Lane, plays host to Mark Bramble's lavish musical which he created with Michael Stewart back in the early 1980s and which was based on the 1933 Warner Bros movie of the same name. Bramble's rural beginnings (born to Maryland farmers) took an interesting turn with the realisation that one of his more unusual, witty and stylish neighbours was none other than Tallulah Bankhead; it was she who (through her connections), facilitated an opening for him at the New York offices of legendary impresario David Merrick. The experience of working in such an environment, coupled with his own creative ability soon brought success - firstly "Barnum", but it was "42nd Street" which cemented his position in musical theatre, with the original production running for nearly 3,500 performances on Broadway alone.
Throw away lines - worthy of Bankhead herself - abound, such as when strikingly sassy chorine Anytime Annie (played in the current production by Emma Caffrey) observes of boisterous young matinee lead Billy Lawlor (Stuart Neal): "He's a tenor, but he's got base ideas!"
Much of the backstage story focuses on fresh-faced new arrival Peggy Sawyer (Clare Halse) and her innocently engaging efforts to secure a role in the chorus of the latest Julian Marsh (Tom Lister) musical spectacular "Pretty Lady".
The show's female lead Dorothy Brock (Sheena Easton making a rare foray into musical theatre), maintains a claw-like grip on the star dressing room with a mixture of grit, contempt, financial backing, experience and sheer singing talent. There are touching scenes with her roguish true love Pat Denning (played by fellow-Scot, Norman Bowman) and comedy moments with her ageing sugar daddy Abner, and the co-writers of "Pretty Lady" Maggie and Bert (Bruce Montague, Jasna Ivir and Christopher Howell, respectively).
The 'star' of the show however, is the chorus of young singer/dancers who work tirelessly (yet seemingly effortlessly) to deliver spectacular routine after spectacular routine including a Busby Berkeley number complete with giant tilted mirror so the audience can enjoy the full overhead effect. Scene changes are seamless and neatly choreographed thereby avoiding on-stage pregnant pauses, superfluous dialogue moments and any need to cover clanging back stage set changes. Staying true to both the theatrical motif and period, the many evocative backdrops are flown-in, although some scenes just call for a grand staircase. Musical numbers include "Shuffle off to Buffalo", "Keep Young and Beautiful", "Dames", "We're in the Money", "Lullaby of Broadway" and of course the breathtaking title number.
West End stalwart and conductor of countless previous shows Jae Alexander is in charge of delivering a tight, slick and rousingly energetic score, ideally complimenting the youthful exuberance of the on-stage performers.
I urge you to go along and be dazzled by this romantic comedy gold and the most electrifying tap numbers on any stage in the world...it should easily put all the current glut of television talent shows firmly in the shade.