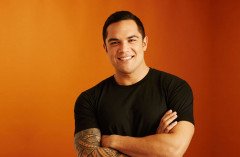 The real danger with long running West End shows is that they'll get tired as the cast grow bored of performing it month after month. The Disney organisation is very good at ensuring things stay fresh by regularly adding new performers to the London production from around the world.
This month it has been announced that New Zealander Nicholas Afoa is to take over the role of Simba in THE LION KING at the Lyceum Theatre.
Afoa made his stage debut as Simba in the Australian production in 2013 and played Simba in the Sydney production of the landmark musical between 2013 and 2016 performing more than 860 times over that period.
The opportunity to play the role in the West End production will bring him to London for the first time.
The show's publicists point out that, not unlike his character in THE LION KING, Afoa has had quite a journey to take his place on stage.
The New Zealand-born, Auckland-raised performer had a promising rugby career with the All Blacks until he was sidelined by injury. After recovering and dedicating himself to his theatre career, nearly a decade later the 30 year-old beat 400 other hopefuls to the role of Simba in the Australian production.
Afoa is currently in rehearsal and will appear in the production from 10th May 2016.
Other new members of the cast include: Etian Almeida, Jonathan Andre, Janique Charles, Zinhle Dube, Sandile Gontsana, Kwesi Jeffers, Stephanie Lo, Sadia McEwen, Khaya Maseko, Daniel Monteiro, Nosipho Nkonqa, Dominique Planter, Antoine Murray-Straughan, Kayode Salina and Ricardo Walker.