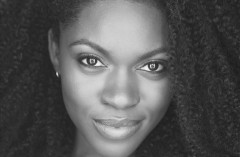 It's a busy time for the producers of TINA – THE TINA TURNER MUSICAL which, unexpectedly, I enjoyed so much recently.
Next month, the German premiere begins performances at the Stage Operettenhaus in Hamburg and the musical will have its Broadway premiere in Autumn 2019 starring Adrienne Warren, who has played the iconic rock star in London since the show's world premiere.
I hope she's taking a well earned holiday in between, her vocal chords must be like leather to withstand belting out Turner's legendary rock anthems most nights of the week. Something even the rock goddess herself wouldn't attempt.
Meanwhile in London Nkeki Obi-Melekwe will join the West End production from 15 April 2019 to play Tina Turner. Leading a brand new company that will also include Ashley Zhangazha as Ike Turner.
The producers remind us "From humble beginnings in Nutbush, Tennessee, to her transformation into the global Queen of Rock 'n' Roll, Tina Turner didn't just break the rules, she rewrote them. This new stage musical, presented in association with Tina Turner herself, reveals the untold story of a woman who dared to defy the bounds of her age, gender and race".
The title role is a tough one to cast as it requires a brilliant, singer dancer and actor who also has incredible stamina. The director describes the role as "one of the most demanding in world theatre and requires a human being of exceptional inner strength".
On hearing of Nkeki Obi-Melekwe's casting Tina Turner said: "I know just how extensive the search was to find her, and I am delighted that Nkeki will be joining our Tina family. Her raw talent is clearly extraordinary and her determination and spirit are second to none. Audiences at the Aldwych will be amazed. I look forward to welcoming her to London!"
Nkeki Obi-Melekwe herself has said: "I am beyond excited! To be coming to London to join the West End community is one thing, but to be taking on this extraordinary role is something else. Tina means so much to so many people, including me, and I do not take this opportunity lightly. I hope I can make her as proud as I am to be playing Tina Turner. I can't wait to get started."
And I can't wait to see and hear her in action.