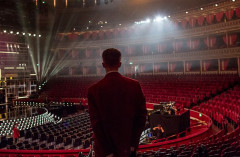 One of the many, many conundrums currently faced by the theatre community is how to ensure various landmark events in the industry's calendar continue to happen and in what format.
This is particularly the case with award ceremonies now that live indoor events are subject to a labyrinthian and muddled set of rules and regulations designed to protect us from the Corona virus.
I've previously reported here on how Broadway's premiere prizes, the Tonys, have been adapted but what of The 2020 Oliviers, the London equivalent?
In future more consideration should be given, on both sides of the Atlantic, whether we need award ceremonies at all in the current climate.
In conventional times they served two purposes. The first was to celebrate and recognise excellence (although even a cursory examination of who gives what to who and why has always exposed quite how political and rigged it all is) and secondly to boost public awareness of shows that they might like to book for.
I'd question how much satisfaction any "winner" can feel when circumstances have shrunk the competition they'd normally face, as is the case with the next U.S. Tony awards, and, of course, publicising productions no one can see is a pretty futile exercise. And yet award organizers continue to battle against the odds to make sure the ceremonies and the socially distanced back-slapping continues even though no one can attend in person.
In the UK the Society of London Theatres (SOLT) who produce the Oliviers, have acknowledged how silly it's all becoming with the announcement that it's anticipated the next full Olivier Awards ceremony won't take place April 2021, due to the minimal amount of new productions that have been able to open this year. Apparently it will announce plans to celebrate the little that's currently being produced at a later date.
Here's what we know about this year's Oliviers.
They were originally set to be announced at a ceremony in April at the Royal Albert Hall but the winners will now be revealed in a special broadcast, pre-filmed at the London Palladium, to be shown on ITV on October 25th.
This event will be presented by Jason Manford.
SOLT promises a new "innovative format to recognise "globally renowned artists, both on stage and behind the scenes" in a series of "very special moments" including interviews and performances pre-filmed at various locations around The Palladium.
Only the more glamorous categories with be broadcast on national TV whilst awards considered to be of secondary interest will be shown in a pre-show broadcast the same evening on Official London Theatre's YouTube channel. This is likely to mean the prizes for aspects of technical production that the public is less aware of.
Winners and key moments will also be broadcast on Magic Radio from 8pm until 10pm on October 26.
SOLT chief executive and executive producer of the awards Julian Bird said –
We are excited to be able to honour this year's nominees and winners during a very difficult time for our industry, and demonstrate the outstanding talent we have in our theatre sector in the UK. Coming together to celebrate their achievements feels more poignant now than ever before as we all fight collectively to save our theatre industry. I hope that everyone working in, or simply missing the theatre, will join us on October 25 to celebrate last year's achievements and remain hopeful for our future.
Earlier this year it was announced categories would be revamped including the dropping of a standalone comedy prize to be replaced by two new categories – best entertainment or comedy play, and best family show.
The best family show will be decided by a newly created panel consisting of five pairs of people, each made up of one adult and one child, for example their son, daughter or grandchild.
Three of the pairs will include adults from a professional theatre background and two will be from the general public.
The music category has been clarified and will now be referred to as the award for "best original score or new orchestrations". Which surprises me as I'd have thought composing and orchestration were two very different skills. Perhaps they've been lumped together as each year throws up few candidates in either field.