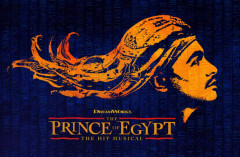 Update for The Prince of Egypt at the Dominion Theatre
The brilliant producers of this fabulous show, Michael McCabe and Neil Laidlaw, were turned down by the UK Government for a Culture Recovery Fund grant. But they've battled their way back onto the stage anyway, despite having no insurance against future covid shutdowns. They've described their world class UK company as "resilient, viable and extraordinary". We think so too, and we'd like to thank everyone involved for their determination and dedication.
Who's involved in The Prince of Egypt
The Prince Of Egypt is an enormously popular hit musical based on the classic DreamWorks animated film. Against the odds it returned triumphantly to London's Dominion Theatre on Thursday 1st July 2021, enjoying standing ovations from a delighted audience and an extraordinary extended 14 minute curtain call. West End audiences are clearly thrilled to see the show on the road again, and we wish the producers and everyone else involved all the very best of luck.
The producers are Michael McCabe and Neil Laidlaw
There's an 'utterly stand-out cast' of 60 enormously talented people, including the live orchestra
The score is by Stephen Schwartz, including the Academy Award winning When You Believe, a global hit for Whitney Houston and Mariah Carey, and the deliciously emotional Deliver Us
Directed by Scott Schwartz
Choreography by Sean Cheesman
Set designs by Kevin Depinet
Costume designs by Ann Hould-Ward
Lighting design by Mike Billings
Sound design by Gareth Owen
Projection designs by Jon Driscoll
Illusions by Chris Fisher
Wigs, hair and makeup design by Campbell Young Associates
Orchestrations by August Eriksmoen
Musical supervision and arrangements by Dominick Amendum
Musical direction by Dave Rose
Casting by Jim Arnold CDG
Children's casting by Verity Naughton CDG
Buy The Prince of Egypt Tickets
Book your The Prince of Egypt tickets online with us and choose the best seats with our Dominion Theatre seating plan. We'll send E-tickets to your email address – all you do is show them at the door on the day of the performance.
About the Dominion Theatre
The site of this theatre is where the famous Horse Shoe Brewery used to be, home of the infamous 1814 London Beer Flood. The rolling refurbishment of original Dominion Theatre took several years, from 2008 to 2014. Since re-opening in September 2014 it has been the home of several short run musicals and spectaculars, including Evita and Lord of the Dance. Other past shows at the Dominion Theatre include MADTrust's West End Eurovision and West End Heroes.