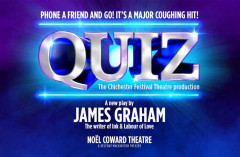 Playwright James Graham continues his run of success in the West End, following the critically acclaimed INK and LABOUR OF LOVE, with a new play QUIZ.
This time his subject is the infamous real life story of how a major cheated on a TV quiz show by having a friend in the audience provide clues via coughing to indicate the correct multiple choose answer.
We're told however that this is a "fictional imagination based on real events which took place in 2001 following an episode of Who Wants To Be A Millionaire? It is not in any way connected with the makers of the programme or any of the individuals portrayed".
We're promised the play will "highlight the dangerous blending of entertainment, politics and justice today"
Director Daniel Evans sums up the attraction of Graham's writing when he says "James is an exceptional writer with a knack for examining our recent history through an alternative lens"
Grahame himself says "Being given the chance to share Quiz with more people – and with the opportunity to develop and push our gameshow-meets-theatre concept even further - is beyond exciting for all of us. I would never have imagined years ago I'd get a chance to put any of my new plays into the West End. So to be able to return so quickly to the Noël Coward - which has been the happiest of homes for Labour of Love - feels surprising, and properly humbling to have the trust, belief, and support in the show from our producers, the amazing Daniel Evans, and the team of actors and creators who help me tell this gobsmacking story of the so-called Coughing Major and the most successful game show of all time."
His full and very impressive CV includes Labour of Love (Noël Coward Theatre), Ink (Almeida Theatre and Duke of York's Theatre – nominated for Best Play at the Evening Standard Theatre Awards), This House (National Theatre – Olivier Award nomination for Best New Play, and Garrick Theatre – Olivier Award nomination for Best Revival), Monster Raving Loony (Theatre Royal Plymouth and Soho Theatre), The Vote (Donmar Warehouse, broadcast live on More4 on election night and nominated for Best Live Event at the BAFTA TV awards), The Angry Brigade (Theatre Royal Plymouth and Paines Plough), the Broadway musical Finding Neverland, written with Gary Barlow and Eliot Kennedy, Privacy (Donmar Warehouse), The Man (Finborough Theatre and on tour), The Whisky Taster (Bush Theatre) and Tory Boyz (Soho Theatre). As Writer in Residence at the Finborough Theatre his plays include Albert's Boy, Eden's Empire and Sons of York. His television writing includes political drama Coalition (Channel 4), Prisoner's Wives (BBC1) and Caught in a Trap (ITV1). His first feature film X+Y was released in 2015 after being selected at the Toronto International Film Festival and London Film Festival, winner of the Writer's Guild Award for Best Debut Screenplay. His forthcoming work includes The Culture – A Farce in Two Acts (Hull Truck as part of Hull UK City of Culture 2017), and the film Gypsy Boy.
I'm delighted to say I've seen a great many of these productions and can confirm that this playwright has an extraordinary ability to make us understand important political and social events in very human terms.
QUIZ is a must see for your 2018 theatre going.